Jordan Barry ©️ Seven Days
A perfect day for a cider slush at Allenholm Farm in 2019
If it weren't for all the maple and cows, Vermont might be best known for its apples. As summer turns to autumn, their reds, golds and greens peek through the leaves of trees along roadsides and weigh down branches in orchards across the state.
As an undisputed flavor of fall, apples show up in pies and doughnuts, as well as ciders both sweet and hard. Celebrate the crisp air and changing leaves by heading out on an apple adventure to pick your own McIntosh, Honeycrisp or Westfield Seek-No-Further — or stop in at one of the state's many cideries to consume them in liquid form. Here are five ways to enjoy a fruitful fall.
Apple Archipelago
There's a stretch of South Street in South Hero where apple trees line both sides of the road; it feels like you're driving through the middle of an orchard. In fact, you're driving between two orchards whose entrances are just two-tenths of a mile apart. Locals have their allegiances, but why not stop by both?
111 South St.
Champlain Islands/Northwest
South Hero, VT
802-372-5566
Farm
Allenholm Farm is the oldest commercial apple orchard in Vermont; it's celebrating its 150th year in 2020. The orchard is open for apple picking with COVID-19 protocols in place — following the state's guidelines to ensure social distancing and proper sanitization. The farm store is open daily from 9 a.m. to 5 p.m., selling apples, Vermont products, sweet cider, maple creemees and Papa Ray's pies through a to-go window. Be sure to wander toward the animals for goat snuggles.
Hackett's Orchard is also open for pick-your-own, following the state's COVID-19 guidelines. If you're holding out for a specific apple variety, the website has a handy average ripening chart. (Expect Empire apples by about October 1; Northern Spy, October 20.)
86 South St.
Champlain Islands/Northwest
South Hero, VT
802-372-4848
Farm and Cidery
Both orchards serve a seasonal treat worth seeking out: cider slush. On a warm autumn day, nothing is better than a bit of brain freeze from slurping down an icy version of the sweet stuff.
Drive-Through Doughnuts
Sally Pollak ©️ Seven Days
Apples and cider doughnuts from Shelburne Orchards
The sprawling orchard near the shores of Lake Champlain has streamlined its offerings this year: A drive-through store sells apples, jugs of cider, cider vinegar, Dead Bird Brandy from the on-site distillery and, of course, cider doughnuts. "Just the essentials," the website explains.
But eager harvesters can still meander through the trees, searching for the perfect fruit. Prepaying is required for pick-your-own, but that means you don't need to weigh out as you exit — and you can get home to devour your doughnuts that much quicker. Currently, food is not to be consumed on the premises. Check the website for the full list of changes and see what's ripe for the picking.
216 Orchard Rd.
Chittenden County
Shelburne, VT
802-985-2753
Farm and Cidery
Fermenting Fun
Jordan Barry ©️ Seven Days
A bottle of Vinous Venus from Fable Farm Fermentory and late summer produce
What better way to slow down and settle into fall than with a drink that makes you think? At Fable Farm, cider is wine. There's wine made from grapes, too — the new releases are exceptional examples of Vermont's winemaking potential — and co-fermentations of apples and grapes. All represent the terroir of the gently rolling foothills that surround the farm and fermentory.
On Saturday afternoons from 3 to 6 p.m., Fable Farm's tasting room is open with a full range of fermented beverages available for tasting flights, glass pours and bottle sales, with simple cheeseboards for snacking. Online reservations are helpful but not required.
1544 Royalton Turnpike
Upper Valley
Barnard, vt
Events Venue
To keep its summertime Feast & Field Market fun going, the fermentory plans to host occasional live music throughout the fall, as well. Grab a glass, take in the tunes and contemplate the meaning of "cider."
Soup and Sips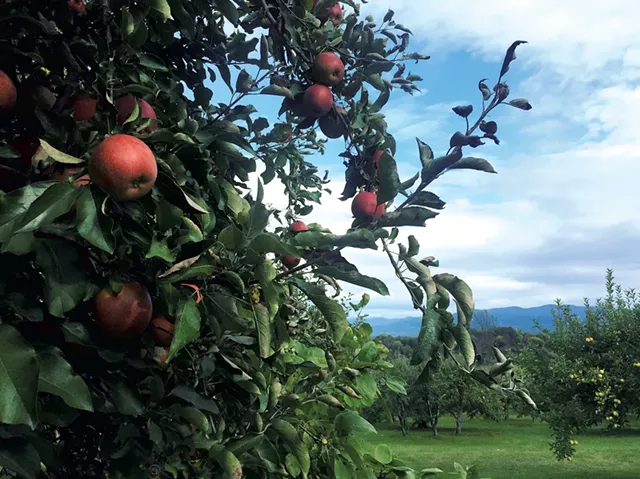 Jordan Barry ©️ Seven Days
Windfall Orchard
Pulling into this orchard for the first time certainly feels like an unexpected piece of good fortune. Windfall boasts more than 80 apple varieties — several grafted onto a single tree, in some cases — and a panoramic view of the Green Mountains to boot.
The orchard's self-serve market is open every Saturday through October, from 9 a.m. to 1 p.m., selling homemade soup, wood-fired pizzas, fresh-picked apples and cider to-go.
Seth Warner Memorial Hwy.
Middlebury Area
Cornwall, VT
802-462-3158
Farm
Looking to pick your own Chenango Strawberry or Yellow Transparent? The orchard offers PYO on Saturday and Sunday afternoons through October 17 on a first-come, first-served basis. Cider tastings are also available — be sure to try the syrupy, complex ice cider and the outstanding farmhouse perry.
Tallboys and Tunes
Courtesy Of Stowe Cider
Live music in the garden at Stowe Cider
Stowe Cider has transformed its backyard into a socially distant live music venue, and the outdoor fun will continue as long as the weather cooperates — complete with different food or snack options each week.
Acts are currently scheduled through October 9, when Marble Eyes will serenade cider sippers. Reservations are required, with the sales going directly to the artists. More events are added weekly, so check online for an updated schedule.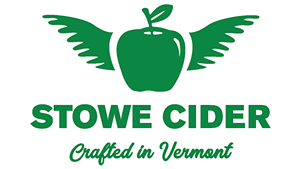 17 Town Farm Lane
Stowe/Smuggs
Stowe, VT
802-253-2065
Cidery, Specialty Food & Drink, Clothes for Men and Clothes for Women
Once things move inside, the taproom will offer small bites and breakfast sandwiches to go with its crushable ciders, boozy seltzers and newly released craft teas.