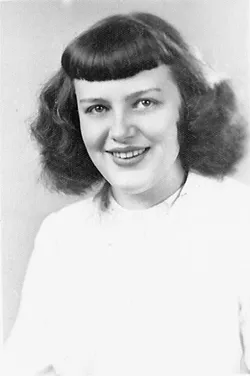 CECILE CLAIRE (HAMMOND) BARNES
Cecile Claire (Hammond) Barnes of Mountain Top, PA died in her sleep on Tuesday, July 7, 2015 after a long illness. Cecile was born in Burlington, Vermont on March 1, 1930, the daughter of John and Lena (Parizo) Hammond. She was a graduate of Cathedral High School.
She married Charles Barnes of South Burlington in 1956. Cecile was a loving and devoted wife, mother, sister, aunt, grandmother, and great-grandmother. In her life she worked at Singer Sewing Machines, labored for many years in the Cub Scouts, and raised three boys. She is survived by her three sons, Michael Barnes of Concord, NC, David Barnes of Mountain Top, PA, and Brian Barnes of Norfolk, VA; eleven grandchildren, Danny, Jenny, Samantha, Jonathan, Joshua, Julie, Justin, Jaime, Bradley, Charlie, and Scott; thirteen great-grandchildren; her sister, Rita Gilmore; her brother, Richard Hammond; and many nieces and nephews.
She was predeceased by her husband Charles Barnes and her sister Teresa Fitzpatrick.
A visitation memorial will be held on Monday, July 13 at 7:00 PM at the LaVigne Funeral Home, 132 Main St., in Winooski. There will be a Catholic funeral service held at St. Francis Xavier church in Winooski at 11:00 AM on Tuesday, July 14. Interment will follow at St. Francis cemetery.
Cecile's family would like to thank the dedicated service of the nurses and staff of the Mountain Top Senior Care facility who cared for her over the last 4 months.