Hannah Palmer Egan
Hatchling quail
Driving into Springfield on Route 11, you can't ignore the forlorn vestiges of industry. In addition to the boarded-up factories and slummed-out properties, with their chipping paint and rotting porches, an electronic road sign brings the town's depression into sharp focus. Its yellow pixelated letters offer a message — not about icy roads or drunk driving, but about suicide prevention.
The town center tells a sunnier story. Stately brick houses stand proud on the hillsides overlooking downtown; a mom-and-pop cinema advertises pre-movie ice cream. Aside from scattered empty storefronts and the occasional junkie scuffling down the sidewalk, it's not far from a Vermont idyll.
From the village, Summer Hill Street makes a steep ascent past slate-roofed manor homes and a historic cemetery before becoming Woodbury Road, which continues to rise through a long stand of maples webbed with sugar-season tubing.
At the height of the land stands Cavendish Game Birds of Vermont, with its farmhouse, outbuildings and the messy barnyard typical of a working farm. There, brothers Bill and Rick Thompson have been raising specialty fowl, including quail and pheasants, since the mid-1990s. (The name comes from Bill's Cavendish home, where he founded the business years earlier.)
Hannah Palmer Egan
The quail breeding flock
The brothers' poultry operation — 150,000 birds per year, with tens of thousands on the farm at any given time — represents the largest producer of its kind in New England. You'll find Cavendish quail at high-end restaurants across Vermont and the eastern seaboard, and from Atlanta to Chicago. Bill's daughter Leslie can often be found grilling and serving quail-on-a-stick and other delicacies at the Burlington Farmers Market on summer Saturdays.
But on a recent blustery afternoon, the brothers are more interested in talking pigs. The company purchased two bred sows from a nearby farmer in early 2013. "We had these beautiful piglets, and it was such a change from the birds," Rick recalls. "The pigs had personality."
Those early pigs — 30 in total — died along with some 21,000 quail when the Thompsons' main barn burned to the ground in March 2013. The business shut down for a year while the brothers assessed the damage and reassessed their goals. They rebuilt their barn with swine in mind.
Inside the farrowing hall — a swine nursery of sorts, where pig moms-to-be go to birth and nurture piglets until weaning — a massive black-and-white sow lies on her side. A tiny newborn piglet struggles to its feet near her tail, glistening with blood-streaked amniotic fluid. It inches toward her belly, where her 12 teats are swollen with milk, but trips and falls back along the way. Laboring to push out another baby, the mother shifts uncomfortably, half-rising and heaving her 500 pounds to the other side. She flops down again, narrowly missing her two just-born piglets, neither of which she's acknowledged.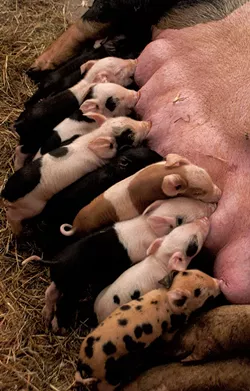 Hannah Palmer Egan
Newborn piglets in the farrowing barn
Unlike some mothers, pigs don't clean and fuss over their babies. If these piglets are underfoot, they die, though instinct keeps most out of harm's way. "When we first started doing this, we were right in there cleaning them off and trying to intervene," Bill says. "But they don't need that."
Still, Rick adds, "It gets really nerve-racking watching them." He's right — anxiety creeps in with the mother's every move. As each new one-pound piggy toddles toward its mother's teats, it's hard to pull away — even just to walk down the hallway to see more piglets.
The Thompsons started raising pigs as a way to use more of their 75-acre farm, much of which is open pasture. "The quail are mostly inside," Bill says, looking past the barns over the fields. "We wanted to do something more with what we have outside."
Coturnix quails are native to temperate and tropical regions in southern Europe and Asia, so raising them outside in Vermont would be impossible for most of the year. In contrast, the farm's Berkshire and Large Black heritage pigs thrive in this climate.
Right now in the farrowing barn, those pigs are all screaming, in concert with a wailing newborn that has become pinned between its mother and the wall. Rick jumps the barricade, scoops up the piglet and places it with the other four or five. He exits the stall and looks on for several minutes, transfixed.
Once they're weaned, these piglets will go out to pasture until they reach market weight. Then they'll board a truck to Black River Meats' North Springfield processing plant, where workers will give them a fast and clean slaughter and break them into chops, loins and other ready-to-eat cuts.
Though the Thompsons kill and cut all their birds at a second property in town, "We didn't really want any part of [processing the pigs]," Rick says. "This is a feel-good part of the business."
Bill seems to agree, speaking later in front of the barn-length caging unit that houses the quail breeding stock. All but a few Cavendish birds go from hatchling to plate in about six weeks, but the strongest ones are cherry-picked for egg production. Most of their eggs grow into the next generation of quail; others are sold in culinary markets.
For six months, the breeders live in wire crates equipped with automatic feeding, watering and sanitation systems. Grouped 14 to a cage, they move around easily, eating and laying and chattering among themselves. From the outside, they appear clean, healthy and generally unblemished. Some of the older birds have lost many of their back feathers, which is typical for aging poultry of any stripe. None seems particularly stressed.
Still, it's not much of a life, Bill admits. "At the end of the day, this cage-confinement stuff ... It gives a whole new dimension to the pigs," he says, trailing off.
"Does the caged-bird aspect of the business bother you?" I ask.
"It's not a huge issue for us," says the farmer. "But it's something we think about."
Besides its two on-farm employees, Cavendish Game Birds employs six or more people at its poultry processing facility, all of whom are paid well above minimum wage. Once the farmers add up those wages, the extensive and pricey infrastructure that hatches, protects, feeds and handles the delicate birds, and the fuel to heat the open-format barns where the quail spend most of their short lives, they're glad when they can make a 15 to 20 percent profit on each bird.
The brothers estimate that pork profit margins could double those. Though pigs need eight months to reach market weight, they grow fat on the waste products of other food businesses, which the farmers obtain for just the cost of transportation.
The pigs sup on whey from Vermont Farmstead Cheese in Woodstock or spent grain from Windsor's SILO Distillery and Trout River Brewing (which recently rose from the dead under new ownership in Springfield — see Side Dishes, page 41). The gluten-free bakery of Brattleboro's Against the Grain Gourmet contributes factory seconds. Piglets are weaned on cracked, misshapen or misformed quail eggs, which are boiled and mashed.
But perhaps the brothers' strongest reason for keeping pigs has little to do with business or logic. "I like it," Rick says, standing in the barnyard toward the end of the day. "Looking out and seeing the animals. When the fields were empty, there was a charm to that, too, with the waves of grass or whatever. But I like seeing the animals out there."