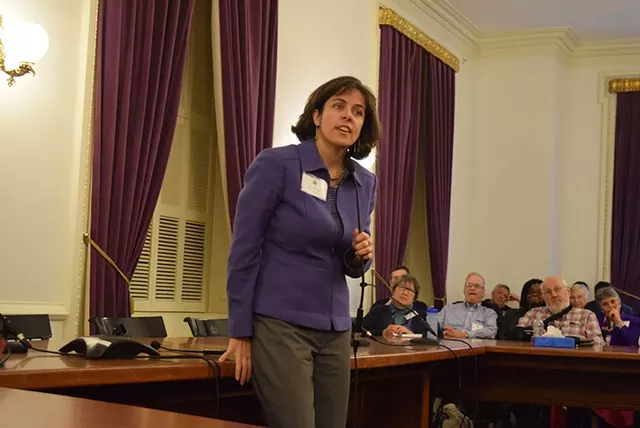 Terri Hallenbeck
Democratic speaker nominee Mitzi Johnson addresses House Democrats on Saturday.
In their first Statehouse meeting since last month's elections, House Democrats spent Saturday hearing from committee leaders about the issues they expect to arise when the legislature convenes in January.
They were on just the third of 13 committee reports when Rep. Mary Sullivan (D-Burlington), speaking for the House Natural Resources and Energy Committee, made her pitch for a carbon tax. She called the measure, intended to reduce fossil fuel consumption, one of the "most maligned" of the fall campaign.
In the Statehouse meeting room, none of the 40-some Democrats in attendance said a word, but one could almost hear what some were thinking: Did she say carbon tax? You mean the very same issue that Republicans successfully used in recent months to hound some Democrats and Progressives out of office?
Yes, she did. And unapologetically.
"I don't want to let them get away with misrepresenting the tax," Sullivan said afterward, referring to Republicans. "They never talk about what an economic development tool it is."
Sullivan craves a debate over a proposal that Republicans spent boatloads of money criticizing in radio, television and print advertisements. Those ads, she argues, failed to mention that 90 percent of the money raised by the levy could go back to Vermonters in the form of direct rebates to consumers, a sales tax cut and credits for home-weatherization projects.
Maybe so. But by electing Republican Phil Scott governor, didn't voters send Montpelier the message that they're uninterested in new taxes and spending? Are Sullivan and her carbon-taxing compadres politically tone-deaf — or is their reading of the election results a reasonable one?
Either way, advancing such a proposal would immediately pick a fight with the governor-elect, who has said repeatedly that he would veto such a bill. It would also pit Democratic lawmakers against one another.
As Sullivan spoke, Rep. Sarah Buxton (D-Tunbridge) stood across the room, cringing. Buxton's reelection bid is in the hands of a judge after she and Republican challenger David Ainsworth found themselves in a tie. She attributes her electoral tight spot in part to Republicans' barrage of ads focused on the carbon tax.
Buxton says her position was mischaracterized: She opposes the tax, but Republicans disregarded that fact. Whether she ends up in or out of the legislature, the three-term lawmaker says she hopes legislators find other ways to reduce the output of carbon in Vermont. In her rural district, she says, the prospect of a carbon tax raises "very real concerns about higher costs of living and greater commuting costs."
The intraparty disagreement suggests that soon-to-be House speaker Mitzi Johnson (D-South Hero), whom Democrats elected Saturday as their nominee to run the chamber, will have her hands full playing referee. Sullivan is no outlier. She was one of Johnson's earliest, strongest supporters for the speaker's job and is considered a potential chair of the Natural Resources and Energy Committee.
Asked afterward whether Democrats would really seek a carbon tax this year, Johnson said the proposal was "on the radar," but she also indicated that Sullivan hadn't quite followed the caucus' agenda. The speaker-to-be said she had hoped that committee designees would outline broad problems their panels planned to tackle, not champion a specific solution this early in the process.
In the most delicate of terms, Johnson acknowledged that some members might see things differently.
"We have a very broad Democratic caucus," she said. "There have been times in the past where a more senior voice or a louder voice gets their idea out front first. It's really my priority to make sure committees don't start out with, 'Who's got an idea?'"
Before they consider specific labor bills, for example, Johnson wants members to examine the challenges that face Vermonters who patch together several jobs to make a living. She's asking them to look at whether the state can help make retirement, health coverage and other benefits portable for those with a variety of gigs.
Other committee designees apparently got Johnson's memo. When it was her turn to speak, Rep. Maxine Grad (D-Moretown), who chairs the House Judiciary Committee, didn't specify whether her panel would legalize marijuana or not. She said more vaguely that she expected to look "at the role of marijuana in our criminal justice system."
Afterward, however, Grad was more specific. She hopes to consider a Washington, D.C., model, which she described as "super decrim." In the nation's capital, possession of up to two ounces of marijuana is legal, but sale and public consumption are not.
See how quickly debate over any issue comes back to a specific proposal? On every topic, the natural order of things for legislators, lobbyists, the media and the public will be to zero in on these questions: Is there a bill, and will it pass?
Try as she might to focus her members on tackling concepts, Johnson will eventually have to be the gatekeeper who decides whether there is a bill, whether it has merit and whether her caucus agrees. On Saturday, she got her first look at how hard that might be.
Bernie's Batting Average
Once Sen. Bernie Sanders (I-Vt.) lost his bid for the Democratic presidential nomination last summer, he shifted much of his attention to helping other candidates get elected — in Vermont and across the country.
Given the huge crowds he was drawing and sizable sums of money he could raise by writing an email and pushing "send," it was plausible that the 74-year-old senator would be the difference-maker in many of those races.
So how did Sanders' beneficiaries end up doing?
In Vermont, he backed more winners than losers, by a count of 17-7. Nationally, he had less success: 10 winners and 13 losers. His overall score: 27-20.
Some of his winners — especially in Vermont — were not exactly big risks. State Sens. Tim Ashe (D/P-Chittenden), Anthony Pollina (P/D-Washington) and Dick McCormack (D-Windsor) surely would have done fine with or without feeling the Bern.
But Sanders boosted other Vermont candidates who were less of a sure thing. Among them: lieutenant governor-elect David Zuckerman, senator-elect Chris Pearson and representative-elect Cindy Weed.
Nationally, he helped Pramila Jayapal, a Democrat in Washington State, become the first Indian American woman elected to the U.S. House. In New Hampshire, Sanders-backed Democrat Maggie Hassan defeated U.S Sen. Kelly Ayotte (R-N.H.) — but just barely.
Sanders' faves also lost races that were seen as winnable.
Here in Vermont, Democratic gubernatorial candidate Sue Minter relished his endorsement, the statewide rallies that followed and the fundraising appeal he made on her behalf. But none of that was enough to put the first-time statewide candidate over the top against Republican Lt. Gov. Scott.
A handful of Vermont House candidates also failed, though nearly all of them were challenging incumbents. Two among the defeated were longtime Sanders supporters: Progressive/Democrat Mari Cordes of Lincoln and Progressive Robert Millar of Winooski.
Sanders' personal visits on the campaign trail didn't deliver victory for Zephyr Teachout, the former Vermonter who ran for an open U.S. House seat in upstate New York, for Russ Feingold in his bid to return to a U.S. Senate seat in Wisconsin, or for Katie McGinty, a first-time U.S. Senate candidate in Pennsylvania.
What should we make of the results?
"Our research into endorsements suggests that they tend to have less of an impact than you think," says Middlebury College political science professor Matt Dickinson. That includes Sanders, as popular as he had become.
Endorsements have the most impact when they are unexpected and come during primary elections featuring candidates who are similar and in lower-level races in which voters tend to have less information to go on, the prof says.
Pearson, who was making the jump from the Vermont House to the Senate, says that last factor applied to his race, in which he was one of 11 candidates in the Democratic primary and one of eight candidates for six seats in the general election. "I do think it helped me stand out," he says.
The $80,000 that Sanders' fundraising appeal generated for Pearson helped, too, because he never had to spend time raising money himself.
But he came in last place — of six successful finishers — after fellow newcomer Debbie Ingram.
Mike McCarthy, an unsuccessful Democratic state House candidate in St. Albans, touted Sanders' endorsement in his mailers. Ultimately, it did little to win over those not already inclined to vote for him, McCarthy says.
The same was true for Minter, whom Sanders endorsed late in the campaign, Dickinson says. Those college campus rallies might have energized a few unenthused students to vote, but not large numbers. "If you're attending a rally on a college campus, you are probably going to vote," he says.
The lesson, according to Dickinson, is that Sanders can be most effective helping to recruit and fund like-minded, down-ballot candidates who are challenging the status quo. The Sanders seal of approval is helpful, but financial and logistical support is even more so. "Money is crucial," he says. "That money begets more money."
Lobby Labels
Two Vermont lobbying firms are headed into the New Year with new names that signal new focus.
KSE Partners, one of the state's most influential lobbying firms, announced Monday that it is now Leonine Public Affairs. The new name may not exactly roar off the tongue, but president of public relations Alex MacLean says it came out of a collaboration with the Burlington branding firm Tenth Crow Creative.
"We felt that Leonine, meaning lionlike, would better reflect who we are today — a bold, action-oriented firm," says MacLean, a former campaign manager and deputy chief of staff to Gov. Peter Shumlin and a newly minted partner at the feline firm.
The rebranding is intended to signal that the outfit has branched out beyond government lobbying and now also specializes in public relations, advocacy campaigns and tax analysis for the telecommunications industry, according to MacLean.
Bill Lofy, a former chief of staff to Shumlin, has transformed his lobbying firm, Lofy Strategies, into a new company, called Kria Group. Kria means "to grow" in the Portuguese-based Creole spoken in Cape Verde.
Lofy and business partner Dan Chang are focusing on public relations and business development projects in Vermont and West Africa, an unusual combo that suits their specific backgrounds.
Both live in Vermont and were Peace Corps volunteers in West Africa — Lofy in Cape Verde, off the coast of Senegal; Chang in Gabon. (For the record, I was also a Peace Corps volunteer in Niger, West Africa, but that's just a coincidence.)
Their new company is looking for projects "that invest in people and organizations that are doing good for the world, and we help them tell their stories and grow," Kria's website declares.
In Vermont, their signature project is the Botanical Center of Excellence, which is looking to extract cannabidiol from hemp for therapeutic uses. In West Africa, they are focused on making use of Cape Verde's bananas, mangoes and strawberries to create the island nation's first juice manufacturing facility. Lobbying and political consulting will play a smaller role in the endeavor, though the firm recently advised the Democratic Governors Association's pro-Minter super PAC.
They might just have cornered the Vermont-West Africa market.
Disclosure: Tim Ashe is the domestic partner of Seven Days publisher and coeditor Paula Routly. Paul Heintz returns to Fair Game next week.