Brittain Shorter
Footings
It's a little-known fact that Waking Windows, the annual citywide indie-music festival in Winooski, actually has its roots across state lines in Peterborough, N.H. The small southern New Hampshire town is home to its own indie fest, the Thing in the Spring. Like WW, TITS — hey, it's just the acronym — turns the bars, shops and galleries of downtown Peterborough into one big rock club. Also like WW, the festival presents an array of up-and-coming indie and experimental bands as well as visual and craft artists.
The Thing in the Spring was the direct inspiration for Waking Windows, thanks to a chance meeting between WW cofounder Nick Mavodones and TITS cofounder Eric Gagne several years ago. In addition to founding the New Hampshire festival with his wife, Gagne is also a musician. His band, Footings, is set to release its debut full-length album, Alienation, later this month. If you dig the sounds found each May at Waking Windows, you'd do well to give Alienation a spin — or check out Footings when they play ArtsRiot in Burlington this Saturday, January 30.
Alienation is a moody, scrappy little record — in much the same way WW and TITS are scrappy little festivals. Gagne is a voracious reader and listener — his day job is manning the record section at an indie bookshop in Peterborough called the Toadstool. And his music reflects those passions. He writes with a wry, pointed sensibility, musing on intertwining themes of travel, faith and identity. He has a low-key, weary croon that bears shades of Lou Barlow. This is set against a tattered canvas of punchy and occasionally pitchy guitars, alternately jittery and swooning strings, and sauntering drums. The effect calls to mind the work of fellow New England favorites Brown Bird or the Low Anthem, albeit a good deal scruffier.
In advance of Footings' upcoming Burlington gig, Seven Days caught up with Gagne by phone before his shift at the bookstore.
SEVEN DAYS: We'll dig into your new record shortly, but I wanted to start by touching on the connection between the Thing in the Spring and Waking Windows. Because Waking Windows likely wouldn't exist if it weren't for the Thing in the Spring.
ERIC GAGNE: Well, I would say that Nick Mavodones is a big part of the reason why the Thing in the Spring exists the way it does.
We started doing it in the 2006, and I met Nick at either the third or fourth one. And when I met him, it was like a "long-lost brother" kind of thing. And I don't think I'm unique in having that experience with him. But he just jumped right in, like, "Hey, you need a hand with that?" I've been booking DIY and basement shows for 20 years, but I didn't have as much experience doing more legit and pro bands, the calibration and coordination that he does. I don't think he set about to do this, but his advice and presence has been like on-the-job training where you hire someone who knows more about the job than you do.
SD: What's the music scene like in your neck of the woods?
EG: It's really vibrant, if you're into jam bands.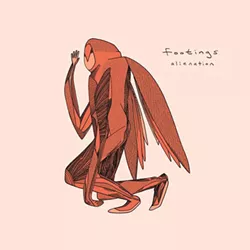 Alienation by Footings is available on February 19.
SD: That sounds vaguely familiar...
EG: Actually, "vibrant" might be a misnomer. There's a great pub here called Harlow's that has music three or four nights a week, and they always help us out with the Thing in the Spring. But it's a bar. It's not like the whole audience is sitting quietly paying attention. And then there's the Peterborough Folk Music Society, which is mostly older people, and they have mostly the same groups coming in every year. Kind of the Greg Brown scene. I was doing a lot of DIY shows here in the bookstore, but then my wife and I had a baby, and I thought that, if I'm going to be away at night, I want to be doing my own music.
There are a few colleges nearby, but it's hard to get kids to come out. I'm really trying to learn how to connect with some of them, because it's hard to know what's going to appeal to them. So it made more sense to me, since I was spending all year planning and booking the Thing in the Spring, to focus all of my energy on that.
Anyway, I don't even know if there are rock bands at the high school. My wife is an art teacher there, and I know a few kids are DJs. So, as far as I'm concerned, the Thing in the Spring is the one real bastion of unique, independent music we have in the area.
SD: What's your musical history?
EG: My first touring band was called Death to Tyrants. It was an instrumental experimental band. We did a couple records on Clean Plate in western Mass. I don't know what you'd call it. It was kind of screamo before screamo meant kids with eyeliner, when it literally meant screaming music. Though we were instrumental and did it without screaming.
After that, I started playing with my buddy Austin [Wright] in a band called Redwing Blackbird. Then I started doing solo stuff under the name Passerine. But then this joker in Florida started harassing me about changing the name because he had a band called Passerine.
SD: Uh-oh.
EG: I was like, "Dude, let's wait until one of us gets famous and worry about it then." So I dodged him for, like, a year. But then he was like [in a nasally voice], "I'm coming up there to tour, and I want you to change that name." I got pretty sick of the guy.
Anyway, I had started working on a new record and had recorded a bunch of it. But then I started playing with Dustin [Cote], who was the drummer from Bunny's A Swine, one of my favorite New England bands — they're from Northampton. And it completely changed the songs in a really good way. So we started the record again, and his partner, [Elisabeth] Fuchsia, who I had no idea played viola and violin, started doing these cool string arrangements. And it became a new thing, and we became Footings.
SD: In what ways did they change your music?
EG: Everyone has rhythm. Like, I'm not a bad dancer or anything. But if I'm just playing by myself, there is a different meditative quality. And it's hard to imagine what the beat would be and let that inform your playing. So to hear Dustin react to a song and have it be natural, I'm able to react to that. I feel it made the music more honest, because there is a natural chemistry driving the songs, instead of me trying to compose all of the feeling.
And then the strings do a similar thing. They imbue the songs with another dimension. It's nice to write with them. The songs almost become more relatable because you have a number of different perspectives shaping what you're doing. It's not so one-sided or egocentric. Not that that's a bad thing. But it's more pluralized.
SD: Lyrically, what did you draw inspiration from?
EG: I always loved this Jimi Hendrix interview where he said that when he writes lyrics, he writes about what's happening, what's happened and what he wants to happen. So it's a mix of past, present and future. So some of it is fictional, some is from experience and some is from the imagination. I read a lot and listen to a lot of folks. So I dig from all that stuff. Murakami to Cormac McCarthy, the classics. Musically, I listen to everything from Coltrane to Jay Z, Bob Dylan, Morphine. I don't know that there's a particular well I draw from, except to make sure it's my own well as much as possible.
SD: I always sort of hate asking that question. It's like asking a novelist, "Where do stories come from?" The answer is almost always, "I don't know. They just come."
EG: For me, I practice every day, and then one day I have a new song. You know when you're trying to find a station on the radio, like, looking for the football game? You know it's on the radio somewhere. So you try to find it. And there's all this static. But you can hear that somebody is talking about sports. You can hear the announcers and the crowd. But you can't really make it out. So you tweak the dials until it becomes clear. Songwriting is kind of like that for me.