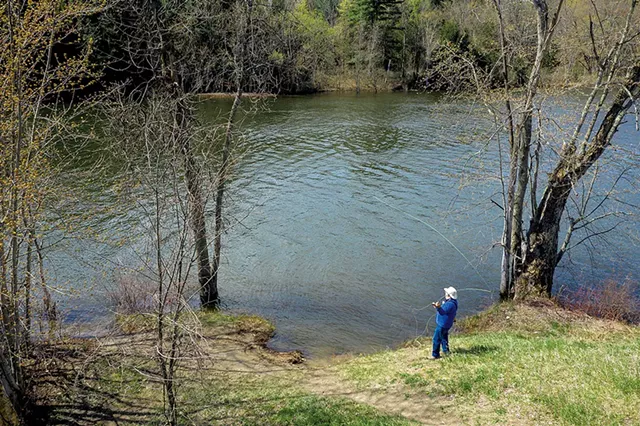 Oliver Parini
Peter Shea
When Peter Shea agreed to introduce me to fly fishing, he didn't say we'd catch fish. I didn't press the issue. I figured I'd picked up enough bad habits as a boy, fishing with a spinning rod and live bait, to make me a difficult student.
Plus, early spring waterways can be cold and murky in Vermont, making fish sluggish and bait tough to see. Trout season had been open for just under a month when we went out, but we knew our odds of landing a fish were long.
I was with Shea because he's authored eight books on fishing and been an avid fly fisherman for more than 50 of his 72 years. Yet the Burlington resident doesn't present himself as a master angler. His expertise is in geography — getting into areas "where the trout haven't seen a lot of people," he said.
For our trip, Shea chose Goshen Dam, also known as Sugar Hill Reservoir, in the Green Mountain National Forest southeast of Middlebury. We tried a few casts from shore, using "streamers" — flies designed to simulate underwater life, such as a leech or a minnow. One fly was tied in a pattern known as a Governor Aiken, which then-governor Peter Shumlin designated as Vermont's state fishing fly in 2014.
Shea was patient as I tried to get the fly-casting rhythm down — flicking the line behind me and snapping it forward as I played it out. The goal was to send the fly out a fair distance before yanking it back — "stripping" it — to make it move, attracting fish attention.
My progress was, let's say, gradual. My jerkiness snapped a couple of flies free of the line. One got hooked in Shea's rain jacket; another tangled in a tree branch behind us. But Shea was forgiving. The flies only cost a couple of bucks each, and he could tie his own in about 20 minutes, he said. So what if we didn't catch fish? There were sandwiches in the car.
For my part, I was grasping something beyond the basics of fly casting. Building an appreciation for the setting of his pastime might be Shea's most important contribution to Vermont fishing culture. Over nearly four decades, he has shared his passion for finding and fishing great spots with readers. His books range from contemplative and, at times, comical essay collections — with such cheeky titles as In the Company of Trout: True Stories, Ruminations, and Vermont Guidance and Collateral Trout: A Vermonter's Angling Memoirs and Fishy Tales — to informative guides such as The Atlas of Vermont Trout Ponds and The New Atlas of Vermont Trout Ponds: A GPS-Compatible Guidebook.
Oliver Parini
Peter Shea
The last one includes GPS coordinates for tech-enabled trout chasing and leaves the cartography to the likes of Google Earth. That allows Shea to delve more deeply into the features of individual ponds — such as accessibility, environmental quality and stocking.
In 2013, Shea launched his own press, Wind Knot Publishing. It offers five of his titles; he plans to publish a sixth, Vermont Trout Streams: A Fly Angler's Guide to the Best, this fall. Cowritten with Bob Shannon, the book promises to be a fish-and-tell tome like no other. It will combine Shannon's angling expertise with Shea's extensive research on more than 400 Vermont trout steams, including information from state fisheries biologists, whom Shea called vital collaborators and dedicated caretakers of the waterways.
Shannon is the owner of the Fly Rod Shop in Stowe and a fishing guide with some 30 years' experience. In the book, he draws on his own deep knowledge and his guide network to offer what he called the "technical standpoint," which goes well beyond fly-casting tips.
"Understanding the relationship between water temperature, sunlight cycles and the food cycle — insects — those are some of the key components," Shannon explained. The operating principle of fly fishing, he said, is "match the hatch" — the bugs that are hatching when you're going fishing, that is.
Although Shea calls himself a "duffer" compared with expert anglers, Shannon praises his coauthor's drive to show people where the wild things are. "I could not have done what he did," he said.
How Shea grew into this role is a fish story itself. It begins in postwar Holyoke, Mass., his hometown. Shea's father, Peter Sr., was a factory worker whom Shea remembers as loving and hardworking but more inclined to spend weekends in bars than playing baseball with his kid. He liked to fish, though, and would take his son on short trips around New England.
That's when Shea developed an interest in cartography, buying maps from the U.S. Geological Survey via advertisements in the back of Field and Stream. He and a buddy learned to navigate by map and compass and went camping, often keeping their destinations a secret.
"My mother and father would think that we were camped out, like, a three-mile walk away from home," Shea said. "The two of us would hitchhike to Vermont. We're 70 miles into Vermont, camped out, with the parents having no clue where we were — a couple of street kids from Holyoke."
Shea returned to Vermont in 1965 to attend Saint Michael's College, where he majored in sociology. From there, his story twists and turns like a backcountry stream. He was a Peace Corps volunteer in India, a bartender, a feather-jewelry maker, a drug treatment counselor. In the late 1970s, he studied geography at the University of Vermont and worked as a teaching assistant in the cartography lab.
In 1980, Shea left the master's degree program to cofound Northern Cartographic, a map and book publishing company, with Ed Antczak. They published the first Vermont road atlas to name all of the state's back roads, a Vermont geography text for middle schoolers and the first map of Moscow after the fall of the Soviet Union — featured in Time magazine in 1992.
Since leaving Northern Cartographic in 1993, Shea worked in corporate fundraising with Vermont PBS. Now in semiretirement, he works as a standardized patient at UVM Medical Center while running Wind Knot. If his life story has a theme, it's not going to show up on his résumé.
Spend time with him on a trout pond, however, and the common thread is clear.
Oliver Parini
Peter Shea
"Any time I can get my butt outside, I'm going to enjoy myself," he said at Sugar Hill Reservoir, as it became obvious that either the fish weren't biting or I was too inept to catch one. "Just seeing those loons made it worthwhile."
Shea pointed out the wheelchair-accessible dock jutting into the reservoir. Of his many literary endeavors, he seems proudest of Access America: An Atlas and Guide to the National Parks for Visitors With Disabilities, which Northern Cartographic published in 1988. The book won a Best Reference award from the American Library Association Booklist in 1990.
By the time we packed up to head home — fishless yet not disappointed — I thought of fly fishing as a gateway to a holistic environmental ethos. Shea underscores that view of the sport with his organizational work. For example, as a member of the central Vermont chapter of Trout Unlimited, a national nonprofit dedicated to freshwater conservation, he supports Casting for Recovery, a program that organizes fishing trips for women recovering from cancer.
One hundred Vermont schools participate in another CVTU-backed initiative, Trout in the Classroom. The multidisciplinary curriculum involves raising trout in school and then releasing them into the wild.
Shea is acutely concerned about how youth today connect with nature — or don't. "I worry about what they will do about the environment if they don't care about the environment, if their only environmental need is if there's an outlet they can plug into," he said.
But for now, Vermont's waterways are doing well, at least in terms of trout. In the upcoming Vermont Trout Streams, Shea shares the results of two extensive stream surveys — one conducted from 1952 to 1960, the other in 2017 — that show Vermont's brook trout population holding steady. He called it "a jaw dropper" to find that, over 70 years, "these trout are still hanging in."
"Brookies" are among the most temperature-sensitive of trout, Shea noted, which makes them particularly vulnerable to warming trends. Vermont's forested landscape, crisscrossed by rivers and streams, has probably helped sustain the population.
Shannon is also cautiously optimistic: "Vermont has been very proactive in analyzing our waters and rivers," he said. "Overall, the wild brook trout population seems to be thriving. That's not to say that we shouldn't be paying attention."
Shannon has ample opportunity to pay attention as he and his guides lead more than 500 fishing trips a year. Shea's forays this season will be more modest — a fishing trip out west, some fishing closer to home and a getaway to a pond near St. Johnsbury that he prefers not to identify.
Such coyness is conspicuous in someone who publishes books with the words "trout" and "atlas" in their titles. Yet, if a sense of mystery is inextricable from fly fishing, that's not necessarily a bad thing.
"There's always hope when you're fishing, right?" Shea said. "Hope is the essence of fishing."