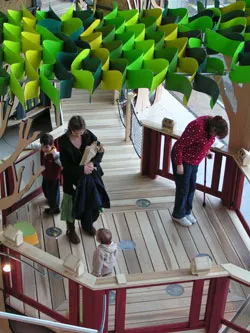 Click here for more Summer 2008 Hot List picks.
The Vermont Institute of Natural Sciences (VINS) is one of those fascinating local resources that tourists probably know better than full-timers. Its location beside the cutesy Quechee Gorge Village may have something to do with that, but in this case, it's advisable to follow the wisdom of crowds. You won't be disappointed.
VINS is a nonprofit environmental education and research organization. At the Nature Center on Route 4, you can stand face-to-beak with a rescued bald eagle, turkey vulture or snowy owl, then — if you're not too fazed by the stare-off — take in exhibits about trees, insects and birds. It's a great place to bring kids. This year, VINS is also running nature camps at the Ethan Allen Homestead in Burlington, where Fledglings (grades 1-3), Falcons (grades 4-6) and Eagles (grades 9-12) spend a week getting up close and personal with their natural surroundings.
With its compound of earth-tone paddocks at the edge of a forest, the Nature Center resembles a tamer Jurassic Park. This season it offers a couple of new exhibits, including one called "Tree Houses: Look who's living in trees." The eponymous structure is a multisensory attraction that's sure to get young'uns excited: Illuminated touch-pads make bird calls; plush flying squirrels hang overhead; porcupines balance on tree limbs; and fake possum scat adorns the handrails. An educational video reminds you that, since most homes are made with lumber, humans live in "tree houses," too.
In another new exhibit, "Rehab in Action," you can stand in front of a big window and gaze at an injured bird on the mend. It's a graphic reminder of how these majestic fliers got to VINS — mostly because observant people alerted the organization to a hurt bird or toted it in themselves. None of the avian residents of the Nature Center can survive in the wild. But what they teach us about their ways will last a lifetime.