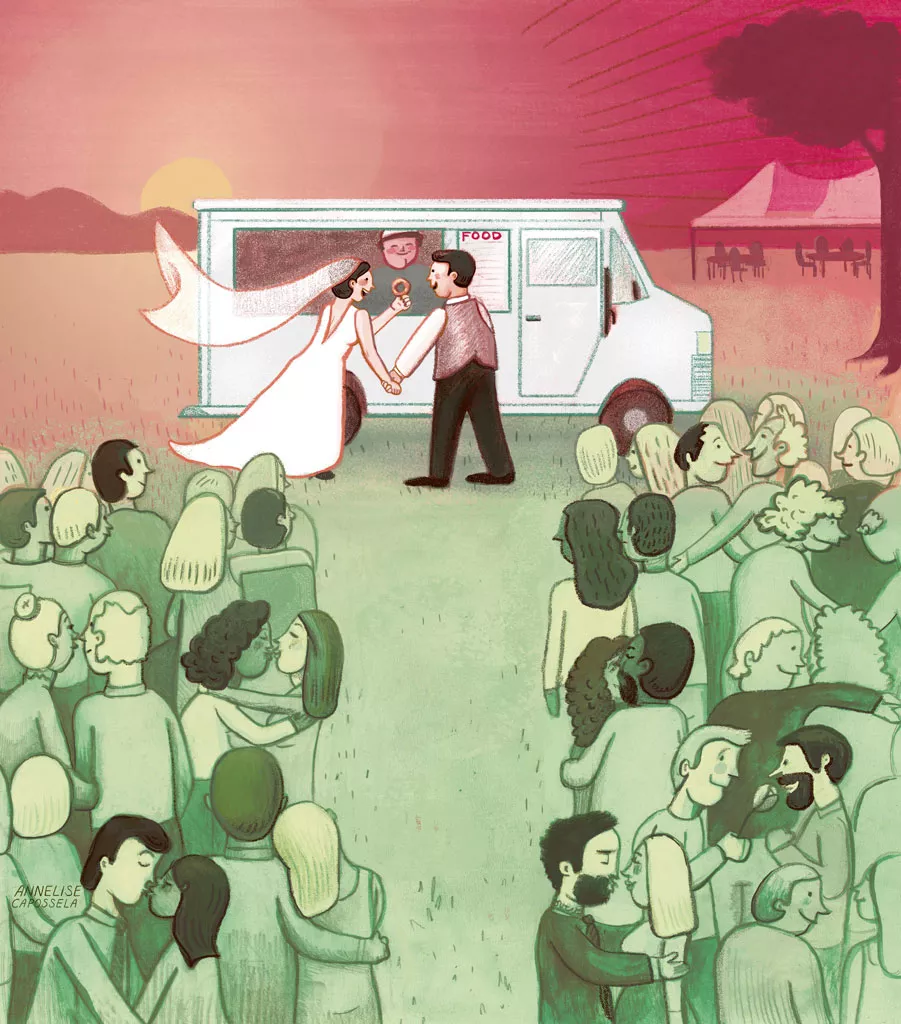 Weddings can be fussy, formal affairs. The number of conventions associated with the ritual is dizzying: contracts to sign, rings to purchase, dresses to try on, guests to invite, bridal showers, vows, flowers, music ... the list goes on.
Many of those traditions will likely stand for years to come. But Vermont weddings are changing with the times, according to local planners. Though the elegant full-blown ceremony still exists, many couples are toning it way down. Enter food trucks.
According to wedding planner Jackie Watson, owner of award-winning Vermont Enchanted Events in Hyde Park, food trucks are all the rage. "And they're not totally expensive, so that's a pro. They're also really unique, and they take you down memory lane," she says. "And it's fresh food."
Local food-truck owners can speak to the uptick in demand. Charlie Papillo, owner of Pizza Papillo, catered more than a dozen weddings and rehearsal dinners last year, churning out varieties of Neapolitan pizza in his mobile brick oven. He estimates that the number will be comparable or higher in the upcoming season.
Watching pizzas emerge from the oven is itself an experience for the guests, Papillo notes. And since he keeps different pies coming throughout the event, there's something for everyone. "It's unlike other events when food is prepared in advance," Papillo says. "It's constantly fresh. We urge people to eat a little, come back, then eat a little more, then come back, because the variety will change. And if a guest comes up and says, 'I've got this idea; will you do it for me?' — we'll do it. You're able to please a lot of people."
Brian Stefan, owner of the food truck Southern Smoke, says customers began requesting his services for weddings last year. By the end of the season, he'd catered five. Taco bars, barbecue and fried chicken were the biggest hits, he says. This year, Stefan is already in talks with seven wedding clients and hopes to book more.
"Weddings are one of my favorite things to do, because how often does someone get to throw such a big party for you and your family and friends?" he says. "Food should be a really big part of it."
Stefan, who spent more than a decade in Charleston, S.C., working formal events that he describes as "Ritz-Carlton," notes that the food didn't always give customers that much bang for their bucks.
"Weddings are notorious for chicken or fish and lazy potatoes served with symbolic vegetables for, like, $30 a plate or something," he says. "But everyone who's come to us for weddings has said the same thing: 'We want down-home and casual.'"
Stefan admits that laid-back approach comes more naturally to younger couples and their guests. "We told one client's mother that we wanted to do a taco bar at the wedding, and she turned pale and we had to get her a chair," he remembers. "Because she's thinking, like, Dog food and lettuce on a taco, right?"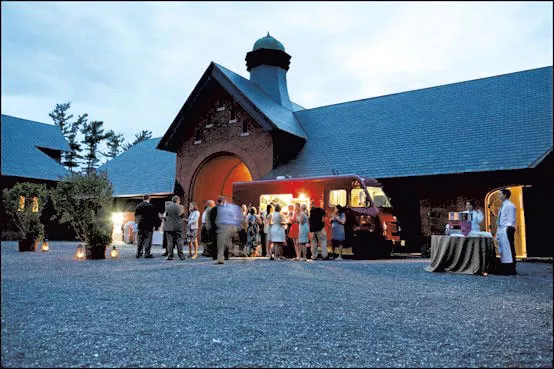 Courtesy of Orchard Cove
The Hindquarter catering a wedding
Little did that mom know that a gourmet taco bar is one of the most popular requests from Southern Smoke customers. Stefan whips up a variety of tacos with fresh, locally sourced ingredients and "20 or 30 different toppings," he says.
"Our generation is starting to let our hair down a little," he continues, "focusing on what's important — where we can put on the ritz and the snob, and also where it's not necessary."
In a foodie state like Vermont, keeping menus fresh and local is often a couple's priority, wedding planner Watson says. With traditional catering, much of the prep work and some of the cooking are done beforehand. But at least one established catering company has hopped on the food-truck bandwagon: Cloud 9 Caterers. "People are embracing the fact that we have alternatives to traditional wedding experiences," says owner Sarah Moran.
Over 25 years, the Colchester-based company has earned a glowing reputation with Vermonters and out-of-state clients alike. Executive chef Luke Stone churns out tasty, locally sourced menus with unique twists. He also exercises his cooking chops at Cloud 9's food truck, the Hindquarter, which is often parked at the University of Vermont green in Burlington. The Hindquarter is already booked for 12 weddings this season.
"We watched the economy tank four or five years ago. I think that's when the food-truck thing became more of a viable option for people who wanted to eat out but not necessarily have a dining experience," Moran notes. "Now it's hip! It's a culture, and we want to be part of it. We think of Cloud 9 being the big sister of a family and the Hindquarter being the little sister just out of college and living in Brooklyn," she adds with a laugh.
Indeed, food-truck catering costs less than a sit-down experience; Moran estimates that the Hindquarter charges $25 to $45 per guest, whereas Cloud 9 catering runs $45 and up.
That price differential has something to do with ingredients and menu variety. More significantly, however, food trucks eliminate the need for servers and other extras.
"You're really paying for a lot of service with [sit-down] catering," says Ben Maniscalco, the owner of Benito's Hot Sauce, whose wedding was catered by Papillo. "But with brick-oven pizza, you're not paying for the service; it's just about the food itself."
Stefan and Papillo both note that food trucks can open a range of rural avenues for wedding ceremonies and receptions. Many fields and barns in Vermont aren't equipped with the kitchen that a full catering company would need to feed dozens of people. Food trucks bring the kitchen and prep space with them. "We are so mobile," Stefan says.
The only drawback? It's impossible to churn out 100-plus fresh meals simultaneously from such small quarters.
"I try to make people understand that there's no way we can feed everyone at the same time," Papillo says. "But most people get that, and that's what they like about us — they're looking for their guests to be able to walk around."
From the planning perspective, Watson cautions that an extended eating period is a potential drawback: Some wedding guests could wait hours to be fed.
But, as Papillo notes, that delay can enhance a casual vibe and schedule, too. Last September, when he catered Maniscalco's wedding at a rural Starksboro property, the wait for pizza was "conducive to people walking around, talking and enjoying themselves, instead of sitting at the table and waiting for the band to announce it was time to get up and have fun," he says. "Most weddings, there's a two-hour dead period where nothing's happening. The ones I've done, people are up and talking right from the get-go."
Maniscalco notes that appetizers were served at his wedding to ensure no one got too hungry. But he agrees that the casual approach to catering helped achieve the looser vibe that he and his now-wife, Hannah, were seeking. "We really didn't want people to be locked in at their particular table like at a very formal wedding," he recalls. "We thought that was kind of restrictive, and having Charlie there really helped the whole flow of it."
Even though rain interrupted the outdoor wedding, Papillo and Maniscalco remember guests mingling happily under tents and gathering around the oven to watch the pizzas come out. Papillo whipped up a custom-made pie with sweet potato, chèvre and maple syrup.
"It was really exceptional," Maniscalco says. "We got away from the sit-down thing, and people were loving it. They were going back for more all night."