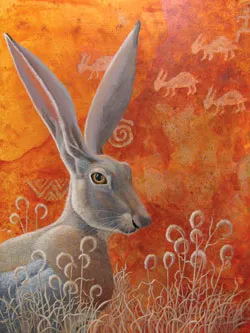 "Jackrabbit" by Liza Myers
What's going on in Rutland? No sooner had the venerable Chaffee Art Center opened a satellite gallery, the Chaffee Downtown Art Center, than Castleton College followed suit. This Friday the Castleton Downtown Gallery holds a reception for its inaugural show of works by Castleton art faculty.
"The Chaffee is great, but it's the only gallery in town," says Bill Ramage, director of visual arts programs at Castleton. "It would be good for Rutland if there is more than one — hopefully there will be more than two."
We can also hope that future galleries will avoid inserting the word "downtown" in their names. As it is, the Chaffee and Castleton "downtowns" are just around the corner from each other, on Merchants Row and Center Street Alley, respectively. In fact, the two are cooperatively presenting a current artist-talk series.
Both locations are positioned to benefit from a pending neighborhood development called Center Street Marketplace. What's planned is an interior courtyard park that will allow surrounding shops, restaurants and other businesses — including the Castleton Downtown Gallery — to "make their back door their front door," as Downtown Rutland Partnership executive director Mike Coppinger puts it. The project is scheduled to break ground this spring, according to Ramage.
An accessible art gallery sounds like an apt addition to that urban park space. But why is Castleton footing the bill for a Rutland venue some 10 miles from the college? Isn't its Christine Price Gallery enough?
"Most people don't travel very far to look at art," Ramage says. "We have a good gallery on campus, but it's predominantly appreciated by college people." He suggests the additional exposure to artists will be good for both the college and the community. In addition, Ramage notes, Castleton's president, Dave Wolk, "is from Rutland and has been interested in getting more involved in the town … [He wants] a real and viable presence in downtown."
Indeed, under Wolk's presidency the college has purchased and renovated Rutland's Spartan Arena, has created a community outdoor ice rink, and sends students to town to volunteer for the city's nonprofits. "We have a five-year lease on the [Downtown Gallery] property and are exploring other ways to integrate our growing performing arts programs at the Paramount Theatre as well," Wolk writes in an email. He echoes Ramage's comment that investing in the town benefits the college community, too.
In bringing more art to the fine residents of Rutland, the Castleton Downtown will have one distinct advantage over a commercial gallery: "We're not totally dependent on selling art, so we can experiment," suggests Ramage.
Whether the venue will get all wild and crazy remains to be seen, but for now its three-room quarters are hosting 40 works by 13 accomplished faculty members. Ramage says both on- and off-campus galleries will likely continue to present "mostly regional" artists.
The original Chaffee, housed in a grand Queen Anne Victorian on South Main Street, exhibits works primarily by local artists but is closed for a few months for renovations. The downtown gallery's exhibit, "Full House," on view through March 23, assembles painters Katherine Langlands, Brian Sylvester, Dick Weis and Johanne Durocher Yordan in the visual-art equivalent, presumably, of a very good hand in cards. The Chaffee is also home to the Rutland Area Art Association, which takes art outdoors with its annual Art in the Park weekend fests in August and October.
The rumor that Vermont has more visual artists per capita than any other state may or may not be true, but there are certainly enough to populate any number of new galleries in Rutland and around the state. Bring 'em on.
Castleton Faculty Exhibition, Castleton Downtown Gallery, Center Street Alley, Rutland. Reception March 15, 6 to 8 p.m. Through May 11. Info, 468-1266.
"Full House," paintings by four Vermont artists, Chaffee Downtown Art Center, Rutland. Through March 23. Info, 775-0356. chaffeeartcenter.org