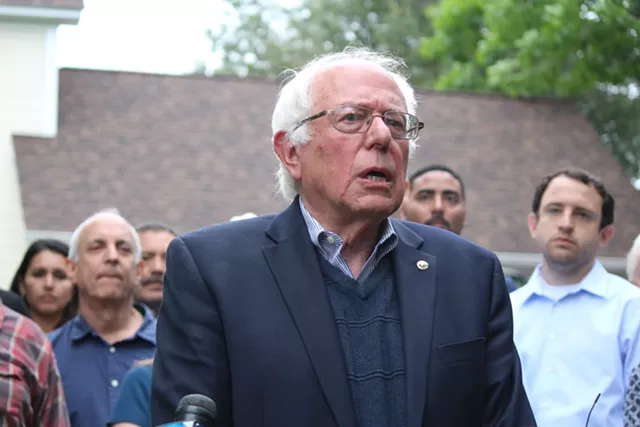 File: Paul Heintz
Sen. Bernie Sanders
Thinking about running against Sen. Bernie Sanders (I-Vt.) in 2018?
If so, consider this. According to his latest campaign finance report, submitted to the Federal Election Commission last weekend, his senatorial campaign fund has an astounding $5.86 million in cash on hand.
It would be virtually impossible to spend that much money in Vermont, even if Sanders were to face a real challenge. Last time around, Sanders managed to spend $2.6 million in defeating Republican John MacGovern by a massive 45 percentage points. He couldn't possibly do much better, even if he spent twice as much this time.
So what's he doing with all that money? A lot of it goes to fueling the machine: fundraising, strategy and consulting. But a goodly chunk has been spent on his large, enthusiastic campaign-style rallies across the country.
That's kind of an odd thing for a Vermont campaign. It's completely legal, mind you, but holding a rally in West Virginia or Florida or Arizona has little or nothing to do with attracting votes in Vermont.
Meanwhile, Sanders' presidential campaign fund is virtually dormant. It still weighs in at $5 million, but there was little raised or spent from the fund during the reporting period for the third quarter.
A recent Newsweek headline blared that Sanders' presidential fund was $300,000 in debt. That's technically true but misleading. Sanders has a few unpaid obligations, mostly security costs for campaign events, but weep not for Bernie. He's sitting on a pile.
Sen. Patrick Leahy (D-Vt.) and Congressman Peter Welch (D-Vt.) also turned in their third-quarter reports. And while they're not anywhere close to Sanders' league, they are certainly no slouches.
Welch, facing reelection next year, is sitting on more than $2 million. Leahy, who doesn't face another campaign until 2022, is coasting along with a mere million. And, unlike Sanders, the two Democrats have raised a lot of their money from political action committees and Washington, D.C., lobbyists and lawyers. Welch took in $81,000 in the third quarter; all but $5,000 came from PACs.
Leahy barely raised any money this time around — only about $14,000 — but when he needs to refill the tank, he benefits greatly from the largesse of special interests that can crank out four-figure checks at will, as previous filings attest.
Leahy and Welch have a ready excuse for this aggressive fundraising: the U.S. Supreme Court's 2010 Citizens United decision. In a world of virtually unlimited campaign cash, they say, they have no choice but to raise as much money as they possibly can.
But see, here's the thing. Both Leahy and Welch were doing this long before Citizens United.
In the 2007-8 campaign cycle, Welch raised nearly $1 million and entered 2009 with $630,000 in cash on hand. In the six-year cycle that ended in 2010 (including five pre-Citizens United years), Leahy raised almost $5 million and began a new six-year term with more than $2 million in his campaign fund.
They didn't need that money to fight the unleashed financial power of conservative mega-donors; they used it to discourage challengers. If you were a Republican on the rise, would you challenge Welch in 2018 knowing he had $2 million to spend? Of course not.
Sanders doesn't play the D.C. money game, but he is executing a perfectly legal if faintly iffy maneuver with his two campaign funds.
When Team Sanders sends out a fundraising blast, donors are directed to his senatorial fund, not the presidential one. And it's the senatorial campaign that's paying for all his out-of-state political travel.
Spending for the three months included $142,000 for event planning and expenses, $18,000 for hotels and rental cars, and $25,000 for airfare.
Oh, wait: Add another $38,000 to the airfare column. The Sanders campaign paid that much to Apollo Jets, a private charter service. All together, you get a healthy $223,000 for three months of travel and events outside Vermont.
And what, pray tell, does any of that have to do with running for reelection in Vermont?
Meanwhile, there's one expense you won't find in any of the Three Amigos' campaign reports. None of them donated to the Vermont Democratic Party, which has been suffering from acute financial embarrassment. In mid-September, the Dems were four days late with a staff payroll. And they entered the last week of the month needing at least $13,000 to meet the next payroll.
So did they make it? "Partially," says the Dems' compliance officer, Selene Hofer-Shall. "We are catching up. There are significant pledges on the table."
Also, she says, the party is enjoying brisk ticket sales for a November 9 fundraiser featuring Rep. Keith Ellison (D-Minn.), a pillar of Sanders' presidential campaign and one of the party's most dynamic speakers.
Still, the Dems are digging out of a deep hole, and the 2018 campaign season is right around the corner. That may be one reason why the party is still searching for a gubernatorial candidate to supplement the current offerings, environmental activist James Ehlers and 13-year-old Ethan Sonnenborn.
Media Note
Congratulations to my predecessor and Seven Days colleague Paul Heintz, who came home from the conference of the New England Newspaper & Press Association and the New England Society of News Editors with two of the biggest prizes last week. He was named the AP Sevellon Brown New England Journalist of the Year. And Heintz and Seven Days jointly won the Morley L. Piper First Amendment Award.
"In the past year, no one has distinguished himself more than political editor Paul Heintz," read the Brown Award citation. "Heintz has proven he's not just a dogged reporter and eloquent writer; he's a leader in the field." Beyond his reportage, he was also honored for his leadership in the successful campaign to pass a media shield law in Vermont.
The newspaper shared the Piper Award for standing behind its staffers when they were subpoenaed in the sexual assault prosecution of former state senator Norm McAllister.
Seven Days also won an award for "Death by Drugs: Opiates Claimed a Record Number of Vermonters in 2016," a story by Mark Davis about opiate overdose deaths in Vermont, told through the stories of 14 victims. "This was powerful work — an unforgettable read," said the award citation.
One other Vermont newspaper took home a prize. The Brattleboro Reformer was honored for a series called "Andy's Journey: The Struggles Through ALS," which chronicled one man's experience with the ailment also known as Lou Gehrig's disease. Amy Radder, Maddi Shaw and Kristopher Radder wrote the series.
In this space, we often bear bad tidings of an industry in decline. There's still plenty of good journalism being done in Vermont — not just at Seven Days and the Brattleboro Reformer, but in newsrooms all over the state.