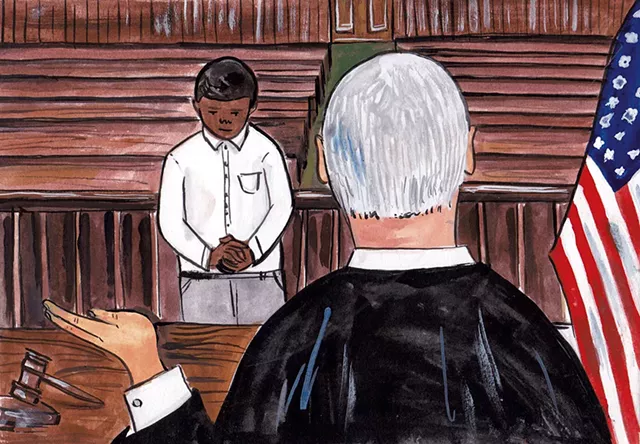 High-profile killings of law enforcement officers and citizens have roiled the country and intensified the debate about police relations with minorities. And while Vermont has experienced no tragedies on the order of Dallas, Minneapolis or Baton Rouge, the national debate is having an impact here in ways big and small.
Exhibit A is a low-level criminal case from South Burlington, unremarkable except for ending with a surprising twist.
It started with a phone call around 10:30 p.m. on May 16. A motorist told police that a man driving a Chevy Malibu erratically had almost run him off the road. South Burlington police officer Dale Crispin pulled over Kareem G. Louard, a 25-year-old African American man from Waterbury on Interstate 89, near the Williston exit.
As Crispin began questioning Louard, he smelled marijuana and alcohol. Louard acknowledged that he had smoked marijuana and had a drink before driving, according to an affidavit Crispin later filed in court. As other officers arrived, Crispin handcuffed Louard and arrested him on suspicion of driving under the influence.
Back at the South Burlington police station, Louard's blood alcohol level was tested at 0.09 percent, just over the limit, according to Crispin's affidavit. But Louard wasn't supposed to be behind the wheel at all. His license had been suspended after a 2015 driving-under-the-influence conviction, according to court documents.
So police charged Louard with DUI and driving with a suspended license. He was held in jail overnight for lack of $750 bail.
Seven Days obtained an audio recording of his July 13 hearing in Chittenden Superior Court, during which lawyers told Judge Gregory Rainville that they had reached a plea agreement. Louard had signed off on the deal: He would plead guilty to a misdemeanor charge of negligent operation — a lesser offense than DUI — and driving with a suspended license. He would serve 11 days on a Department of Corrections work crew and pay a $300 fine.
According to a legal document and a statement Louard's lawyer, public defender Lucas Collins, made in court, a factor in the agreement was that the initial report about erratic driving had been false. Louard had a female passenger, and her jealous ex-husband had spotted them together and sought to cause trouble for Louard.
That the agreement was "relatively lenient," Collins, told Rainville, was justified by his client's good conduct with police.
The traffic stop was tense, Collins told the judge. "My client, to his credit, behaved very well, was very compliant, was polite, did not give them any trouble," Collins said. "This was a false report from a jealous ex ... All things being equal we gave him a little bit of a benefit for behaving well in a [difficult] situation."
All that was left was for Rainville to inform Louard of his rights and to make sure he understood the legal process before accepting the agreement.
But Rainville had another idea.
"I'm going to dismiss [the charges] in the interest of justice. You're done," Rainville told Louard.
He explained: "And here's why: You've been watching the TV. You know what's going on in the world. And you're a black man. This could have gone really bad, really quick if you had gotten your back up about this or gotten upset or just got overly excited. You'd probably have gotten hurt, and they might have as well, and you did everything by the book. And that's more than a reasonable person could be required to do under the circumstances. So I think you deserve a break here. You're done."
"Thank you," Louard said.
"Alright," Rainville said. "Good luck to you."
"You don't see that every day," the judge later remarked from the bench.
Rainville's decision left some local law enforcement officials scratching their heads.
"Frankly, I'm befuddled," South Burlington Police Chief Trevor Whipple said in an interview. "I don't know where the decision came from, nor how it's fair and equitable to others in the system. I understand if the judge finds a misstep by our officer, if rights weren't followed. It's something I've never encountered before and certainly caused confusion for our officer. My response to the officer is simply: Judges make decisions from the bench and we don't have any control over what a judge does or does not do."
Whipple said he reached out to prosecutors to ask if Crispin had done anything wrong, such as failing to accurately collect evidence or infringing on Louard's legal rights.
"I was assured by the prosecutor's office that they saw no defects in the case," Whipple said.
"[The police] did their job, and the judge made a decision that he is allowed to make," Chittenden County State's Attorney T.J. Donovan said in an interview. "We may disagree with it, but we respect his authority to make it. I have a lot of respect for Judge Rainville."
Louard told Seven Days in a brief phone interview that he considered Rainville's decision a "blessing."
"I didn't know what was going to happen," Louard said. He did not respond to follow-up questions.
Collins did not reply to a message, and Rainville, through Vermont judicial administrators, also declined to comment.
Traffic stops of minorities have long been under scrutiny in Vermont.
A study of five years of traffic stops released in May showed that Vermont State Police troopers pulled over blacks and Hispanics disproportionately more often than whites, and that troopers were nearly five times as likely to search a black driver as a white driver, even though the "hit rate" on finding contraband was higher for white drivers.
A study of four years of Burlington police traffic data released in April revealed similar disparities.
Donovan, currently campaigning to replace Attorney General Bill Sorrell, acknowledged that officials are struggling to address concerns about fairness in the criminal justice system. He pointed to the ongoing discussion about the traffic-stop data as a byproduct of the national debate about police interactions with minorities.
"We're not immune to what is happening in this country, and it's certainly permeated this work we do," Donovan said. "I think everybody is acutely aware that this system needs to reform. I'm not sure there is consensus on how best to reform the system, but it does impact how we do our job. To what degree, that is hard to measure. My hope is that we can continue to do what we've always tried to do, which is to meet and discuss and do our best to prevent and avoid the tragedies that we're seeing across the country."
Burlington Police Chief Brandon del Pozo acknowledged that national police incidents have driven decisions in the Vermont criminal justice community. After a gunman shot 14 police officers in Dallas in July, del Pozo cancelled solo patrols and doubled up his officers.
The chief has spent hours in a market owned by a Congolese refugee in the New North End. Last week, he and other ranking Burlington police officials met with leaders in the African American community.
"We're making increased efforts to have people of color in our community accept us as legitimate sources of authority," del Pozo said. "We had really constructive conversations about paths forward for creating better bonds with the police and especially black men in their teens and twenties."
In South Burlington, Whipple said he and his officers are sensitive to the tensions between minorities and police and have been keeping a close eye on the national debate.
But he thought Rainville's ruling was unfair to both Crispin and Louard. He wondered: Will other people who get pulled over and cooperate with police be let off, even if evidence shows they committed a crime?
"Yes, there have been a number of events across our nation that have [caused] concern and protest," Whipple said. "I understand that there are questionable things that have happened. But for anyone to make a judgment here in our community, I don't know how we can equate this to that."
Disclosure: Stacy Graczyk, the Chittenden County deputy state's attorney assigned to the case, is the wife of Seven Days staff writer Ken Picard. She was not at the hearing described in the story.