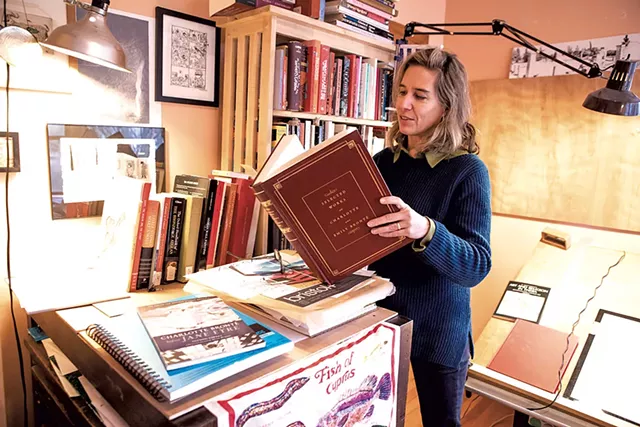 Luke Awtry
Glynnis Fawkes
In a letter in 1837, poet laureate of England Robert Southey declared, "Literature cannot be the business of a woman's life. The more she is engaged in her proper duties, the less leisure she will have for it, even as an accomplishment & a recreation."
The recipient of that letter was 20-year-old Charlotte Brontë, a member of the now-famous literary family and future author of Jane Eyre. She'd written Southey seeking feedback on her poetry. She reads his crushing reply in the opening pages of Charlotte Brontë Before Jane Eyre, a graphic novel by Burlington cartoonist Glynnis Fawkes.
The words may be Southey's, but Fawkes' accompanying illustrations make the scene. The reader watches Charlotte's penciled expression grow increasingly miffed as she reads his words, until the letter concludes and Brontë is left fuming by candlelight.
This is a theme of Brontë's early years, as Fawkes depicts them: a mismatch of ambition and circumstance. The author's childhood was marked by tragedy, with the deaths of her mother and two of her five siblings. As a young adult, she helped support her family as a teacher and governess, jobs that made her miserable. All the while, Brontë occupied the worlds of her own imagination with gusto, dreaming of making a living as a writer.
To convey that inner life, Fawkes fills her panels with excerpts from Brontë's correspondence, such as an 1836 passage in which the author speaks of "the dreams that absorb me, and the fiery imagination that at times eats me up ... I keep trying to do right, repressing wrong thoughts — but still every instant I find myself going astray ... I go on confidently seeking my own pleasure — pursuing the gratification of my own desires."
It isn't the only reflection on a woman's creative ambition this year from Fawkes, 50, whose second book was released in October. In Persephone's Garden, a collection of shorter comics from 2012 to 2018 depicting her own life and family, she explores some of the same conflicts that troubled Brontë nearly two centuries ago.
At one point in the book, Fawkes, who's married to University of Vermont classics department chair John Franklin and has two kids, depicts moving her family to Jerusalem. In a comical contrast to Instagram-perfect family travel narratives, Fawkes is honest about her kids' reactions to international living — their refusal to be homeschooled, their disdain for the food.
"Well kids, how did you like your time in Jerusalem?" she asks in one panel. "Hated it," her son responds. Fawkes' Roz Chast-like humor should ring true for any parent trying to give their children enriching experiences, only to find them less than grateful.
Both Brontë and Fawkes balance their love and obligation to their families with their creative callings. In Persephone's Garden, a woman asks Fawkes if she wants more kids. She replies with a resounding no: "I have so many other things to do!" The book is an honest window into the all-consuming nature of motherhood, with all its joys and frustrations.
Like Brontë's, too, Fawkes' artistic ambitions ran in the family. She grew up in Portland, Ore., with artist parents: Her father, Tom Fawkes, is a painter who taught for years at Pacific Northwest College of Art, where his daughter would later attend art school. Her mother, Judith Poxson Fawkes, created intricate linen-inlay tapestries.
After art school and an MFA in Boston, Glynnis Fawkes spent time in Cyprus on a Fulbright fellowship and became an archaeological illustrator. "I was always interested in antiquities and stories," she said in an interview in her home studio in South Burlington, "and I didn't find that in Portland."
She taught in Lebanon, met her future husband in the Mediterranean, and lived in Australia and on Cape Cod before settling in Vermont in 2006.
At first, Fawkes felt isolated. Her husband's career was thriving, while her own confidence was in decline as she cared for her two small children. "He was the fancy scholar and I was the mom," Fawkes recalled. "I was used to being the one with the Fulbright."
Around 2010, she had an epiphany: She wanted to devote herself to making comics and exploring the independent comics scene. Those explorations made her world bigger, especially connecting with the Center for Cartoon Studies in White River Junction, where Fawkes started teaching this fall. Charlotte Brontë is part of a series of biographical graphic novels published by Disney called Center for Cartoon Studies Presents.
"Figuring out that comics are where I want to be, and then aiming for that and then having that happen, has been amazing," Fawkes said. Today, with her kids in middle and high school, she works on the upper floor of her house in a corner room overlooking the street, surrounded by books.
Persephone's Garden came about after Leon Avelino, copublisher of the comics imprint Secret Acres, expressed interest in a collection of Fawkes' work. She had had comics featured on the New Yorker's website and had self-published a few collections, but they were all out of print. She sent Avelino a collection of comics last winter, once her Brontë book was finished, and he curated and arranged them into chapters.
The book feels like a disparate collection at first, combining diaristic drawings of everyday life and childrearing with longer narrative comics, such as one in which Fawkes imagines taking Brontë to yoga class with her. But a thesis emerges at the end, when Fawkes returns to her childhood home and her mother, who is slowly disappearing as a result of Alzheimer's disease.
Judith died this summer, making Fawkes' two-book year also a year of mourning. Judith wasn't the only member of Fawkes' family to suffer from memory loss, and Fawkes said she is fairly certain she will contract the disease as well.
This prospect brings the collection into greater clarity, revealing to readers that the everyday moments Fawkes depicts are precisely what she fears losing.
"Sometimes I feel such pressure to get the stories out that I want to tell," Fawkes said. "There's a slight obsessiveness, and then a worry that I'm not obsessed enough."
In the book, she writes: "The daily interactions of humans, so unremarkable, so unmemorable in themselves, accumulate over a lifetime. What do all these moments amount to when there is no memory of them?"
Fawkes draws connections between the ancient pottery she sketched in Greece; her mother's tapestries, now left to Fawkes and her sister to preserve; and, of course, her own drawings, her cartoon ledger of life. Without them, she wonders, how would anyone in the future know we were here?
The story of losing a loved one to Alzheimer's is one to which Fawkes wants to return. To be motherless is to be a perpetual Persephone, searching, she suggests. That theme will reappear in her upcoming middle-grade graphic novel, set in the Bronze Age, which is her first work of fiction.
"It's a personal story mapped onto a historical catastrophe," Fawkes said.
After that, she might work on an archaeology memoir, she said, or start drawing and recording memories of her family during her childhood. Her own children have forbidden her to do any further drawings of them, she said. She's OK with it, wanting to give them the space to remember their own experiences how they wish.
(They do still emerge as side characters here and there: In a recent series of comic sketches Fawkes posted on Instagram, her daughter disapproves of her attempt to wear the newly fashionable incarnation of "mom jeans.")
As if on cue, as Fawkes discussed her kids with Seven Days, her middle school-age daughter, Helen, swished into the room swaddled in a bright purple sleeping bag. She retrieved her iPad, then headed back the way she came. Fawkes asked how she planned to get back downstairs in the sleeping bag.
"I'll just fall," Helen said. A few thumps and a small moan, and she was back on the ground level, leaving her mother chuckling and shaking her head upstairs.
It's Helen who offers one of the wisest lines in Persephone's Garden, during a conversation with her mother about archaeology: "But even if someone a million years from now found this cup — they'd never know how good this foamy milk chai is right now."
Her mother agrees that art can never entirely capture the details of our lives. But what greater purpose is there than to try?