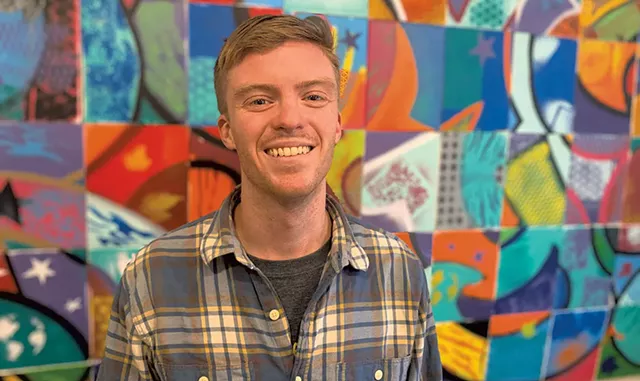 Diane Sullivan
Ryan Riddle
Fans of Seven Days' Fun Stuff pages — aka the cartoons — probably noticed the return of Rachel Lindsay last week. The Burlington cartoonist, who won acclaim for her 2019 book Rx: A Graphic Memoir, temporarily ceased publication of her weekly strip "Rachel Lives Here Now." But Lindsay says she missed it and the connection with the paper's readers. Her new-but-related series appears under just her name. She does still live here, though.
In addition, Seven Days welcomed a brand-new cartoon, "Futon Life," drawn by Ryan Riddle. The New Jersey native, 29, settled in Burlington in 2015 and took a job "in the finance department" at Citizen Cider; he got married last summer.
Courtesy Of Ryan Riddle
Ryan Riddle's "Futon Life"
"Futon Life," which Riddle began in 2016, has something in common with "Rachel Lives Here Now": It's an autobiographical account of adjusting to a new place, chronicling his interactions with fresh acquaintances as well as the people in his household. Riddle says he took a graphic novel class from Lindsay after arriving in Vermont and instantly "met a lot of artists."
"I wanted it to be relatable," he says of his strip with a cast of bug-eyed characters. On his website, "Futon Life" is subtitled "Friendship and debauchery," so we'll see where that goes.
Riddle majored in economics and Spanish at Pennsylvania's Lafayette College, where he published some cartoons in the school paper. Though he doesn't have much formal art training, he's been drawing since childhood, like many a cartoonist.
"I discovered a 'Calvin and Hobbes' collection as a kid on a family vacation and was immediately hooked," Riddle says, referring to the Bill Watterson strip that ran in dozens of daily newspapers from 1985 to 1995. "I came home with a notebook full of doodles."
Riddle says he's got "some random stuff in the works" but no other strips ready for public viewing. For now, the quotidian musings of "Futon Life" will do just fine.