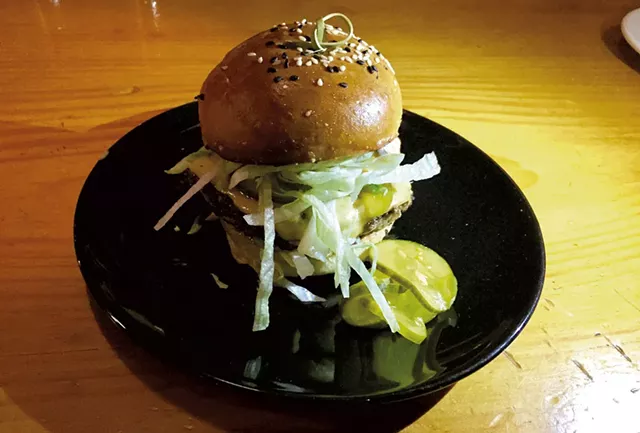 Sally Pollak
400 Burger at ArtsRiot
The chefs who started the Carte Blanche food cart last year are the new chefs at ArtsRiot, the restaurant and music club at 400 Pine Street in Burlington.
Mojo Hancy-Davis and Chris Donnelly will run the kitchen, according to a press release from ArtsRiot co-owner PJ McHenry. The pair has replaced George Lambertson, an ArtsRiot partner who left his chef position earlier this fall.
Hancy-Davis and Donnelly have extensive restaurant experience in Vermont and beyond, including cooking at Misery Loves Co., where they met. They are introducing new dishes to the ArtsRiot menu this week but will continue to serve favorites such as the 400 Burger and popcorn chicken, according to the release.
"Those items have a cult following," McHenry said, referring to the burger and chicken, according to a press release. "But being able to add lighter options to the menu with vegetables and fresh ingredients will provide balance and open up the options for gluten-free and vegetarian diners."
The menu changes will add "more sharable snacks and [a] 'market' section focused on Vermont ingredients," according to the release.
Lambertson ran the ArtsRiot kitchen for five years before leaving in early October on a cross-country road trip.
"Our whole organization has so much appreciation for the hard work that George brought to our company," McHenry said. "[B]ut it was clear that the best thing for Chef George and the best thing for ArtsRiot was to free him of his kitchen duties after 25 years working in the industry."