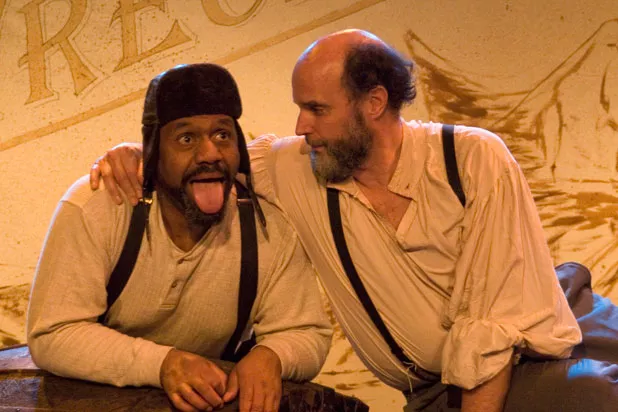 Edgar L. Davis and Ethan T. Bowen
What is more important about a true story: how well it is told, or how truthfully? James Frey's gripping memoir of drug and alcohol addiction, A Million Little Pieces, became a best seller when Oprah Winfrey selected it for her talk show's book club in 2005. However, after research uncovered that the author had fabricated the narrative's most dramatic elements, Oprah vivisected Frey in a follow-up interview.
Selling fiction as fact to a public that hungers to believe is not a new phenomenon. In 1898, Louis de Rougemont riveted the world with his account of 30 years as a South Seas castaway. Serialized in a popular magazine, his experiences became a publishing sensation but quickly drew scrutiny from skeptical scientists.
American playwright Donald Margulies embraces the Victorian raconteur's jaunty esprit and steals his subject's fanciful 1899 book title, Shipwrecked! An Entertainment — The Amazing True Adventures of Louis de Rougemont (as Told by Himself) for his 2007 play. Vermont Stage brilliantly accomplishes the playwright's goal "to tell a ripping good yarn." The current production, artfully directed by Mark Nash, features dynamic performances and a witty production design that together create a feisty celebration of the imagination.
The script mimics the structure of a 19th-century autobiography, opening with an "I am born" chapter and proceeding chronologically. De Rougemont narrates and enacts every scene of the 95-minute, one-act play — aided in the dramatization by two players.
He tells how, during his sickly London childhood, his mother reads him The Arabian Nights, The Odyssey and Robinson Crusoe. The "wondrous journeys ... break down the walls of my infirmary-prison," he recalls.
Leaving home at 16, de Rougemont sails on a pearl-hunting expedition to the Coral Sea. The ship is wrecked in a storm off the Australian coast. Only he and the captain's dog, Bruno, survive. The trusty hound drags de Rougemont to safety on a deserted island, where supplies from the boat conveniently wash up. Man and beast are marooned for years until another tempest tosses ashore a canoe with three aborigines, including the beautiful woman Yamba.
The castaways overcome cultural hurdles, and later return together to the natives' home. De Rougemont becomes a tribal leader and marries Yamba. He eventually grows restless, however, and undertakes an arduous journey back to England. Readers are enthralled by his tales of riding sea turtles and eating baked snake ("crispy on the outside, tender and juicy on the inside"). Will the pesky experts pick apart particulars and unmask him as a hoax?
The play's success revolves around the lead character's charm and believability. Ethan T. Bowen sparkles with exuberance as de Rougemont. For the role, Margulies specifies an actor who is "charismatic, agile and utterly mutable," which perfectly describes Bowen's fearless, flexible stage presence. He dives loose-limbed into improbable scenarios, such as intimidating rival tribesmen by wearing stilts. Bowen's expressive eyes radiate the castaway's sincerity and lure us into his wild world.
Three additional talented and energetic performers help Bowen unspool the saga. Two actors play dozens of roles apiece, while a Foley artist creates live sound effects from one side of the stage. Much of the show's whimsy, well captured in John Paul Devlin's sepia-toned scenic design, relies on the execution of the supporting cast. They manipulate corny props and ingenious set pieces, and quickly add and subtract Rachel Kurland's fanciful wardrobe items as they portray different people.
Both Edgar L. Davis and Chris Caswell excel at the rapid-fire challenge of changing characters as they change hats. As Bruno, Davis displays a masterful range of canine behavior, performing the entire extended role on his knees. Barks, head butts and belly rubs wordlessly convey the close man-beast bond as the dog becomes the lost sailor's closest friend. Davis also does a howlingly funny turn as the ultra-proper Queen Victoria, strolling regally with de Rougemont after bestowing a medal on him.
Caswell plays the principal female parts well, but jumps into her male roles with relish. She swaggers as the Wellie-wearing, salty sea captain and puffs out her chest as the top-hatted, snobbish magazine editor. Kyle Stetson's striking lighting design — terrific throughout the production — emphasizes another captivating Caswell moment: when she plays a pearl diver ensnared by a giant octopus.
Live sound effects greatly enhance the quirky late-Victorian atmosphere. The audience sees sound designer Joel Abbott using a Foley artist's old-fashioned techniques to accompany the show. For rain, he swirls metal BBs on a tin baking sheet. To intensify the storm, he cranks the wind machine — a circle of wooden slats covered by a piece of canvas. A thunder tube, manual typewriter and vintage pump organ are among Abbott's other tools for underscoring the action.
Toward the play's end, as de Rougemont's star wanes, he laments: "The public, with the bloodthirsty glee of cannibals feasting on human flesh, moves on to devour its next victim." And so the pattern remains in our tabloid culture today — just ask James Frey. But Shipwrecked! honors its engaging storyteller for the power of his belief, much as his real-life editor defended him in a 1909 letter to the New York Times: "We must give him credit of being absolutely convinced that he had really passed through all the wonderful adventures he described."