Courtesy
"Killington and the Belt of Venus"
Outdoor enthusiasts who are driven to rack up accomplishments can find plenty of challenges in Vermont — hiking the Long Trail end to end, say, or sliding down every mountain. Carrie Pill's goal is unique: She aims to ski and paint all 20 alpine resorts in the state. Call it a personal biathlon.
"It has always been a goal of mine to see all of these ski areas," Pill said by phone. "I'd been painting at some of these mountains before, especially Pico and Killington, which are nearby, and I found it really rewarding. I really like putting together series — it's very satisfying, and I learn a lot."
For this series, which she dubbed "A Painted Tour," Pill teamed up with Ski Vermont, which is helping her access the resorts. In a blog she recently launched on her website, she posts one or more of the day's paintings — she paints up to four each time — along with some facts and comments about the mountain. One example: "I highly recommend a 'peak to creek' run," she writes in her January 5 post, "which begins at Killington's peak and ends somewhere in New Hampshire."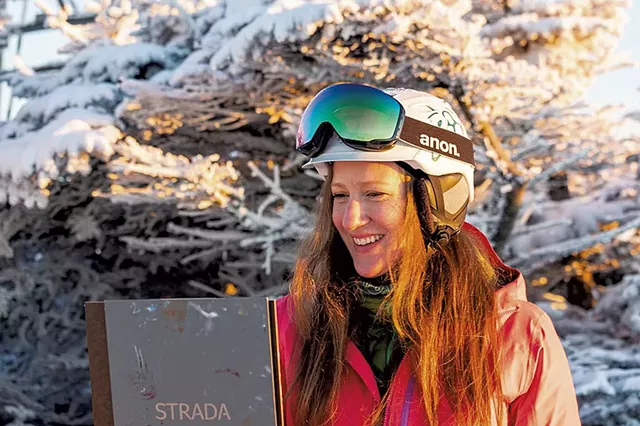 Courtesy Of Abby Allaire
Carrie Pill
The Rutland-based artist said she grew up in a creative family and has been painting since childhood, but she began to downhill ski just six years ago. "Cross-country skiing was my gateway drug," she noted. Pill took up oils while earning a studio art degree at Green Mountain College. In addition to landscapes, she also paints portraits, pets and botanicals, she said.
Painting outdoors in winter presents several challenges — staying warm, first of all, for a session that might last three hours, and manipulating a paintbrush while wearing mittens. "Usually under those mittens is wool gloves and hand warmers," she said with a laugh.
And then there is the behavior of oil paint in freezing temps. "It generally just slows down a lot — it acts like peanut butter," Pill explained. "You do your best to push it around."
Courtesy
"Summit Gaze"
Because oil paint requires time to dry, Pill has devised a way to secure each painting — most commonly six inches square — with strong double-sided tape inside a small pizza box. That way she can safely load up the artworks, along with her easel and painting supplies, in a backpack before she skis down the mountain.
Pill, who also posts her work on Instagram and Facebook, is planning an exhibition of larger paintings later this year. They'll be based on the smalls she's creating this winter, and sales will benefit Vermont Adaptive Ski & Sports, she said. Meantime, the artist has fingers crossed that snowfall will reappear so she can complete her wintry tour. "Two [resorts] are rope-tow only," she said. "I'm really looking forward to the small ones."
And, Pill added, "If there are any nearby artists that are interested in painting with me, they should reach out. I'd love to have company and meet new plein air artists."