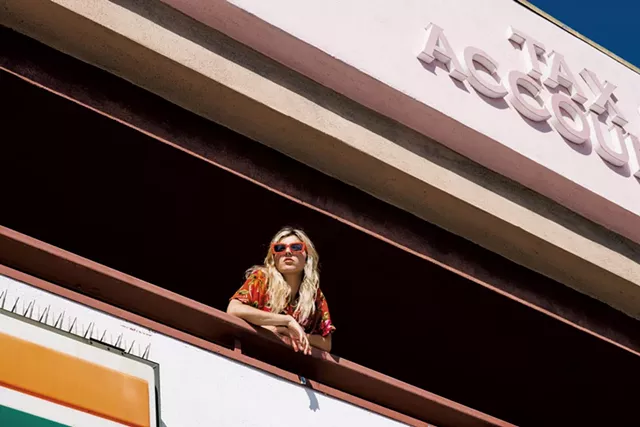 Courtesy Of Cara Robbins
Caroline Rose
On February 24, Caroline Rose made her television debut on "Late Night With Seth Meyers." Performing her new single "Feel the Way I Want" from her forthcoming album, Superstar, Rose dominated the stage, busting out zany dance moves and making some seriously intense eye contact with viewers at home. If the 30-year-old singer-songwriter's 2018 album, Loner, was the springboard for her rise to indie-rock prominence, the televised clip showcased an astoundingly smooth landing. It was a funky coronation for one of pop music's dopest new queens.
Rose, now based in Austin, Texas, has grown significantly as an artist since her early 2010s success as a country crooner in the Burlington scene. A sequel of sorts to Loner, Superstar is a concept album that weaves a narrative thread around a loser with dreams of making it big. But the story is cut with Rose's trademark wit and cynicism, which is embodied in the album's cover art: an intentionally grotesque, '80s-style glamour shot of Rose — washed in her signature red, of course.
While still incorporating some of Loner's lavish retro-pop feel, the new album delves further into contemporary aesthetics. Traces of trip-hop, '80s synth-pop, '60s cinematic music and even a touch of the avant-garde converge in a sound that can only be described as Pop with a capital P. Superstar, out on Friday, March 6, is what happens when an artist wholeheartedly follows her instincts.
Rose performs on Saturday, March 7, at the Higher Ground Ballroom in South Burlington. And she still maintains many Queen City connections: Locals Willoughby Morse (formerly of Madaila) and Abbie Morin (Hammydown) comprise two-fifths of her band, along with expat Mike Dondero (JUPTR) and band newcomer Riley Geare.
Seven Days caught up with Rose by phone.
SEVEN DAYS: Based on how much time you spent touring in support of Loner, I'm shocked you're already releasing another album. How did you get that done so quickly?
CAROLINE ROSE: That's funny, because I've been sitting on it for about six months. I just was collecting all these ideas over the course of a couple years. By the time the Loner album cycle was done and I was getting really tired, I was like, "OK, let's go back to things I really love doing again," which is making stuff. Really what I love the most is making albums. I think I'll always put stuff out, because that's what makes me happy. I have all these thoughts swirling around my head. Gotta get 'em out somehow.
SD: How does your self-presentation in Superstar's album art relate to its tone or content?
CR: I wanted it to feel kind of like a sequel, where you had this loner or loser character who decides that they're destined to become a big star. When you look at all the magazine covers and people in Hollywood, they're always blond and very put together.
I have always wanted to try a photograph where the figure looks really flawless but, if you look closer, there's something wrong with it; there's something that's making me feel uneasy. Like that St. Vincent and David Byrne cover with the prosthetic jawlines. I love that cover so much. It makes you look at it over and over again.
SD: Yeah, or like in FKA twigs' "Water Me" video, where her eyes keep getting bigger.
CR: Oh, it's funny that you mention that, because Jesse Kanda, who directed that video, was one of the people I reached out to. I did a bunch of research on different techniques because of how I wanted the figure to look — like you were questioning whether or not it was CGI.
I found a bunch of 3D artists to create this doll-human figure. When Jesse mentioned I should find a photographer, I immediately thought of this artist I love, Signe Pierce, who's a visual artist that Matt Hogan, who did my last album cover, introduced me to. And I fell in love with her work. She works a lot in this hyper-real art. It kind of blurs the lines between what's real and what's simulated.
SD: Since visuals have become such a huge part of your art, do you think about them as you're writing music? Or is it a separate process?
CR: It's always involved. I think the way I write, I'm kind of naturally thinking about the way that it looks, like a movie in my head. They're always in tandem.
SD: What would you say is the essence of the "Feel the Way I Want" video?
CR: It's this person who's, like, super confident but just tasteless and kind of has no real constitution as far as where they're willing to draw the line. They'll do anything for even an inkling of success. I'm really poking fun at myself.
Especially on my last album cycle, I was just so excited to be making music, because I had been waiting for so long. I had so many setbacks that happened. By the time the album came out, I was just willing to do anything. I was like, "I'll do every interview! And I'll do every performance and I'll say yes to everything! I'll just be the best yes-man!" You end up doing some really silly shit when you say yes to everything. I'm trying to get a little better about that.
SD: When I was rereading some of the interviews you did during the Loner cycle, it seemed like almost everyone asked you about your "new sound." You can't see me, but I'm doing sarcastic air quotes. Did answering that question over and over help you to better understand your choices? Or was it a tedious chore?
CR: Um, it was mostly a tedious chore. I knew it was gonna happen. The last and only other thing I've put out publicly was a record that I ultimately wasn't happy with when it got released. And a lot of last-minute changes were made, and I felt like I sort of had my arm twisted. Probably if I had just waited another six months, it would have sounded drastically different.
It's been painful for me to have to keep answering those questions, because the transition happened over years. This is a yearslong kind of coming into my own and myself and what would actually make me happy and the future of my career and not just thinking about right now. Am I gonna be happy? Will I be happier establishing a career that allows me to be more experimental in the future so people won't be shocked and I won't have to keep answering questions about why I keep changing my style? I still get asked the question, and now I'm just sort of throwing up my hands. Is this what Tom Waits does when people ask him about his first record?
SD: Some of your songs have now appeared in TV shows and such. Have you seen your syncs? How do you feel about the context in which your music has ended up?
CR: I have seen some of them. They come in somewhat frequently now, which is pretty cool. When they first started coming in, I really tried to watch all of them. What I'm excited about is that I'm now seeing new syncs come in on the same TV shows. There's this show "Trinkets"; it's like a teen soap. I started watching it with my girlfriend just to hear my song, and I ended up watching the whole season and really liking the show. I got another offer for the next season of the show. I'm kind of invested in it now, and my work is on it. It's fun! I think I'll always be excited when I'm in a place and one of my songs comes on.
This interview has been edited and condensed for clarity and length.