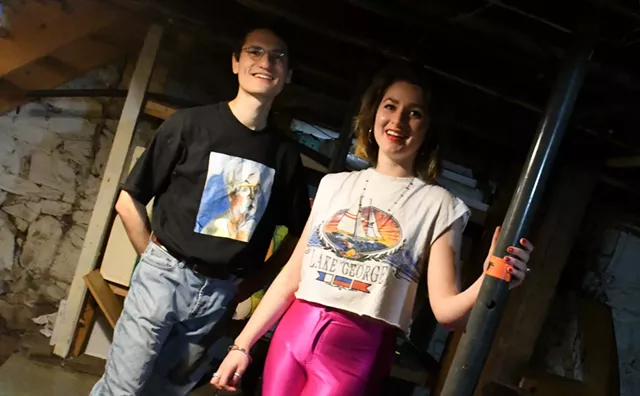 Lee Krohn
Jack Braunstein and Caroline DeCunzo of Como Tapes
For the average listener, experimental music is a hard sell. It's usually bereft of the comforting hallmarks of conventional, popular music: catchy hooks, identifiable melodies, etc. So-called "other music" can even be downright alienating to some. But for Caroline DeCunzo and Jack Braunstein, Burlington-based enthusiasts of all things musically off-center, the unconventional is their norm.
DeCunzo, 23, and Braunstein, 21, are partners in life and in their creative endeavors. They operate Como Tapes, a not-for-profit cassette-tape label that releases avant-garde music from such local artists as Shepherd of the Choir and Amelia Devoid (a Seven Days contributor), as well as out-of-state artists including Swings and Reformer.
The couple also maintains Burlington Gull, a promotional website for DIY happenings in the Queen City, and presents an experimental music series called Pushing a Brain Uphill. The third installment of the series begins on Wednesday, April 19, and continues on Friday and Saturday, April 21 and 22, at Burlington locations.
Over the past few years, DeCunzo and Braunstein have worked to help stabilize the local experimental scene. Specifically, they've focused on maintaining spaces for off-kilter music to be produced, promoted and disseminated, and make a conscious effort to diverge from traditional, capitalist structures.
The pair recently spoke with Seven Days at a coffee shop in Burlington's South End. DeCunzo and Braunstein's affection and respect for one another is obvious. They communicate both verbally and nonverbally, frequently clarify and interpret for one another, and tend to finish each other's sentences. Both have been interested in experimental music since their teenage years.
"I think the most powerful part is the liberating aspect of it," says Braunstein. "It's all about expanding your range of possibility."
"It's not prescriptive," adds DeCunzo.
She hails from Glens Falls, N.Y., while Braunstein grew up in Cherry Hill, N.J. Both arrived in Burlington in the early 2010s to attend the University of Vermont. DeCunzo graduated in 2016 with a degree in Spanish and global studies; Braunstein will graduate this spring in geography and natural resources planning. They began developing many of the ideals that support their various projects while studying at UVM.
Braunstein cofounded Como Tapes with childhood friend Greg Goldstein before moving to Vermont. The latter operates a branch of the label in New Jersey.
Como Tapes' website is sparsely designed, with few frills other than a kitschy cassette icon that replaces the user's regular cursor. A link that reads, "I want to read more..." takes the user to the label's heady manifesto, which Braunstein penned in early 2015.
The writ combines the kind of highbrow rhetoric one might expect from an idealistic freshman philosophy student with the near-incoherent emoji-speak of a millennial's Snapchat account. It cites philosophers such as Michel Foucault and Theodor Adorno, but also peppers in phrases such as "u know" and the numeral "2" instead of the word "to." His style suggests that Braunstein doesn't take the treatise too seriously.
It frames Como Tapes as a "parallel economy," one that doesn't fall prey to the institutionalized landscape of the music industry. "[It's about] creating something outside of a capitalist system," says DeCunzo, categorizing Como Tapes as a "capitalist-secessionist arts space." The label seeks to maximize profits for its artists, as opposed to the label itself.
Since 2015, the label has released more than a dozen albums and produced approximately 20 physical cassettes per release. Half are given to artists for their own sales and distribution. Any sales from the other half of the stock are invested back into the label for future releases. The average tape costs $1 or $2 to produce and sells for $5 to $7. Little to no money is spent on promotions. This ties into the label's emphasis on community and word-of-mouth to spread awareness of its artists, as written in an updated version of the label's manifesto.
Braunstein posted the addendum approximately five months after the original. It reads, "We need 2 define a new approach ... When people relate with each other in ways that are not institutionally informed, it opens up new ways of understanding and practicing the interpersonal."
"The idea of organizing around friendship and care was really compelling," explains DeCunzo.
One of their most recent projects is the Taft Cornerz series, a collection of "oppositional music" from Vermont artists such as Harvey Bigman, Wren Kitz and ouzkxqlzn. The series examines concepts such as personal identity and political and social discord.
As seen on the Como Tapes website, its artwork appropriates City Market/Onion River Co-op's signature onion logo (adding a hammer and sickle), while riffing on Williston's Taft Corners shopping center. Braunstein explains that the name is a critique of "the consumerist ideology of Chittenden County and Vermont."
Many Como Tapes artists have performed under the Burlington Gull banner. DeCunzo created the website as a way to compile a calendar of DIY, underground events without relying on Facebook or other outlets for marketing. She and Braunstein had previously worked with local promoters Friends + Family.
"There was a lot of anti-Facebook sentiment in the way that [it] was suppressing shows unless you pay [to promote] them," says DeCunzo, referring to the site's recently imposed restrictions on events and how many followers they reach.
One such event is Pushing a Brain Uphill. The series emphasizes femme, queer, nonbinary and trans artists who make experimental music. DeCunzo founded PABU with Bigman, a Burlington-based musician and performance artist, as a response to the male-dominated world of experimental music. Most proceeds from events are distributed back to the artists to cover travel expenses, though they note that local artists often prefer that their cut be reinvested or distributed to out-of-area artists.
What's ironic about both Como Tapes and Burlington Gull is that they are in some ways reliant on the things that they intend to defy. DeCunzo says she scours Facebook for events that fit Burlington Gull's ethos and aggregates them for the site. And the Como Tapes website uses pop-up advertising — the lifeblood of online capitalism — for various companies including Adobe Systems, Health IQ life insurance and SoundCloud.
DeCunzo and Braunstein aren't just purveyors of fringe music; they also make it. They perform together as the search-engine-confounding noise duo Staples. Their act goes beyond typical noise table sets and is different every time: They've covered Bruce Springsteen and incorporated opera singing. In one performance, they each sported choke collars connected to one another via carabiner.
Staples perform on the first night of PABU III at the BCA Center. Other headliners include noise band Wolf Eyes, abstract turntablist Maria Chavez and DJ Valerie Martino.