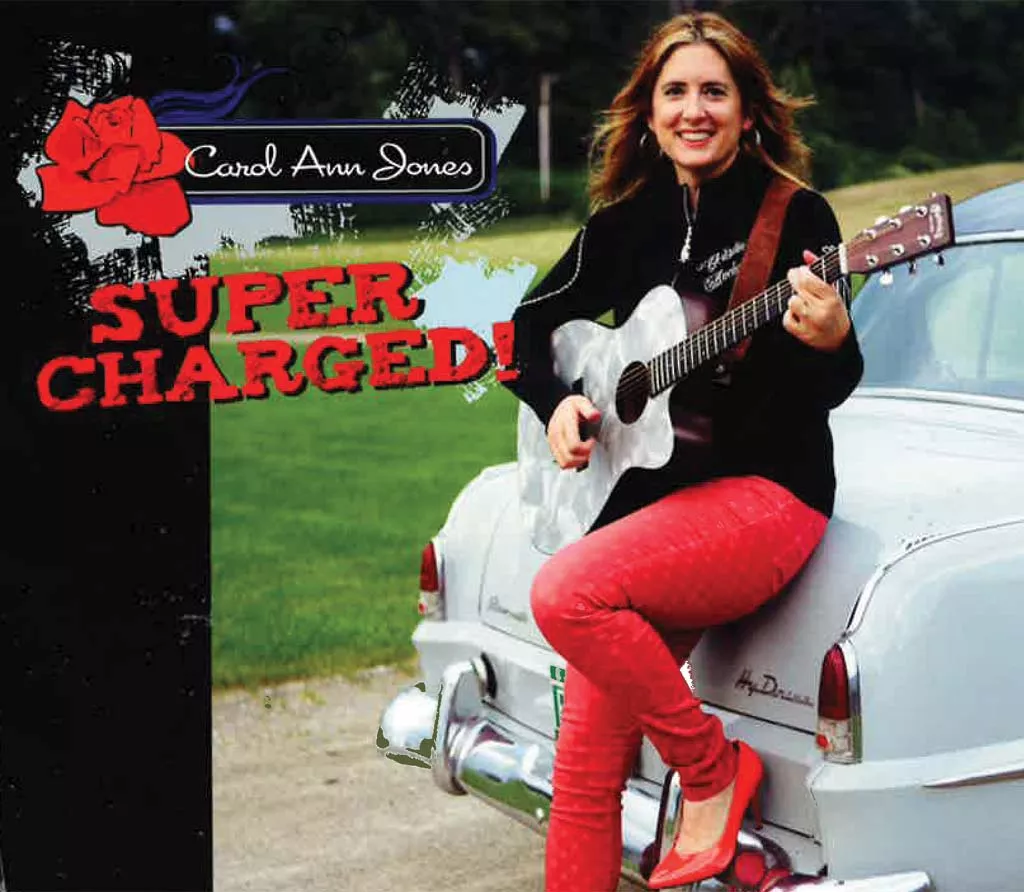 (Self-released, CD, digital download)
Carol Ann Jones came to songwriting later in life than most. In fact, she didn't even own a guitar until 2006, when she purchased one at her husband's urging. Then there was the pesky matter of actually learning to play it. Jones has been a singer her entire life. But songwriting and gigging with a band are relatively new things for this Georgia-based dairy farmer, accountant and mother. That makes the professionalism and polish found on her latest CD, Supercharged!, all the more impressive. The album, a follow-up to her 2011 record Hope and her 2008 debut Out of the Blue, crackles with muscled-up, country-rock spirit and heartland vitality.
The songs found on Supercharged! comprise material spanning the length of Jones' songwriting career. And from her earliest attempts, such as "Bayside Dance," penned in 2006, to more recent fare such as "Melancholy Love," written in 2012, Jones seems to adhere to that time-honored adage, "Write what you know."
In certain cases, such as "Red Pajamas," a feel-good number about a pajama-clad mom acting out rock-star dreams in her bedroom, Jones' tack is a touch earnest. But more often, she filters her life experiences to great effect. Tunes such as "Melancholy Love," "Without a Warning" and "Bayside Dance" smartly capture the ups and downs of love. "She's So Seventeen" is a surprisingly vivid coming-of-age tale. And album opener "Buckle Down Baby" is a pointed rebuke of a certain cheatin' heart. On each, Jones sings with effective reserve. The only complaint here would be that she sometimes sounds a bit too measured and buttoned down, vocally. It would be nice to hear her roll up her sleeves and get a little dirtier from time to time, because she clearly has the chops to pull it off.
Credit for the album's polished-chrome gleam goes in large part to Jones' longtime backing band, the Superchargers. After some minor lineup shuffling, that group now includes ace local players Will Patton, Gary "Spud" Spaulding, Thom Carvey and Andre Maquera, the last of whom also engineered and produced the album. Collectively, they provide a sturdy chassis on which Jones can fire up her hot-rod pipes. Likely due to her straightforward songwriting style, the band never really redlines or pushes the creative envelope. But they consistently settle into a comfortable cruising speed that suits the material and Jones' rootsy rock-and-roll bent.
Supercharged! by Carol Ann Jones is available at carolannjonesmusic.com. Carol Ann Jones plays a release party at Twigg's Gastropub in St. Albans this Friday, February 21.