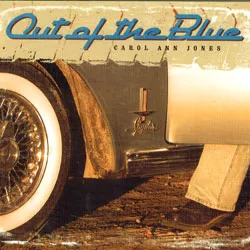 (Self-released, CD)
As the quote at the top of her MySpace page reads, Carol Ann Jones is "just coming into turn one." For the non-NASCAR literate, the inference is that, for this St. Albans-based songwriter, the race has just begun. Though she's sung her entire life, Jones didn't even own a guitar until 2006, when her husband urged her to purchase one. Then she forced herself to learn to play it. Along the way she began writing songs, and the result is her debut effort, Out of the Blue. To roll with the racing metaphor, Jones is off to a fast start. But she's still got a few left turns to go if she wants that checkered flag.
The disc begins in radio-ready heartland glory with "All About the Wheels." Jones is a self-described "car nut," and the vehicular allegory here is certainly not the album's last. But it's the most fun. The tune unabashedly harkens back to the heyday of that quintessentially American aphrodisiac, a hot ride. "I saw the car and thought, 'Someone fantastic's gotta drive that,'" she sings in a solid, unadorned croon. The car in question is a '57 Chevy. "Mustang Sally" it ain't. But, c'mon, no one will ever write a rock song about being turned on by a Prius.
In addition to her automotive fixation, Jones is an acknowledged Paula Cole fan. That singer's pop-rock influence is readily apparent throughout, especially on tunes such as the bluesy "Mr. Engineer" and the classic-rock-tinged "No Rest for the Weary." Jones has a naturally pleasing vocal tone and favors a sturdy, measured delivery. But her deliberateness occasionally comes across as polite restraint. Jones has the chops, but she could stand to — in keeping with the theme — open the throttle.
Jones' backing band, The Superchargers, is a crack outfit, featuring local luminaries Gordon Stone, Will Patton and Dan Skea, among others. The group anchors the record with unrivaled professionalism and deftly traverses a variety of Americana terrain, from pop, rock and country to bluegrass and rockabilly. The only real pileup is the Latin-flavored "Uncontrollable," which to my ears evokes Carlos Santana locked in an elevator with Anne Murray. I'm throwing the caution flag here.
Like most new artists, Carol Ann Jones has room for improvement. But all in all, Out of the Blue is a promising debut from a considerable local talent. Or, to further belabor the racing thing: She may not be the pole-sitter quite yet, but don't be surprised to see her in the winner's circle soon.