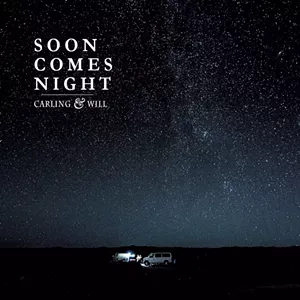 Courtesy
Carling & Will, Soon Comes Night
(Self-released, CD, digital, vinyl)
Lil Wayne and Travis Barker. John Mulaney and Pete Davidson. Whiskey and pickle juice. These musical, comedy and flavor combos are proof that unexpected pairings can yield unpredictably awesome results. The model is true in the case of Dorset roots duo Carling & Will, who marry banjo and electric guitar on their latest album Soon Comes Night.
Carling & Will's 2016 self-titled debut EP featured mostly instrumental interpretations of traditional tunes with Carling Berkhout on banjo and Will Seeders Mosheim on acoustic guitar and fiddle. The duo enters new territory on Soon Comes Night, in terms of both songwriting and instrumentation. Released on June 5, the LP contains eight original songs, along with one traditional selection.
Listeners first hear the interplay between banjo and electric guitar on the album's second track, "Lillie's Lullaby," an instrumental song written for Berkhout's sister. The sound is simultaneously sweet and spooky — evoking more Lord Huron than Bill Monroe.
Another standout example is "Life Is but the Shadow of a Bird on the Wing." Here, Seeders Mosheim's electric six-string provides an atmospheric backdrop for Berkhout's banjo.
Seeders Mosheim, 35, began his musical relationship with Berkhout, 22, as her banjo instructor starting in 2013. The pair navigates multiple tempo changes on "Life Is but the Shadow..." like champs, no doubt the result of years of playing together.
Despite its questionable title, "Freshly Fucked Fox in a Forest Fire" is the most buoyant and perhaps most traditional-sounding track on the record.
The album lulls during "Mulberry Sky" and "Black Creek," which, sequenced back-to-back, are inoffensive if a bit snoozy.
Just two of Soon Comes Night's tracks incorporate vocals. Seeders Mosheim gives voice to the traditional American folk song "Mole in the Ground," as well as the original "Salton Sea." His voice is steadier here than on the previous EP, however it doesn't match the beauty of the instrumentals.
"Salton Sea" features southern Vermont roots musician Ida Mae Specker on vocal harmonies and Andrew Koss on drums. Koss keeps the beat with lightly sweeping brushes, adding a little pep without overpowering the duo.
Carling & Will's music evokes visions of great expanses of land and would fit seamlessly as the soundtrack to a Kelly Reichardt movie — the album's cover art, a photo of two distant camping vans under the starriest of night skies, is apropos. Soon Comes Night's visual and musical elements come together to set a bittersweet and lingering mood.
Soon Comes Night is available at carlingandwill.com.