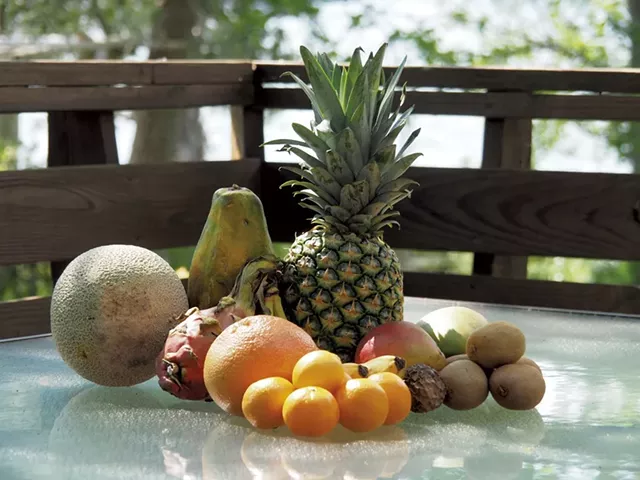 I was 10 years old when my parents took their first tropical vacation to Jamaica. They left me back home in the decidedly less exotic Champlain Islands with my older sisters. When they returned, my dad brought back butterfly specimens for his collection and a new appreciation for the flavors of the Caribbean.
Other trips brought my parents to islands like Trinidad and Tobago, Martinique and Puerto Rico. They always returned with cookbooks. Though I have yet to visit any of those warm-weather locales, I am accustomed to the flavors of the region through my parents' culinary experiments.
This fruit salad is inspired by those experiences. I used a wide array of tropical fruits, including the slightly homely but delicious passion fruit and the beautiful but mildly flavored dragon fruit. These two fruits can be hard to find. Most large supermarkets have an exotic produce section, so check there first but feel free to make the salad without them. You can use any combination of fruit; experimenting is part of the fun!
This recipe makes a big salad. Keep it in your fridge for a quick and delicious dessert or bring it to a potluck or barbecue. A word of advice: Wait to add the banana until you're ready to serve so it doesn't get mushy.
The real magic of this dish comes with the dressings. One is ginger simple syrup, which, drizzled over the fruit, gives it a hint of Jamaican flavor. If you have any syrup left over, combine it with seltzer for homemade ginger ale or use it as a cocktail mixer.
The second is sweetened condensed milk, which is often used in hot climates where fresh dairy products can be difficult to find. You don't need a lot of it to add an unexpected creaminess to the dish. The flavors will transport you from the Green Mountain State to the Caribbean Islands on a hot summer day.
Caribbean Fruit Salad
andy brumbaugh
Ginger syrup gives the fruit salad a hint of Jamaican flavor
Ingredients:
½ pineapple
5 kiwis
2 mangoes
1 cantaloupe
1 papaya
4 clementines
1 passion fruit (optional)
1 dragon fruit (optional)
Juice of 1 lime
Ginger syrup:
1 cup fresh ginger (about 4 ounces in weight)
3 cups water
1 cup sugar
Garnish:
2 bananas
sweetened condensed milk
Directions:
Peel and slice each fruit and combine in a large bowl. Cover and refrigerate until ready to serve — at least 30 minutes, but up to several days.
To make the ginger syrup, peel and slice the fresh ginger and place in a small pot, along with the water and sugar. Bring to a boil. After five minutes at a boil, reduce heat and simmer for an hour. Use a strainer to transfer it into a jar. Chill before serving.
To serve, scoop some of the fruit into a bowl. Top with several slices of banana. Drizzle with about 1 teaspoon of ginger syrup and about 2 teaspoons of sweetened condensed milk. Enjoy!