courtesy of Francis Manga
Bud Perrine and Francis Manga
Urai Disjarern was a teacher in her native Thailand before she moved to Vermont in 2006. Today, the 40-year-old practices a new form of education. She's a licensed nursing assistant who instructs aspiring health care workers at the office of the Association of Africans Living in Vermont in Burlington's Old North End.
The nonprofit has been running free personal care attendant classes since 2010, and, though the courses are open to all, most students are fairly recent arrivals to the Green Mountain State. After completing four classes at AALV, they typically enroll in the licensed nursing assistant program at SkillTech, a technical center in Essex Junction. There they can apply for a grant from the Vermont Student Assistance Corporation to help with the $1,200 tuition.
A personal care attendant performs routine household tasks and nonmedical care such as bathing, while a licensed nursing assistant has more varied responsibilities and can perform medical tasks such as taking vital signs. Not only are both jobs plentiful, but they pay competitively, making them attractive options for many local New Americans.
During a recent Monday evening lesson, Disjarern gave her students a pop quiz on medical abbreviations and discussed caring for patients with dementia.
"We have to talk in a slow voice. Sometimes we can pat their back," said Kyi Shwe. Disjarern nodded her head approvingly.
The 26-year-old woman and her younger sister, Kyi Linn, both born in Myanmar, first attended classes at AALV in 2012 but took a break to focus on their families. Kyi Linn hopes to enroll at SkillTech in a few weeks. Kyi Shwe will wait until her infant daughter is older.
Not too long ago, Disjarern attended this same course herself. Her first job in Vermont was at McDonald's on Williston Road. Her English instructor at Vermont Adult Learning, she recalled, told her about the personal care attendant classes at AALV. "I was looking for a secure job," she said.
In the 10-week course, Disjarern learned basic anatomy and physiology, as well as caregiving skills. Instead of advancing to the next level at AALV, she enrolled at SkillTech in 2014.
Nine months later, she passed her state exams and became a licensed nursing assistant. AALV invited her back as an instructor.
"When I see my students, I see myself," said Disjarern, now a South Burlington resident.
When she's not teaching, Disjarern works full time at Green Mountain Nursing and Rehabilitation in Colchester. "I didn't realize I was going to make it this far," she said.
Oliver Parini
Urai Disjarern
Her students are always eager to learn from her experience, Disjarern said. They often ask if her job is difficult. "It's not bad at all," Disjarern tells them. "Working in a rice field — that's a hard job." But she always adds: "You have to put your heart into it. It's not just a career."
According to the Vermont Board of Nursing, the state has 4,079 licensed nursing assistants. Since SkillTech began offering an LNA course in 2011, the number of New Americans or English language learners who've enrolled in the class has increased, said Robin Lane, the center's director. Most learned about the program through organizations such as AALV and the Vermont Refugee Resettlement Program.
Lane said she receives monthly inquiries from nursing homes about her students. Some companies and facilities hire those students initially as personal care attendants and then as nursing assistants once they're licensed. "They're really in demand," Lane noted.
The entry-level job is "reasonably attractive" to those new to the country for various reasons, Lane said. First, a student can complete the course in less than a year. Second, the job offers a salary that's "well above the minimum wage." According to the Vermont Department of Labor, the mean salary for nursing assistants in the Burlington area is $13.79 an hour.
Third, continued Lane, some students aspire to work in the field because they came from places where health care services were difficult to obtain, and they want to serve their community. It helps that many nursing homes are on a bus line, making them accessible to those who don't own a vehicle.
The Visiting Nurse Association of Chittenden and Grand Isle Counties runs its own training courses and currently employs more than 300 personal care attendants and licensed nursing assistants.
Like other Vermonters, some New Americans attend VNA's classes to take better care of a family member who might be suffering from a chronic illness or recovering from a surgery at home. They're often surprised to learn that they can earn an income while providing care, noted Jennifer Archambault, VNA vice president of human resources.
This home-care arrangement benefits the community and the economy, since it alleviates a family's financial burden. Without such recourse, an individual might have to give up a job — and its income — to provide care to a relative, Archambault explained. Some at-home caregivers even find that the experience inspires them to pursue a more advanced career in health care.
Getting paid to care for family members is not the only novel concept New Americans learn in such programs, said Maureen Cooney-Moore, who's been teaching the PCA class at AALV for four years. Amazing to them, too, is that "we put people in nursing homes," she said. In African and Asian cultures, children are expected to take care of their elderly parents.
Lane also addresses cultural differences during student orientation; one issue that comes up early, she said, is caring for patients of the opposite gender or of a different sexual orientation. She counsels students who have cultural or religious concerns to talk to their spiritual advisers.
Cooney-Moore, who also has worked at Vermont Adult Learning for nearly three decades, uses class time at AALV to help her students improve their English proficiency. She asks them to take turns reading aloud and encourages them to ask questions.
Besides teaching vocabulary, Cooney-Moore talks ethics in class. During one recent session, she cautioned her students against committing fraud and manipulating their time sheets. Discussing patient care, she reminded them to look out for signs of neglect and abuse.
"Don't jump to conclusions," Cooney-Moore told them. "But if you see something over and over again, tell your supervisor."
The longtime teacher looks out for her students, too, advising them to find out in advance the exact nature of their caregiving responsibilities and how much they will be paid. Dog walking, for example, is not part of the job. "I don't want them to be taken advantage of," Cooney-Moore said.
While trainers do their best to ready students for work, the new caregivers may not be prepared for some of the realities of the job. For example, discrimination isn't uncommon, said Blandine Comlan. The Benin native has had her nursing assistant license for 11 years, but it wasn't until she moved to Vermont from Missouri in 2009 that she heard racist comments such as, "You look like you just got off the boat" and "I don't want a colored person in my house," she said. Most of her clients in Missouri were African Americans, she noted.
"At first, I took it a little hard," Comlan admitted. But now, she doesn't take the remarks personally. "These are elderly people. They've had a certain way of living for a long time," she said. "You have to give them time to adjust."
A former hair salon owner, Comlan added, "The hardest thing for me was to change my hairstyle." She used to sport an Afro, but these days she sews a weave and combs it straight. "The more African you look, the more likely you'll be turned away," she explained.
Comlan's partner, Francis Manga — also a professional caregiver — said he's had to endure racism, too. And there's no recourse, the Congolese man said. If he complains to his supervisors, he might not get new assignments, he pointed out.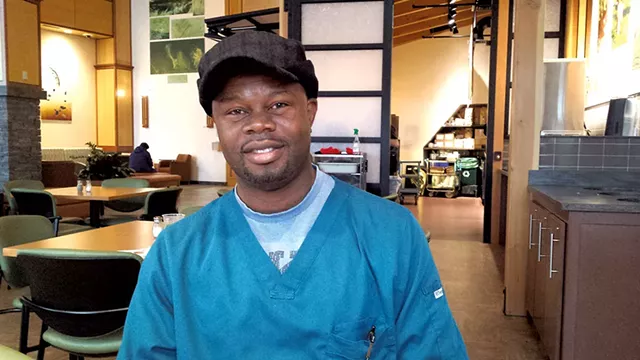 Kymelya Sari
Issakha Kounta
While working as caregivers in private and nursing homes, Comlan and Manga are trying to build up the latter's own South Burlington-based company, Vermont Confident Home Health Care. According to its website, the service focuses on care to "seniors and people with physical and cognitive disabilities." But it hasn't been easy to compete with more established organizations, the two admit.
Comlan and Manga aren't the only local nursing assistants who have higher ambitions. Another instructor at AALV, Issakha Kounta, plans to enroll in a nursing program. The Senegalese nursing assistant used to be a driver for the United Nations Children's Fund and would like to work on overseas humanitarian missions. Kounta said he tells his students, "This is the best job. This is just the beginning."
Disjarern hopes to one day use her professional skills to care for her elderly mother in Thailand. For now, though, she said, being a caregiver has given her a greater appreciation for life, as she observes the impact that small pleasures and kindnesses can have on her patients. "I see the big picture of life," Disjarern said. "You can be happy with the small things, like a piece of cookie."