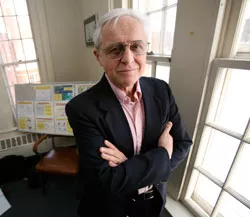 When President-elect Obama finds the time to make good on his promise to reduce the United States' carbon-dioxide emissions, he's likely to look to the Regional Greenhouse Gas Initiative (RGGI) for hints and inspiration. RGGI, which swung into action in September, is the first mandatory, market-based CO2 cap-and-trade program in this country. It comprises 10 New England and mid-Atlantic states that sell carbon allowances — where one ton of CO2 equals one allowance — to electricity generators at quarterly auctions, and invest the proceeds in energy-efficiency plans.
Vermont has been in the RGGI mix for more than five years, when a regional cap on greenhouse gases was just being discussed by the governors of the participating states. Dick Valentinetti, director of the Center for Climate Change and Waste Reduction at the Agency of Natural Resources, played a key role in turning those discussions into the "Model Rule" that has become the RGGI's regulatory framework.
Valentinetti, 67, has been at ANR since 1970, but his Boston accent still comes through, when he says "carbon," for instance — it comes out "caah-bin." With a bachelor's degree in environmental health — "before they even knew what it was" — from the University of Massachusetts and a master's degree in public health from the University of Michigan, Valentinetti has been wrangling with air-quality issues for upwards of 40 years, since before President Nixon created the Environmental Protection Agency.
These days, Valentinetti gets to attack climate change and waste reduction at the same time, which makes perfect sense given that landfills emit a potent greenhouse gas — methane — that can both contribute to global warming and act as a renewable-energy source. From his position, he can also watch the RGGI hit its stride, and he had a front-row seat for the most recent auction on December 17, which garnered $106.5 million for the participating states.
Those same states, plus Pennsylvania, have recently agreed to develop a low-carbon fuel standard for vehicles, the space heating of buildings, and carbon-intensive industrial processes. The new program, like the RGGI, will be a market-based mechanism to reduce greenhouse gas emissions.
Just before the December auction, Seven Days caught up with Valentinetti at his office in Waterbury to get an insider's perspective on what may be the future of carbon-dioxide regulation.
SEVEN DAYS: How does the carbon-allowance system work?
DICK VALENTINETTI: When all the states got together, they decided that it made the most sense to auction off the allowances for the program. Under the program that each state adopted separately, it meant that for every ton of CO2 that you would emit, you would have to buy an allowance. Most of the other trading programs, for sulfur and nitrogen, they gave you enough credits for what you emitted the previous year and told you that over the next five years or 10 years, you would have to reduce a certain percentage each year. This is not the case with RGGI.
SD: The first auction was on September 25, not long after Lehman Brothers went bankrupt and the markets went into a freefall. How did it go?
DV: There was some robust trading, as they say, even though the market had gone down, like, 800 points that week. And we have another auction coming up in December, and from all indications, the trading will be robust there, too. We expect that the auction will sell off all of the allowances we're putting up during this next period. If the auction price stays around where it is, it's going to generate half a billion dollars a year in the 10 states, and most of it will be focused on energy efficiency.
SD: What happens on auction day?
DV: The auction is run on the Internet by a nonprofit we created, called RGGI, Inc. The states individually qualify people who want to bid in the auction — power plants, investment banks, people who want to speculate in the market, etc. We want to make sure they are a legitimate entity. We also want to make sure there are no SEC problems they're having. In the last auction, for example, we qualified Lehman Brothers. Obviously, we didn't get a bid from them. Then, unlike eBay, you have to come up with the money before the auction. During the last auction, we had companies come up with over $250 million in letters of credit or bonds.
The auction ends up being held over a day, and the auction results go to a market monitor that wants to assure there's no collusion, that whatever's happening seems to be right from a market point of view. All of this information is presented to the states, and if they feel it's satisfactory, then they sign off on the auction and those allowances are transferred. Then the money comes into the auction house and the money goes to the states within 48 hours.
SD: Why don't the electric generators who offer the allowances get to keep the proceeds of the auctions?
DV: They tried to do that in Europe. They gave all the allowances to the power companies, and they just kept them. They continued to charge what the traffic would bear. So that's why, basically, most of the states made the decision to go with a 100 percent auction. We're the only state that's regulated when it comes to power. All the others are deregulated, which means that even if you got these allowances for free, you wouldn't have to give any of the benefit back to the consumer. That didn't work well in Europe, because private industries made a lot of money, and they didn't get the carbon reductions they were supposed to get.
SD: What is Vermont expected to reap from the auctions?
DV: The money coming to Vermont now, which amounts to $630,000 per auction, will be going to an all-fuels program through the Public Service Department.
SD: Do you think the RGGI will increase electric rates, because now generators need to purchase these allowances?
DV: Well, it might. Not in Vermont, because we don't have that many generators that are covered by RGGI. And most of the states, including Vermont, had provisions reimbursing electric users if the price got too high, or allowing more allowances for a broader region, so there was a way of cutting down electric costs over the entire region. Also, if you can keep on reducing the amount of electricity you use through efficiency, you end up offsetting any of the increase in price.
SD: How many fossil-fuel-based electricity generators are in Vermont?
DV: We actually only have two, and they're very small. Green Mountain Power has a turbine over in Montpelier Junction. Burlington Electric has a turbine on the waterfront. Neither one of them is used very much, but they're in the system because they can be called up, and therefore they can get a cheaper rate on power that's being generated in the regional system. McNeil is excused from the RGGI regulations, because it's burning more than 50 percent biomass.
SD: So it sounds like Vermont isn't much more than a token addition to RGGI.
DV: It is and it isn't. We ended up getting many more allowances in this state than we need, but we've got two big things coming up, and we don't know which way they're going to go: Hydro-Québec and Vermont Yankee. If either one of those goes away, it means that we have to look for new power sources, some possibly within the state as well as outside the state. Most of those would end up in the RGGI system. We got some extra allowances, but we don't know if that's going to be enough if one of those two sources ends up leaving the state.
SD: So far, do you think RGGI is working?
DV: Oh, yeah, it is. I don't know how long it's going to take for the federal government to come around, in terms of coming up with climate-change legislation, and how long it's going to take to implement. It also kind of makes the federal government think that it's got to do something. Most of the national programs have been started by states, and when the program gets large enough, it's the federal government that comes in to come up with a national program, and I think that's what's going to happen here.
SD: How do you feel about the new leadership in Washington, D.C., and its approach to reducing greenhouse gases?
DV: Well, if you look at the tea leaves, [Rep. Henry] Waxman winning the chairmanship [of the House Committee on Energy and the Environment] over [Rep. John] Dingell is so huge, because Dingell has been just a great person for the environment and health and everything else, except for that one flaw he has, which is to protect the auto industry. That, at least within the Democrats, will give you some idea of how important they think climate change is.