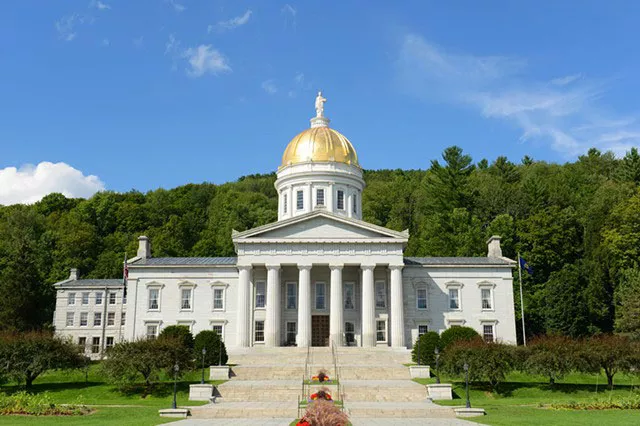 A longtime Vermont lobbyist recalls urging a powerful senator to support a $1 million appropriation for her cause. "If you want the million dollars, come to my office alone," she says he told her.
A former state employee who worked in Montpelier's Statehouse says, "I felt like I had to unsex myself in order to be taken seriously. No skirts, no high heels — if I wore those, I was looked at completely differently — so it was pants, flat shoes and blazers."
Order a cranberry seltzer and pretend it's alcohol — that was one of the "pro tips on how to be a young woman out in Montpelier" Kesha Ram says she received when she arrived in the capitol as a 22-year-old state representative.
When the New York Times published its October 5 investigation into sexual assault allegations against the Hollywood producer Harvey Weinstein, it set in motion a cascade of accusations against powerful men.
Like their counterparts in other state capitols, women who work in the Vermont Statehouse are starting to speak out about what goes on under the golden dome — and what to do about it.
For this column, I contacted more than 50 female lawmakers, lobbyists and legislative staff, including some who spoke to VTDigger.org for its November 7 story, and interviewed nearly 30 of them. Several say they've never had problems in the Statehouse, but they are in the minority. Stories range from straight-up sexual harassment to more subtle acts of sexism.
"Patriarchy and politics are a recipe for disaster," a second female lobbyist observes.
Some of the most influential women in the building were victims early in their political careers. House Speaker Mitzi Johnson (D-South Hero) is in her eighth term as a state representative, but when she was a 32-year-old newly elected legislator, fending off unwanted overtures was part of the job. Johnson recalls a male colleague asking her out, repeatedly — despite her telling him she wasn't interested.
Rep. Sarah Copeland-Hanzas (D-Bradford) was 34 when she arrived at the Statehouse in 2005. She remembers an older male lawmaker's hand grazing her butt as she was leaving the House chamber. Assuming it was an accident, she kept walking.
"Shortly thereafter, it happened again, in the cafeteria line, and it was clearly very intentional," she says. "He rested his hand right on my ass."
That time, she told the Democratic majority leader, Floyd Nease. He dealt with the situation, she says, and it never happened again. Multiple women note that they have plenty of male allies in the building.
Copeland-Hanzas' gradual rise in the legislative ranks probably helped her. She became the Democratic majority leader in 2014, spending two years in the role, and as she puts it, "Nobody is gonna go up and goose the majority leader unless they have a death wish."
Johnson says she thinks "the Statehouse culture and procedures have improved dramatically" during her 15 years in the building but admits she's not in the best position to judge. "I also can't measure that objectively because my position in the Statehouse has changed so dramatically," she says.
If harassment has declined, it may have something to do with the arrival, and ascendancy, of women such as Johnson and Copeland-Hanzas. The Vermont legislature is now 39 percent female — a higher percentage than in any other state except Arizona and Nevada, according to the National Conference of State Legislatures. And an increasing number of these women occupy positions of power. In addition to its female speaker, the Vermont legislature has female majority leaders in both the House and Senate, and female chairs preside over all four money committees.
Even so, Senate Majority Leader Becca Balint (D-Windham) is under no illusion that sexual harassment has gone away. "My sense is that the committee assistants, female lobbyists and perhaps other women workers in the building have to deal with these situations a whole lot more than we legislators do because of the implicit power imbalance," she says.
(Balint, who is gay, says she hasn't experienced what she considers sexual harassment. But she has had some pretty inappropriate comments made to her face. At one point, a male lawmaker told her, "You're the hottest lesbian in the Statehouse.")
I found that the women in the roles Balint described were nearly universally eager to have this story told, but most declined to speak on the record. Even off the record, they resisted naming the perpetrators.
Concerns about maintaining anonymity are magnified in a place as small and chummy as the Vermont Statehouse. As the former state employee put it, the walls are "as thick as Swiss cheese."
"It's still a culture where everyone is really close, and no one wants to challenge the friendliness of the place," notes Ram, who is no longer a legislator.
The concern isn't about getting fired, or even humiliated; it's about being rendered ineffective in a job that's all about relationships.
The second lobbyist tells me that "an elected official made some inappropriate comments to me in the building and subsequently asked me not to repeat them or report him. I was caught off guard, excused myself from the conversation and didn't mention it to anyone."
Why not? "He was about to vote on a bill I was working on, so why would I take action when he would then likely retaliate?" she says.
Stay quiet and let the guy get away with it, or speak up and risk endangering your cause and your career. "That's the type of position women are put in often in that building — and in any situation where a man has power over them," she says.
The former state employee recalls a lawmaker saying in her presence, "Don't worry, she doesn't know anything; she's just here to be a pretty face."
She, too, felt unable to respond. Speak up, and "you are seen as the person who we have to watch our words around," she says.
"If I was in a bar, I'd probably be just like, 'Fuck off,'" suggests a third female lobbyist. But, "in that building, we're not on equal footing." When a lawmaker asked her out on a date last session, she did her best to politely demur, instead proposing that they discuss policy during work hours, inside the building.
Establishing boundaries without burning bridges isn't always easy. Lawmaking is a transactional business, and relationships are prerequisite for striking deals. In Montpelier, these relationships are often cultivated after-hours and aided by alcohol, which can blur the line between professional and personal. Legislators and lobbyists attend wine-and-cheese receptions sponsored by various interest groups in the Statehouse's Cedar Creek Room before heading to Three Penny Taproom or the Capitol Plaza Hotel & Conference Center bar.
"Some of that fraternizing is where the real work gets done," says the lobbyist who was asked out by a lawmaker. "I'm inherently excluded, because when I enter that space I'm uncomfortable."
Those who do enter it have encountered lawmakers in a more lecherous state.
Leah Marvin-Riley was in her early twenties when she served as chief of staff to then-House speaker Shap Smith. She recalls spending an evening at Three Penny with another female legislative staffer. When they hugged goodbye, the male lawmaker on the stool next to Marvin-Riley told them, "Oh, don't do that — it makes me too excited."
During the 2011 session, Sarah Buxton, then a 32-year-old Democratic representative from Tunbridge, attended a legislative function a few months into her first term. She was sitting at a table next to a man, whom she identified as "definitely a person of power," when "he started to put his hand up my skirt, pretty rapidly." She swatted it away and "looked at him like, Cut it out."
A few minutes later, he tried again. This time, she smacked his hand away, stood up and left. Buxton, who's no longer a rep, told the two legislators she lived with at the time but no one else — she worried it would end up reflecting poorly on her. "I think my biggest fear at the time, especially as a young legislator, was my reputation," she says.
Former rep Rachel Weston, who was 25 when she was elected in 2006, can relate. On one of the first days of her first term, a fellow legislator introduced Weston to then-senator Norm McAllister, who was subsequently charged with sexually assaulting his legislative intern. He greeted her, Weston recalls, by saying, "Nice to meet you, but it would be better to meet you with your clothes off."
In deciding not to make a big deal about it at the time, she remembers thinking, "I'm not going to let myself get branded my first week here as the girl who thinks people are hitting on her."
Unlike most workplaces, the Statehouse doesn't have a human resources department. House and Senate members do participate in a mandatory training on sexual harassment at the beginning of each biennium, and each body has a sexual harassment policy and a panel charged with handling allegations against its own members.
When McAllister was arrested at the Statehouse in May 2015 for charges that included the alleged assault on his intern, Vermont lawmakers were forced to reckon with the issue.
Balint recalls one legislator telling her, "It's none of our business who he's sleeping with." Another suggested, "It didn't need to come to him being arrested. A couple senators should have just hauled him into the coatroom and given him a talking to. That's what we've done in the past."
Despite the misgivings of some members, the Senate voted in January 2016 to suspend McAllister from his seat until the court ruled. (By the time a jury found him guilty only of a prostitution-related charge, he had lost his bid for reelection. The prosecution dropped the charges involving his intern after it was revealed that she had lied in court about a tangential issue.) The Senate also revised its sexual harassment policy and created a new rule requiring all legislative interns to register with the sergeant at arms.
Still, shortcomings remain. Balint, who chairs the Senate sexual harassment panel, says it has received just one formal complaint during her yearlong tenure. Her predecessor, Sen. Phil Baruth (D/P-Chittenden), says he can't divulge the number of complaints fielded during his time as chair.
A number of women I spoke with were either unaware of the panels' existence or said they would be uncomfortable making a complaint to a committee of their perpetrator's peers.
Balint readily acknowledges that the composition of the panel presents a "glaring problem." Another issue: Lawmakers aren't necessarily qualified to determine what constitutes sexual harassment. She suggests one possible solution would be to appoint an ombudsman who could review complaints.
In the House, Johnson says she's exploring the idea of expanding the panel to include non-lawmakers.
That, however, won't change the fact that the panel is only authorized to handle allegations against its own members or staff; there is no mechanism for holding other people in the building accountable.
The former state employee who eschewed skirts and high heels had this to say: "I see the Statehouse changing, but hurry up."
Fair Game columnist John Walters returns next week.