Jeb Wallace-Brodeur
John Hollar
The nation's smallest state capital is gearing up for its biggest and most contentious election in recent memory.
Up and down the ballot, contested races abound — from park commissioner to city councilor. Generating the most light and heat is the race for mayor, which features the city's recently fired planning director and the man she blames for her dismissal.
"The energy around these races is tremendous. It's unprecedented," says City Clerk John Odum. "It's a bit concerning in some ways, in that there have been flare-ups and a degree of friction that Montpelier voters are simply not used to in municipal elections."
Candidates and voters alike claim they want to talk about something else: the city's proposed 10.2 percent spike in school taxes, say, or its chronically pocked roads. But the conversation inevitably returns to the firing of Gwendolyn Hallsmith and the role, if any, that Mayor John Hollar played in it.
"The whole thing is kind of toxic," says city council candidate Page Guertin. "We're not talking about issues. We're talking about, 'What do you think about the situation?' And I think that's unfortunate."
In one corner stands Hollar, a silver-haired lobbyist for Downs Rachlin Martin whose sharp suits and Oklahoma drawl make him a distinctive figure in the Statehouse and around town. Two years ago, the longtime school board chairman and father of three won an uncontested election to become Montpelier's part-time mayor.
In making his case for reelection, Hollar points to the city's recent progress advancing stalled infrastructure projects, including a transit center, a bike path extension and a district heating system that will connect a state biomass plant to downtown businesses. While keeping municipal taxes in check, he and the city council have also been reinvesting in Montpelier's crumbling roads, Hollar argues.
"What's this race about? It's about running a city, improving the quality of life for people who live here," Hollar says. "Ideology hasn't really played a role in the work the council has done."
Hallsmith, his challenger, doesn't see it that way.
In her view, a conservative cabal of wealthy property owners has taken over the city council and planning commission and imposed an "austerity agenda" on Montpelier. While that group calls itself Vibrant and Affordable Montpelier, Hallsmith derisively refers to it as the "Chai Party," or a high-end Tea Party. Its members, she says, have ignored the dictates of the city's 100-year master plan and are "rewriting Montpelier's zoning ordinance to suit private interests."
"I think they're working together behind the scenes to undermine what the people said they wanted for the city," Hallsmith says. "Right now, the planning commission and the city council are treating [the master plan] like it's yesterday's news. That's not how it's done."
Hallsmith has more than a passing interest in the matter. A published author and expert on community planning, her work with a network of nonprofits and advocacy groups has led to speaking engagements and planning gigs everywhere from Alberta to Johannesburg.
For seven years, the Colorado native and mother of one juggled that work with a full-time gig as Montpelier's director of planning and community development. In the latter role, she says, she led the city's 100-year planning project and obtained federal and state funding for many of the projects Hollar is now promoting.
But in that time, Hallsmith made more than a few enemies at city hall. Last November, after two months of tangling with City Manager Bill Fraser in private meetings, internal memos and on the pages of the Barre-Montpelier Times Argus, she was fired.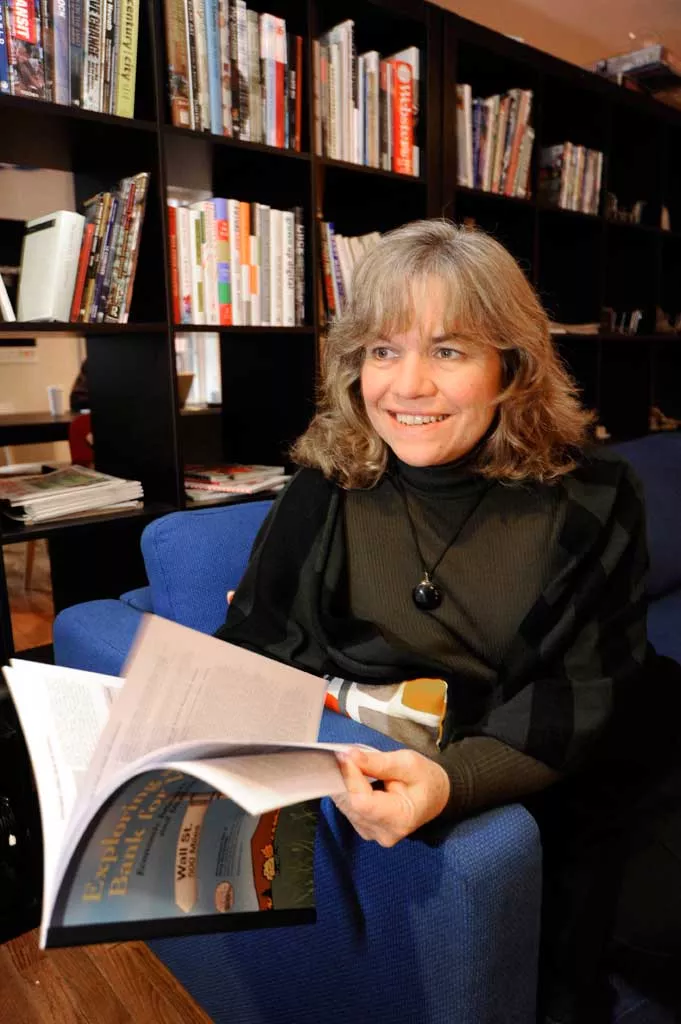 Jeb Wallace-Brodeur
Gwendolyn Hallsmith
To say that the motivation for Hallsmith's sacking remains in dispute is to vastly understate the matter. Both sides make their cases with passion, vitriol and reams of supporting documentation.
While mostly speculative, Hallsmith's version of events is, by far, the most intriguing. The way she tells it, Hollar's work as a lobbyist for Bank of America and Wells Fargo prompted him to crack down on her advocacy for a publicly supported state bank. When Hollar failed to muzzle her, she claims, the mayor overstepped his authority and goaded Fraser into disciplining and then firing her.
To support her case, Hallsmith points to two emails Hollar wrote Fraser complaining about her extracurricular activities.
In the first, sent last March, the mayor forwarded the city manager an email from a fellow lobbyist at Downs Rachlin Martin summarizing a public banking advocate's testimony to the legislature. Noting that "this is the issue that Gwen is closely affiliated with," Hollar wrote, "I still don't see how our city's chief economic development officer can hold and promote views that are fundamentally anti-capitalist in nature."
In the second, sent in September, Hollar forwarded Fraser an email between staff and board members of the Vermont Housing Finance Agency about a Town Meeting Day campaign one of Hallsmith's groups was organizing to support public banking. Among the recipients of the email was Hollar's wife, Jennifer, who serves as a VHFA board member in her role as the state's deputy commissioner of housing and community development.
In his note to Fraser, Hollar asked "how Gwen manages to run her non-profit and pursue this initiative while maintaining her obligation to the city" and "how this campaign is consistent with the City's economic development policies and her job description."
"Gwen obviously can pursue interests on her own time, but as the city's chief economic development officer, her position on these issue[s] can't be distinguished from her official position with the city," Hollar wrote. "Between this and the planning commission fiasco, this really can't continue."
A week later, Fraser informed Hallsmith by memo that she'd lost the trust of city officials. Fraser wrote that Hallsmith continued to "take public positions on political matters that may not reflect city policy," which he said, "diluted [her] credibility as a city official." As a result, he removed a portion of her portfolio, put her under the supervision of his deputy, and directed her to "refrain from involvement in external political issues such as public banking which may impact [her] effectiveness as a Montpelier City official."
Though Fraser quickly rescinded the political gag order, Hallsmith maintains the message was clear.
"I can only look at the situation and think, They're trying to destroy my professional reputation for speaking out on subjects that aren't in alignment with certain officials' views," she told Seven Days in November.
Hollar now says he erred in sending the emails, which he admits "clearly created the appearance of a conflict," and he has since recused himself from all public banking-related issues. But he and Fraser adamantly deny that Hallsmith's subsequent ouster was instigated by the mayor or motivated by his clients' interests. Rather, they say, it was the result of Hallsmith's chronic inability to cooperate with elected officials and her own bosses.
"She's had a series of conflicts with the planning commission, the city council, me, different members of the public," Fraser says. "This has been an ongoing issue predating the current mayor, predating the current version of the city council."
According to Fraser, Hallsmith's accusations hinge upon a selective and misleading reading of the record. The way he sees it, the long-festering situation came to a head in September, when the entire planning commission threatened to quit en masse because its members were so tired of fighting with Hallsmith. Her opposition to their zoning plans and her charges of ethical impropriety at one point led the commission's chairman to refer to her as a "jihadist."
"She keeps recasting this as being about John Hollar and big banking, but it's not about that," says Councilor Thierry Guerlain, an ally of the mayor's. "The dispute is between Gwen Hallsmith and her boss, who is Bill Fraser."
Hollar's September email, which Hallsmith often invokes as evidence of mayoral meddling, actually came in response to a message Fraser had sent two hours earlier informing the mayor that he was "following up with Gwen today in writing" to "tell her to back off" on the planning commission. In that email, Fraser clearly stated that he was preparing a memo informing Hallsmith of her curtailed responsibilities.
"So that didn't come out of the blue," Fraser says of Hollar's email. "That was a response to me saying I'm going to do something about this."
In an op-ed in the Bridge, Montpelier's bimonthly newspaper, Hallsmith herself undercut her own argument that her firing was unexpected and largely inspired by Hollar's corporate clients. In it, she quoted a summer 2012 email exchange between two city councilors who were clearly fed up with her.
"Fuck me. How do we get rid of this woman," Councilor Andy Hooper wrote in an email to fellow councilor Tom Golonka. "Apparently the only thing worse than a know-nothing/do-nothing Planning Director is a know-everything/do-everything Planning Director. Fuck."
"I thought that was your #1 goal for the year..." Golonka responded. "We'll have to craft the verbage [sic] a little more diplomatically in the press release."
In the two months after Fraser put Hallsmith on notice in September, relations continued to deteriorate, as each wrote and sent memos accusing the other of a litany of offenses.
"How have my rights as an employee and a citizen been violated," Hallsmith wrote in one to Fraser. "Let me count the ways."
Adding fuel to the fire, Hallsmith took her case to the Times Argus, which cast the conflict as a freedom of speech issue. Soon, the story was making headlines throughout the state.
Upset with the paper's coverage, Hollar wrote to publisher John Mitchell to complain about what he called "numerous distortions and false statements." Mitchell, apparently, agreed with the mayor. In an email to Hollar, the publisher said that if he had not been out of town, he "might otherwise have been more involved in this story sooner."
"I admire your restraint on this matter, and, unfortunately, share your concerns, i.e. 'tone, directions and implications,' about how this story has been handled," Mitchell wrote.
Times Argus editor Steve Pappas makes no such apologies.
"Stories such as this, where conflicts of interest are raised among public officials, have to be explored," he says, noting that the paper has given just as much scrutiny to Gov. Peter Shumlin and Barre Mayor Thom Lauzon. "We felt that we did our due diligence."
Hollar wasn't the only one to plead his case to a higher power. Ten days after Fraser placed Hallsmith on administrative leave in November, she wrote Shumlin and pleaded for him to intervene.
"Since municipalities are creatures of the state, I am turning to you for help," she wrote. "There must be a way to intervene in a case where it appears in advance there will likely be a miscarriage of justice."
Hallsmith's letter to the governor did more than hint at a conspiracy.
"I have reason to believe that a search warrant and a computer forensics specialist might be able to uncover evidence that there was collusion between the mayor and the leadership of the Planning Commission, possibly as early as last year, to stall the work on the zoning revision and fabricate a 'performance complaint' about me as a cover for their efforts to stop me from talking about public banking and complementary currencies," she wrote. "Could the state police be asked to investigate?"
Later in her letter to the governor, Hallsmith suggested that "a private word to the Manager and the Mayor about the possibility of a state police investigation" might save her job.
According to Shumlin spokeswoman Sue Allen, the governor did not respond to the letter or take any action.
"At what point is there a loss of rationality?" Fraser says when asked about the letter.
Explains Hallsmith, "I was very distraught at that point because I was realizing the city wasn't going to give me even a hint of anything like due process in my termination."
On November 26, Hallsmith was formally fired. After Fraser's deputy denied her administrative appeal, Hallsmith filed suit in January in Washington County civil court, seeking to be reinstated. Soon thereafter, she declared her intent to run for mayor.
Asked at the time whether her candidacy was simply a reaction to her firing, Hallsmith said, "Well, if I was still working for the city, I wouldn't be running for mayor. But I'm really deeply committed to the work I've done for the city. And I want to see it carried out. This is not about sour grapes or anything. This is about the energy the people of the city put into the planning process."
So how would Hallsmith fare if she were elected mayor and charged with overseeing the work of the city manager who fired her?
Not well, Hollar suggests.
"You need to be able to work with people," he says. "If you look at my opponent's tenure here in Montpelier and preceding that, I think she's had some difficulty working with others."
Hallsmith disagrees.
"If [Fraser] were as attentive to me and what I ask him to do as mayor as he was to Hollar's request to get rid of me, I'd be fine with it," she says. "I have no problem working with him. I worked with him for seven years."