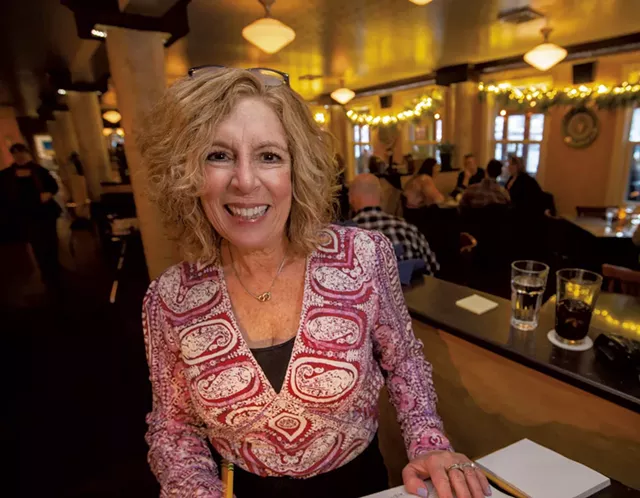 Jeb Wallace-brodeur
Carol Paquette, owner of Sarducci's
Over the past couple of weeks, I ate my way through Montpelier: breakfast, lunch and dinner at restaurants near the Vermont Statehouse. I also stopped at Rabble-Rouser for samples of free chocolate, drank a martini at Three Penny Taproom, my favorite bar, and watched lawmakers fail by one vote to override Gov. Phil Scott's veto of a paid family leave law.
My meals in Montpelier preceded by a few days the governor's February 10 veto of a bill that would have raised the minimum wage from $10.96 per hour to $12.55 by 2022. (The Senate has since voted to override Scott's veto; action is expected in the House.)
This policy debate got me wondering: How much does the person who poaches my eggs get paid? What about the dishwasher who cleans up after me? I wanted data, as opposed to what I hear casually from restaurant people. So I called Mathew Barewicz, economic and labor market information chief at the Vermont Department of Labor, to find out.
In Vermont, the average wage for a dishwasher is $12.22 an hour, according to the labor department. Cook wages are divided into several categories, including fast food ($12.34 per hour), short order ($13.74), restaurant ($14.99) and head chef ($21.92).
Many restaurant and bar workers don't work full time. Nationally, the average workweek for this group is 26 hours, according to the Bureau of Labor Statistics. (There are no Vermont-specific data, but Barewicz said he has no reason to believe the state is significantly different from the rest of the nation in this industry.)
In Vermont, the average annual salary for people who work in the food and drink industry — from restaurant owner to busboy — is $20,167, according to the state Department of Labor.
With that information in mind, let's eat.
J. Morgan's Steakhouse
100 State St., Montpelier, 223-5222
Jeb Wallace-brodeur
Lobster eggs Benedict at J. Morgan's Steakhouse
The interior design at J. Morgan's, the restaurant at the Capitol Plaza, includes an electric train that moves around the dining room on an elevated track. This struck me at first as mild amusing, but mostly odd. But after I'd had time to digest both my lobster eggs Benedict and the ambience, it hit me: The dining room itself is train-like — long and narrow with a row of seats lining both sides of an aisle.
The leatherette banquettes against the west wall could be a throwback to a railroad dining car of an earlier era. I had settled into one of those booths on a recent morning for breakfast with a friend.
We were seated across from a woman who was dining alone during a break from a business training session in the adjoining hotel. I, too, was working. This meant I was simply doing my duty when I ordered a weekday morning Bloody Mary.
"That sounds marvelous," the diner opined.
I had to agree.
The cocktail ($8.75) was all business: a big wine glass with a generous shot of Tito's vodka and the standard tomato juice and seasoning. No celery garnish, no stick of bacon to stir the drink, not even an olive. My friend, taking pity, requested some; three olives were delivered on a plate.
Still, we were hardly bereft of things to eat: The poached eggs on my Benedict ($20) sat atop not only chunks of lobster but spinach and bacon. The potatoes on the side, cut in thick wedges, were mixed with caramelized onion. My friend's avocado toast ($12) was served with poached eggs on the spread, adding heft to her meal.
In a back booth, retired journalist Bill Porter, a regular, was eating breakfast with his grandson, Ford Porter. Bill has an office in the building. Ford, a student at Vermont Technical College, told me the family breakfast dates started "as a stock-investing class for me." They've turned into an all-purpose hangout.
"I love the food here," Ford said. Gesturing toward his grandfather, he added, "I come in and get the exact same thing as him."
The Hippie Chickpea
41 Elm St., Montpelier, 613-3543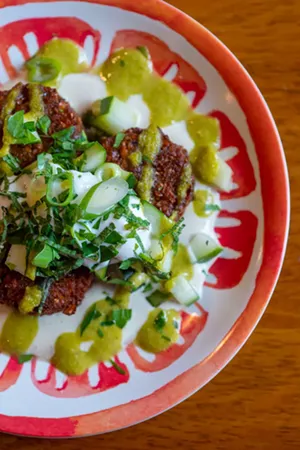 Jeb Wallace-brodeur
Falafel at the Hippie Chickpea
For lunch I ate at the Hippie Chickpea, a small restaurant that opened in the fall of 2018.
The 22-seat café specializes in Mediterranean food, including gyro sandwiches and tapas plates. But on this winter afternoon, I was drawn to the soup special: a tomato-based minestrone with vegetables and white beans ($7). With the addition of (optional) housemade chorizo, the hearty soup became a wonderful stew.
This would have been a meal in itself, but with a friend I also shared two small plates: roasted cauliflower with tahini sauce ($6), and falafel served with a trio of sauces ($6) — tahini, yogurt and green. The last dip is what chef Vince Muraco calls his "secret weapon," or his version of chimichurri sauce.
Vince and his wife, Vania, own and operate the restaurant. The couple moved to central Vermont from California four years ago for Vince's job as a catering chef with Cast Iron Catering, an affiliate of the Mad Taco. He'd been a corporate chef on both coasts before that move, including a stint working in Huntington Beach, Calif., with Joey Nagy, co-owner of the Mad Taco.
When the storefront on Elm Street became available, the Muracos decided to open a restaurant. Vince is now recovering from shoulder surgery, and Vania, who normally manages the front of the house, is working in the kitchen with a cook named Jacob Fontaine.
"The Hippie Chickpea is rolling," Vince said. "All the recipes are done, dialed in by the gram. Vania's rocking it in the kitchen, and [Jacob's] a good cook. He cares about how the food tastes and looks. We're going to go to round two."
"Round two" means the Muracos plan to open a second restaurant in Montpelier, and they're looking for a location that will match one of several concepts Vince has developed. Late last week, he learned that the Uncommon Market, a neighboring grocery and deli, is for sale.
"My ears perked up," he said. "Maybe I'll do an Italian deli."
Sarducci's
3 Main St., Montpelier, 223-0229
Jeb Wallace-brodeur
Salmon cucina at Sarducci's
On our way to Sarducci's for dinner, my sister and I stopped at the hardware store to buy a can of paint. It came with a tip: Order the salmon cucina. Our server made the same recommendation when we got to the restaurant.
And so the choice was made for me: After eating eggplant Parmesan at every trip to Sarducci's for 25 years, I deviated from that happy tradition and ordered salmon.
Sarducci's feels good — and makes you feel good — when you walk in. We had no reservation when we arrived on a Thursday evening close to 7, and the place was buzzing with activity. The hostess seated us right away in what appeared to be the only open table in the dining room.
Our terrific server, dressed in black and sporting sparkly eye makeup, quickly came to our table to welcome us, take our drink orders and steer me to the salmon.
The fish ($20.75) was roasted in the restaurant's wood-fired oven and served with artichokes, red peppers and capers in a white wine sauce. The ensemble, set on a bed of risotto, melds together beautifully to form a meal well worth its dual recommendation.
With a Caesar salad to start ($3.50), plus a few bites of my sister's pasta with Bolognese sauce ($16.75), I rediscovered the pleasure of Sarducci's — where I ate pretty regularly when it opened in the mid-1990s. The warm bread and garlicky olive oil, mista salad with balsamic vinaigrette ($5.99), and a glass of Montepulciano ($7.25) were totems from meals past.
A few days later, I talked by phone with Carol Paquette, a former server at Julio's (when the State Street restaurant was upstairs on Main Street), who opened Sarducci's with a business partner in 1994.
It was unusual back then for two women to start a restaurant, she said, recalling her surprise that Pomerleau Real Estate rented the space to them. The building, with parking and a river view, is on the southern end of Main Street.
"It just seemed perfect," Paquette said, adding that the other party interested in renting the building had been the New England Culinary Institute.
"NECI had these businessmen that showed up," she said, "and we had two women in long, flowery hippie dresses ... They picked us, which still shocks me to this day."
Since Sarducci's opened, lawmakers have been regular customers at the Italian restaurant, Paquette said.
"After all these years, they're really comfortable here," she said. "They know the staff. They know the bartender. They know the food is going to be good."
And, Paquette added, "They can leave with half their dinner and eat it for lunch the next day."
Shifting Restaurant Real Estate in the Capital City
Bagitos Café, a bagel and burrito place on Main Street in Montpelier, is for sale. Down Home Kitchen, a Southern-style eatery that closed on January 1, is also for sale. The Uncommon Market, a grocery store and deli, is new to Montpelier's for-sale market, with a listing posted on its website February 13. The restaurant space at 44 Main Street, the former home of Julio's, then the Black Door Bar & Bistro and most recently deMena's, is listed with VT Commercial for lease for $5,500 a month.
The list goes on: La Brioche Bakery & Café just cleared out of its longtime spot on State and Main to move in with the other New England Culinary Institute restaurant, NECI on Main.
What's going in the capital city? Soren Pfeffer, a real estate agent and the owner of Bagitos, offered his assessment.
"Lots of people have dreams of opening a restaurant and running a restaurant, and I think it's a great dream to have," he said. "It can be really cool, and it's an adventure.
"But 10 years is a long time to do it," Pfeffer continued. "I'm just looking for somebody who can bring new energy and new ideas and take [Bagitos] into the future in a positive way."