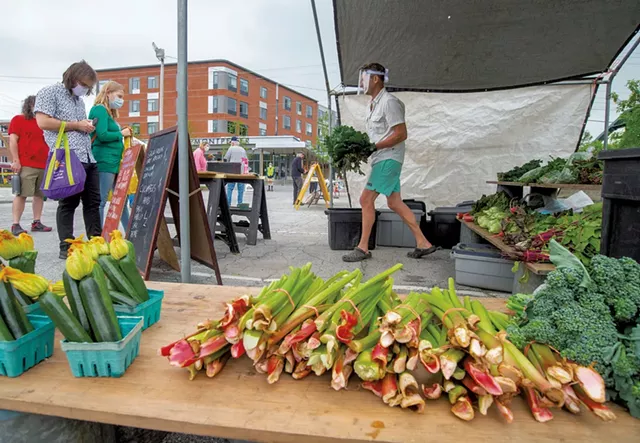 File: Jeb Wallace-brodeur
The Capital City Farmers Market on Taylor Street earlier this year
The Capital City Farmers Market has a new home — again. The weekly Montpelier market, which moved to 2 Taylor Street in May, will be held at 133 State Street for the remainder of its summer season. Construction along Taylor Street and in the current lot prompted the location change.
The market's members voted to make the move on Saturday, market manager Keri Ryan told Seven Days. The new lot — which is about a block from the Taylor Street location — belongs to the Vermont Department of Taxes.
"I've never been so excited about a parking lot before," Ryan said. "We will actually have a little bit of room to grow; even with the extra distancing that we have to have to meet COVID regulations, we can still fit about 56 vendors in the new lot, which is more than we can fit now."
The lot also has the potential to become a permanent home for the market, Ryan noted. "We'll reevaluate after this season, but it's not slated for any construction anytime soon, and we know it would be available at least next year," she said. "And hopefully going forward, too."
The market will officially move on Saturday, September 12, and will operate every Saturday through October 31. Market hours are 9 a.m. to 1 p.m.