Hannah Palmer Egan
Erica Hare (left) and Kierstin Gray sampling cheese from West Glover's Sweet Rowen Farmstead. They visit the market weekly. Their favorite things this time of year? "Strawberries, always strawberries," Gray said. "And the shelled peas," Hare added. "And then, of course, we always hit the pizza pretty hard," Gray added, referring to the pies on offer from Northfield's Field Stone Farm.
Hannah Palmer Egan
Alan LePage at the LePage Farm table. "We've got 1,000 CBD cannabis plants coming," LePage said, citing concerns about transplanting a new crop during the previous week's heat wave. "But we're being well paid to grow them," he added, noting that his heavy clay soils in Barre are resilient when it's hot and dry. Plus, LePage said, "The wholesale price for [CBD cannabis] is rather attractive."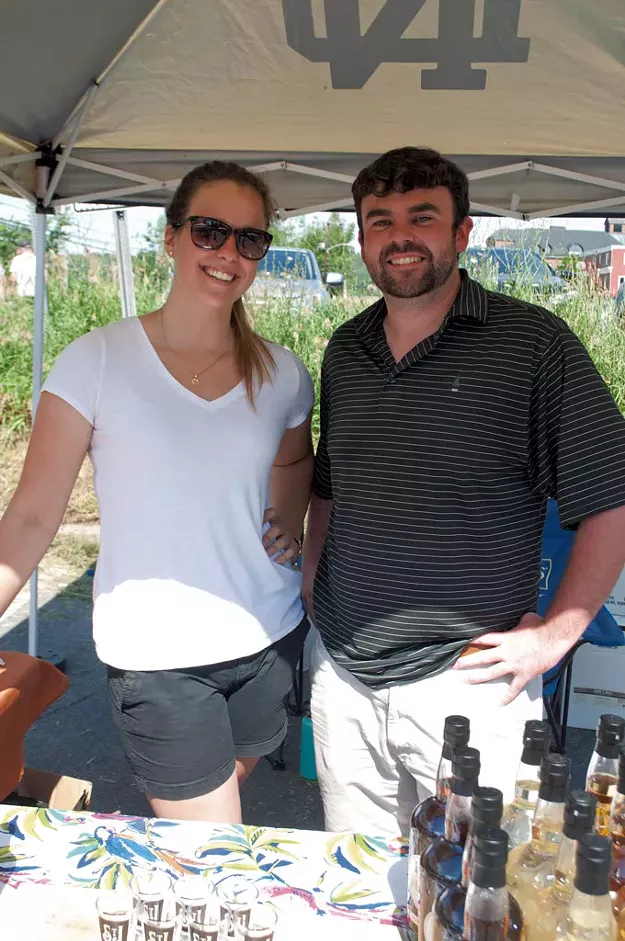 Hannah Palmer Egan
Lauren Belknap and Brendan Hughes of St. Johnsbury Distillery. "I purchased Dunc's Mill [Distillery] in November," Hughes said. "We're rebranding now as St. Johnsbury Distillery." Many of the company's classic products, such as its popular elderflower rum, he added, remain the same.
Hannah Palmer Egan
Mother and son Barbara and Chris Thompson of Plainfield's Owl Hill Farm
Hannah Palmer Egan
From left: Willa, Sam and Governor Robb selling pastured pork and poultry raised at Tangletown Farm in West Glover
Hannah Palmer Egan
Bagged produce and summer squash from South Albany's Heartwood Farm
Hannah Palmer Egan
Brassica starts at Heartwood Farm's retail stand
Blue Fox strumming tunes — including kids' riffs, such as "Old McDonald Had a Farm," when kids are near — at the market entrance