Courtesy of Ha-Soo Kim
Jeewon Park and Edward Arron
It's not often the apocalypse comes to Vermont, but come it will when Capital City Concerts opens its season with two performances of Olivier Messiaen's Quartet for the End of Time.
Inspired by the angel in the book of Revelation who announces that "time shall be no longer," the French composer wrote the work in 1940 while being held in a prisoner-of-war camp in Görlitz, Germany. It remains as powerfully moving today as it was for its original audience of prisoners, officers and one enthusiastic German guard, who supplied the composer with paper and space to write.
Messiaen wasn't the only artist contemplating modern interpretations of angels in that testing time, but his is nothing like the terrifying "angel of history" in Walter Benjamin's 1940 Theses on the Philosophy of History. (Based on a painting by Paul Klee, Benjamin's angel is condemned to witness the pileup of disasters that humans call history.) Instead, the composer imagined an otherworldly realm — unnerving and, yes, atonal, but also ethereally beautiful.
Messiaen scored the eight-movement work for the instruments his fellow prisoners happened to play — clarinet, violin and cello, with himself on piano. The instrumentation wasn't unprecedented, but it is a haunting combination to hear, perhaps most so in the section dedicated to Revelation's seven trumpets. Devoid of the expected brass, the movement derives its power from the fact that the four musicians play it in unison.
That last task is a tricky one in a piece that has no set meter and is influenced, as were many of Messiaen's works, by birdsong. Capital City Concerts' artistic director, Karen Kevra, has assembled excellent musicians for the job. Clarinetist Daniel Gilbert, a CCC regular, teaches at the University of Michigan School of Music, where his email address begins with "nosqueak." "He has my favorite clarinet sound," enthuses Kevra, a flutist.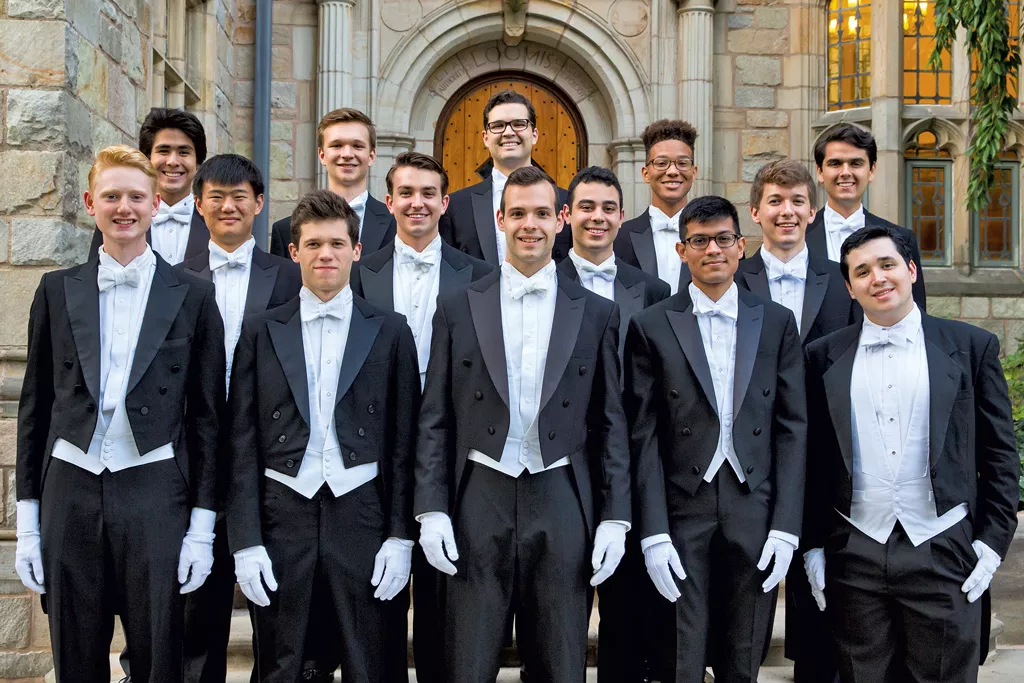 Courtesy of Capital City Concerts
The Whiffenpoofs
New York-based Edward Arron and Jeewon Park will play cello and piano, respectively. Audiences may recognize the married duo from their performances with the Lake Champlain Chamber Music Festival and Central Vermont Chamber Music Festival, among other regular Vermont gigs. Violinist Theodore Arm, who teaches at Connecticut College, completes the quartet.
Beyond the end times, CCC's season will continue with an eclectic array of performers. The all-male Yale University a cappella group the Whiffenpoofs, an inspiration for the TV series "Glee," is CCC's first choral group offering. Also on the roster are Latin-flavored chamber music with Mary Bonhag and Evan Premo (otherwise of Scrag Mountain Music) and piano trios by Bach, Beethoven and Brahms.
Kevra, who now lives in Middlebury, continues to expand CCC's offerings beyond the capital city, where she founded the series. Rutland's Paramount Theatre will host a second performance of the Messiaen. With the help of a Concert Artists Fund grant from the Vermont Community Foundation, Kevra will bring other concerts to two Chittenden County locales, the Elley-Long Music Center at Saint Michael's College and Burlington's Cathedral Church of St. Paul.
That leaves Burlington-area audiences with a rich fall classical calendar, including Burlington Chamber Orchestra's four concerts under Yutaka Kono, its first conductor-director in many years. This year's Cathedral Arts series features an appearance by a trio who performed in the last Lake Champlain Chamber Music Festival. And the University of Vermont Lane Series will host, among other ensembles, Burlington-born Scott Metcalfe's early-music group Blue Heron.
But first, central Vermont must prepare for the apocalypse. Kevra remembers well the first time she heard Quartet for the End of Time — at a performance imbued with the piece's fascinating post-composition history.
That German guard who enabled Messiaen to compose Quartet never got to see the Frenchman after the war; attempting to visit, he was turned away for unknown reasons. Meanwhile, the cellist who played the premiere, Etienne Pasquier, went on to found the Trio Pasquier; his nephew, Régis Pasquier, became a noted violinist who, in turn, founded the Paris Piano Trio. About 10 years ago, Kevra heard the Paris perform Quartet. It was, she recalls, "transcendent."