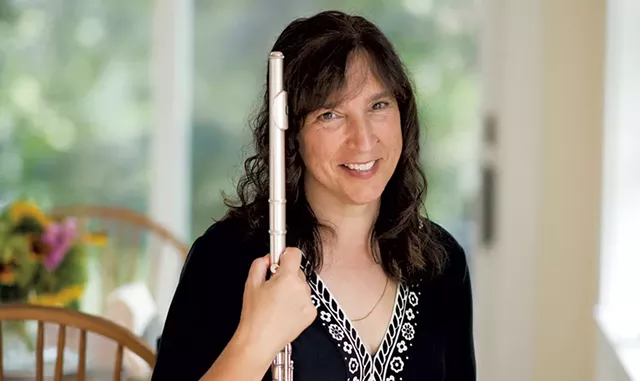 Courtesy Photo
Karen Kevra
When Capital City Concerts offered one of Johann Sebastian Bach's cantatas — the Magnificat — last fall to soothe the politics-weary, audiences packed both St. Augustine's Catholic Church in Montpelier and Cathedral Church of St. Paul in Burlington for the performances. And their attention never flagged.
"No one even moved between movements, people were so engaged," recalls cellist Emily Taubl.
The response led CCC founder and artistic director Karen Kevra to program another Bach cantata this year: Wachet auf, rust uns die Stimme known in English as Sleepers Awake. The concerts will take place in both venues again, thanks to a two-year grant from the Vermont Community Foundation's concert-artists fund. The all-Bach program also includes solo arias for soprano, tenor and baritone and the Violin Concerto in A minor.
"I'm a sucker for Bach," Kevra says, explaining that the composer's works are her go-to escape from political news. "Who'd have thought that the political climate could be darker and more insane this year than it was last year?" she adds. "But it is."
Bach composed more than 200 cantatas, but Wachet auf, first performed in 1731, is one that audiences are likely to recognize. Set to a German hymn written in 1599, the work has seven movements. The fourth, "Zion hört die Wächter singen" ("Zion hears the watchmen singing"), includes an unforgettably lyrical melody in the strings accompanied by an understated tenor line.
Taubl, a University of Vermont affiliate artist who just became principal cellist of the Springfield Symphony in Massachusetts, has played the fourth movement often at weddings and other events.
"You can't help but feel this sense of calm when you hear it," she says. "It transcends language, it's so beautiful. It works for any occasion — somber or joyful. It speaks to everyone's emotions somehow."
For those unfamiliar with the movement, Kevra says, "I don't think you have to know it to love it. I think you'll go home loving it."
Taubl and Lou Kosma, a double bass player who is music director of the Vermont Philharmonic, will play the continuo part — the underlying bass line in Baroque music. They are among 25 notable musicians on the program, including violinist Laurie Smukler, a faculty member at the Juilliard School who will solo on the concerto. Richard Riley will conduct the musicians, a 22-member chorus and the three soloists.
The Burlington Choral Society music director points out that the melody in the chorale appears in three of the seven movements, tying the piece together. "You would think, How boring to work with the same melody," Riley says. "But that's the genius of Bach. Sometimes [the melody] is straightforward, other times incredibly intricate."
As for the German, Riley engaged a chorus member who happens to be a native speaker to coach the singers on pronunciation. (Taubl jokes that only the singers know how to pronounce the cantata's name; the musicians refer to it as "Walk It Off.")
Bach's text interweaves the hymn, centered on the parable of the 10 virgins called to bring lighted lamps to a wedding, with intimate verses about the betrothed couple.
"The text is more or less out of a sacred text," Riley says, "but it ends up being presented as something that's very personal: My friend is mine, and I am yours. Love will never part us. It's so human."
Taubl also describes Wachet auf as "very human." "It has a healing quality to it," she adds. "It's not grandiose in the same way as the Magnificat. There's a sense of peace and bringing together of humanity."
For a couple of hours, at least.