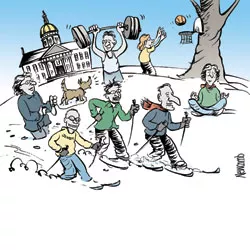 Lobbyist luncheons. Twelve-hour workdays. Heaping portions of high-calorie cafeteria food. Schmoozing over pints of carb-heavy Vermont microbrew.
After a while, life as an elected official at the Statehouse could make a fat cat out of even the sveltest politician. But this is Vermont, one of the fittest states in the nation. So, perhaps not surprisingly, the capitol is packed with workout buffs who go to great lengths to keep off the pounds during the four months they spend in Montpelier each year.
Vermont's new governor, Democrat Peter Shumlin, is an avid exerciser who has maintained his gazelle-like physique with a mix of running and cross-country skiing. Shumlin tells Seven Days he got out for a run on the East Montpelier trails two weeks ago, but admits a regular fitness regimen is falling victim to his jam-packed schedule. Case in point: After Shumlin offered to take me cross-country skiing for this story last week, his staff had to call back and cancel. The outing was double-booked with important meetings, special assistant to the governor Sue Allen said, so the skiing was off — for me and the governor.
"The only complaint I have about my extraordinary team ... is that they're not as diligent as they should be about giving me running time," Shumlin says. "I keep yelling at them, but then they always find some meeting."
When Shumlin does manage to get out for a run or ski, he'll have company. Though the gov's office can't comment on details of his security, people in the know tell Seven Days that, historically, governors have exercised alongside a state trooper.
For the Health & Fitness issue, Seven Days asked a sampling of other health-conscious lawmakers how they stay fit during the hectic legislative session. Many credited exercise with helping them reduce stess and giving them stamina during those soporific committee hearings.
Pols With Poles
Under the golden dome, House Speaker Shap Smith (D-Morristown) maintains a breakneck pace, cramming in meetings, phone calls and high-stakes negotiations on important legislation. But on weekends, and Mondays when the legislature's not in session, Smith ditches his iPhone, straps on Nordic skis and disappears into the woods near the Trapp Family Lodge for 90 minutes of solitude. Smith skied biathalon in high school, but, he recalls, "I was terrible because I couldn't shoot worth a damn."
He's no slouch on skis, though: The Speaker races the 16-kilometer Stowe Derby every winter, from the top of Mount Mansfield to the center of Stowe. Last year, he finished a respectable 94th out of 325 racers. "It's very hard to find the time [to stay fit]," Smith says, "but I am much more effective in my job on an interpersonal level and from a sharpness level when I've been able to go out and exercise." Does he monitor calories burned or heart rate? "No," Smith says with a chuckle. "I look at my belly and decide whether I need to exercise more or whether I can fit into my pants."
Smith's new No. 3, House Assistant Majority Leader Willem Jewett (D-Ripton), is a long-distance cyclist who's been known to show up at the Statehouse in his bike shorts. Jewett has done 100-mile rides to raise money for cancer research, and spent a winter working as a bike messenger in Burlington, a job he describes as "messy business." But when winter hits and he can't cycle, Jewett cross-country skis — before dawn.
"You know what my secret is? Darkness and use of headlamps," confides Jewett, who was a Division 2 downhill ski racer at Bowdoin College. Last week, Jewett hit Rikert Ski Touring Center in Ripton at 5:45 a.m. for a 50-minute ski by headlamp before driving to Montpelier for a 12-hour workday at the capitol. When you're working sunup to sundown, he says, it's exercise by lamplight or not at all.
Spin Cycle
Politicians are infamous for their tendency to spin, but Lt. Gov. Phil Scott is an actual certified spinning instructor — as in the indoor cycling program. Though he has yet to teach a class, Scott counts spinning as part of his varied wintertime workout routine at First in Fitness in Montpelier, where he and many lawmakers have memberships. Scott, a Republican, says he also favors the elliptical trainer and recumbent bikes so he can "multitask" by reading the morning paper while he burns calories.
During the legislative session, the former state senator works out seven days a week, in part to keep in shape for summer stock-car racing, he says. Not every day is at the gym — last week, Scott's workout was three hours of shoveling snow off a pond outside his home in Montpelier that he uses for a skating rink. Sometimes he straps on snowshoes and climbs a mountain, he says, his favorite hikes being in the Worcester Range.
Pumping iron is part of his regimen too, but Scott says he's no lieutenant governator. "I do a couple of circuits, maybe 15 minutes of weights." How much can he bench? "I don't know. I wouldn't tell you, anyway," Scott says with a laugh. "It'd be something like 90 pounds."
Prana Politics
In an old cloakroom off the capitol's House chamber, state Sen. Hinda Miller (D-Chittenden) leads a weekly yoga class for lawmakers and legislative staffers. Formerly hosted at the Chittenden Bank building across from the Statehouse, the 8-year-old session draws a half dozen people each week for an early evening practice, she says.
"I think it's important that we understand the best work comes from relaxation and that it takes practice," says the senator, a noted yoga practitioner who studied under master Sri Swami Satchidananda in New York four decades ago. Miller begins each day with breathing exercises, followed by 45 minutes on a stationary bike and 45 minutes of yoga.
In an effort to mix om and state, Miller plans to ask the Senate Committee on Health and Welfare, on which she sits, to participate in group breathing exercises starting this week. In fact, she imagines that, if the entire legislature practiced yoga, lawmakers would be less attached to "agendas." Miller predicts: "We'd all be smiling more." Namaste.
Hoop Dreams
Legislating can often feel like a basketball game: passing, blocking, fouling, pulling off Hail Marys and slam dunks. But every Wednesday, a gang of lawmakers and capitol staffers converge on a Montpelier town gym for a real game of pickup hoops. What began five years ago as a show for the semipro Vermont Frost Heaves has become a weekly ritual that enables a dozen politicos to blow off steam and bond outside the workplace.
"They invited legislators to be the halftime entertainment," recalls state Rep. Sarah Copeland-Hanzas (D-Bradford), one of the organizers, discussing the origins of the pickup game. "We ran up and down the court a couple times and got the idea that it might be fun if we played more consistently."
Whenever possible, the game is five-on-five, full-court basketball. Along with Copeland-Hanzas, the Democrat-dominated dribblers include state Reps. Jeff Wilson (D-Manchester), Tom Stevens (D-Waterbury), Timothy Corcoran (D-Bennington), and David Sharpe (D-Bristol), and Bill MaGill, the first assistant clerk of the House. For years, the game was tripartisan, but the players lost their sole Progressive when David Zuckerman of Burlington retired from politics last year.
For Copeland-Hanzas, the game offers an opportunity to "sweat it out" and pal around with her colleagues. "Any time you can do something different — whether it's breaking bread, sharing a glass of wine or playing basketball — it's a good way to connect with people," she says.