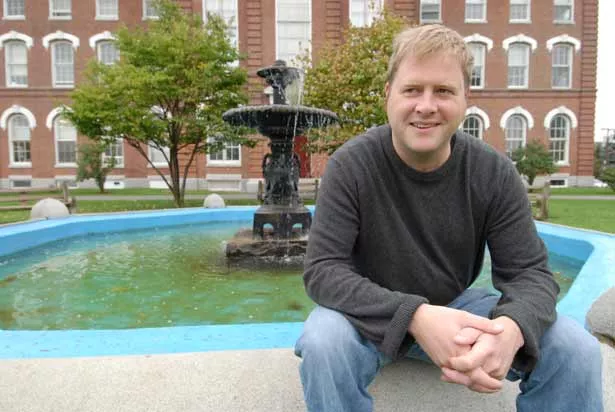 At first glance you wouldn't take Thomas Greene for a college president. Just 38 years old, he's a long way from gravitas, and his boyish face doesn't help. He's a three-time published novelist whose primary professional passion is writing, and he's eager to get back to it. But meanwhile, he's got a college to buy. And get accredited. And reinvent.
Much of the work is already done. A financial package is on the verge of approval, the core curricula are ready to roll, and, if all goes well, the Montpelier-based Vermont College of Fine Arts will get a green light on accreditation next spring. So how did Greene become not only a college president but a community and academic hero, about to open the nation's first graduate institution devoted exclusively to the fine arts?
Here's the story. In 2001, Union Institute and University (UI), the Cleveland-based "university without walls," purchased Vermont College from Norwich University of Northfield, Vermont. The private military academy had itself purchased, in 1978, a package of adult-degree programs from a financially strapped Goddard College - along with the campus of what was once a junior college in Montpelier. Fast-forward to 2006. Facing its own financial hardships, including a federal challenge to its financial-aid program, Union decided to offload the 168-year-old Vermont College campus. In April of that year, University of Vermont trustees negotiated to buy it - and its three Master's in Fine Arts programs - but ending up walking away from the deal. Local residents were alarmed to learn that among the remaining prospective buyers of the campus were developers who sought to turn some of its historic buildings into condominiums. That's when Greene, who had recently been hired to manage the MFA programs, stepped in.
"I thought UVM would have been a great asset to the city of Montpelier," he says, explaining that Union Institute had initially intended to sell only the physical campus while holding on to its various low- and non-residency degree programs. When UVM backed out, Greene says, "It sort of knocked things loose, and in some ways it created a pathway for how we could do it."
Other faculty and staff got excited about the idea of taking on the college. But, Greene recalls, "They said, 'We can't lead it, Tom. If you lead it, we'll follow.' We started working on it right away . . . In a lot of ways, we had no idea what we were doing."
But 17 months later, Greene is poised to turn his dream into a reality - the Vermont College of Fine Arts. Virtually 100 percent of the 70-plus part-time Union Institute MFA faculty members are on board. Greene's plan is for the new college to buy the 11-building, 33-acre campus from UIU, then lease space back to it, as well as to the New England Culinary Institute and Community College of Vermont. In this way it will become the center of a consortium of institutions of higher learning that offer non-traditional degree programs.
Since April 2006, Greene has found a business partner, put together an A-list board of trustees, raised nearly $400,000 to cover interim and transitional costs, and created a financing plan to handle the multi-million-dollar purchase price. He is well under way to securing accreditation for the fledgling college - the final step before the purchase can be finalized. Both sides expect to sign a binding purchase and sale agreement within days.
Greene acknowledges it's been something of a rollercoaster ride over the past year. As recently as May, he had expected to close on the UI deal by early August. But, chastened and wiser from the arduous process of birthing a college, Greene is confident the deal will indeed be consummated in due time. "Both parties are working in good faith, and everybody's in agreement about what we're trying to do," he says. "We're working together to get this done as quickly as we can."
UI president Roger Sublett agrees. "I think we're on track to bring it to a successful conclusion," he says.
**************
Pending its accreditation, the Vermont College of Fine Arts is operating as a college-within-a-college: It has autonomy in terms of curriculum and faculty, while UI provides infrastructure and support services such as registering students and processing their requests for financial aid. Both parties expect a seamless transition next year, should all go according to plan.
Greene brims with enthusiasm and confidence when explaining his long-term vision for the VCFA. "I think the beauty of it is, you can build the kind of institution you want in terms of the people, the faculty you want to work with, with a progressive mission from the ground up, and having a place where it's fun to come to work every day," he says.
If the blond, athletic Greene is an unlikely college president, so is the local businessman he recruited last summer to be his partner. Bill Kaplan, an East Montpelier resident who moved to Vermont after a successful career in real estate, had been working part-time on an assortment of conservation and community-building projects when a mutual friend suggested he and Greene meet. Both men are married to writers and are fathers of young children.
Kaplan has no professional background in academics or the fine arts; he saw his role as "a temporary volunteer" at first, and didn't think he'd still be involved more than a year later. "He woke up one morning and had a day job," jokes Greene.
"Bill has a very keen business acumen - he knows how to deal with real estate, how to run a business," remarks UI's Sublett, adding that Kaplan brings "a fresh vision, a creative, innovative approach . . . It's very refreshing to work with him and Tom."
Both Greene and Kaplan point to their complementary skills and experience and symbiotic partnership.
"You would think we'd play different roles based on our backgrounds, but we haven't. We've shared basically each piece of it and have done everything together. He brought credibility with Union Institute," explains Greene. "Doing this project alone would just have been impossible."
Though Greene considers him a full co-partner, Kaplan is technically a consultant. His VCFA business card lists no title. What attracted him to the project, Kaplan says, was "the importance to the community. You don't often get the opportunity to help make something like this happen. Maybe once in a lifetime."
Kaplan has been negotiating leases with UI, NECI, CCV and several other tenants, including the Family Center of Washington County, the T.W. Wood Art Gallery, International Coins and Currency and other local educational nonprofits. NECI, which moved its headquarters to the Vermont College campus in June 2006, will lease additional buildings for student housing.
"What started out as an attempt to save jobs and to save the campus has grown into something much broader and bigger," notes Greene, "to create a campus that is rooted locally but whose reach is global.
"It's been kind of crazy, but it's good," continues the writer, whose third novel, Envious Moon, was published by Harper Collins in May. "We still have a lot of work to do, but we're making good progress." His goal is to grow "from 300 to 1000 students over 10 years, to turn this historic campus into a place where the next generation of writers and artists pass through on their way to creating their own work."
The Vermont College MFA programs already have an impressive track record. VC alumni - including authors Wally Lamb and Katherine Paterson - have collectively published more than 450 books and won nearly every prestigious writing award offered in the U.S. The Atlantic Monthly recently placed the school's MFA in Writing program in the country's top five of its kind.
**************
On a Saturday afternoon in early August, more than 150 families and friends congregate in College Hall Chapel to honor the 2007 crop of 18 graduates of the MFA in Visual Art program. The ceremony opens with a slide show of images, set to music, of the graduates during each of their five 10-day residencies on the Vermont College campus over the past two years.
It's immediately evident this is not a traditional graduation. No caps and gowns, no mortarboards, no esteemed speaker dispensing hackneyed pearls of wisdom. Instead, individual faculty members who have worked closely with the students describe them - their personalities, challenges, fears, endeavors and triumphs - one at a time. Relatives and loved ones dispense the diplomas.
The graduates, ranging in age from twenties to sixties, come from all over the country, and from diverse socio-economic and professional backgrounds. Their fields of study are as varied as their appearances: videography, painting, sculpture, photography, digital animation and other technical media. Most of the students were accomplished artists before enrolling in the program to recharge their batteries, challenge themselves or explore new art forms.
Case in point: New York City sculptor Judith Lipton. "I was looking for rigor in my work and a community to work in to take my art to the next step," she explains. Lipton has explored, mostly in her Manhattan studio, several new media over the past two years, including rice paper, burlap, photography and eggshells. "It's been good and challenging; it's a very intense program," she says.
"People can get an MFA here while they go on with their lives, with spouses and children," notes Lipton's friend Joan Grubin, now a VCFA trustee. "It changed my life. It's a transformative experience . . . There's a sense that age melts away; we're all in this heady, hothouse atmosphere where we're all playing for keeps."
The graduation reception takes place immediately below the chapel in the T.W. Wood Gallery, where the graduates' work is on display. NECI, now headquartered on campus, caters the event.
Rupert Nesbitt, a 39-year-old freelance illustrator from New-port, Rhode Island, and a new VC graduate, discusses the proposed sale of the campus and three MFA programs as he stands in front of his animated digital images. "I'm thrilled," he says. "This is a program that challenges a lot of ideas. It's good to have it independent."
"What draws us to Vermont College," says David Jauss, chair of the MFA in Writing program, "is that we get tremendous colleagues and great students. It's incredibly rewarding work." Jauss concedes the pay is low, but describes the level of support for the VCFA concept among faculty and staff as "astronomical." "There's so much excitement about the possibility of becoming the first college in the country to focus exclusively on the fine arts," he enthuses.
**************
In the 1990s, before stepping back to focus full-time on his writing, Greene worked as a senior administrator and director of public affairs both at Norwich University and Vermont College. He says it occurred to him in 2001, when Union Institute first purchased the MFA programs from Norwich using the property as collateral, that Vermont College itself could have done that.
"In fact," he recalls, "there was a lot of celebration around the Union [purchase]. The phrase that was used was, they were 'reuniting DNA.'" Greene explains that UI itself was born at a 1960s Goddard College symposium of progressive colleges, where it was dubbed the Union for Experimenting Colleges and Universities. Over time, this consortium evolved into a degree-granting, independent entity and changed its name to the Union Institute. In the early 1990s, UI created a base of operations in Cleveland.
One of the first trustees recruited to the Vermont College of Fine Arts board was Mont-pelier Mayor Mary Hooper. "When the Union Institute announced that it was no longer going to be able to maintain this campus, I was very, very concerned about the property and the future of Vermont College," she says. "The creative energy and the programs contribute greatly to Montpelier, and define who we are as a city and a people."
Hooper cites the capital city's many independent bookstores. "Generally, you wouldn't find five bookstores in a community of 80,000, let alone 8000," she asserts.
Hooper says of the VCFA, "It's totally appropriate to Montpelier and to the central Vermont community, which is so rich in the arts, writers and other creative elements. I have a dream of the same thing happening with music and maybe dance and theater . . . It's much more exciting than if UVM had been a partner."
Hooper is part of a "world-class board" of trustees that Kaplan says has a local and a national perspective. It "can achieve national acclaim and not lose the character of Vermont College," he suggests. The board includes several working artists and Vermont College alumni, one of whom is Kathleen Dolan. She and her father, Charles Dolan - founder of CableVision and owner of Madison Square Garden, the New York Knicks and New York Rangers - have provided $250,000 in transitional funds to VCFA through their family foundation. None of this grant, however, can be applied to the closely guarded Union Institute purchase price.
A recent board recruit is Vermont entrepreneur and former state Secretary of Human Services Cornelius ("Con") Hogan. "Tom Greene told me what his dreams and aspirations were," Hogan says, "and I took to him immediately because he did a great job of describing his vision of the place - very clear, focused, directional. He knew what had to happen."
UI President Roger Sublett says Greene's VCFA proposal best fit his institution's criteria: "We were looking for a buyer who was willing to maintain the integrity of the campus and programs for the citizens of central Vermont," he explains.
Adds trustee Joan Grubin, "He brings the most enormous, youthful energy, enthusiasm and tenacity around the project."
But if Greene and Kaplan could put together a business plan and a curriculum, neither of them knew much about getting a college accredited. It's a lengthy process, Greene explains, that includes a 200-page self-study and a site visit from representatives of the New England Association of Schools & Colleges, with whom he met last month.
"They laid out a pathway to do it, a very aggressive schedule," reports Greene. Though accreditation normally takes about two years, he expects a decision by their board in April.
Hogan emphasizes that the VCFA is "a financial asset to the community; it ensures that that beautiful campus will endure, in terms of its history and tradition." He suggests that the consortium of colleges on the hill will attract skilled faculty and provide a spectrum of learning opportunities - not just for long-distance students but for Vermont residents - in the form of seminars, colloquia, lectures, readings and art exhibits.
"These kind of enterprises are not straight lines; these types of projects are always a few steps forward, a couple steps back," adds Hogan. "It's not going to be easy, but it's all going to be worth it."
So, if the Vermont College of Fine Arts becomes a reality next spring, will Thomas Greene continue to lead the way? "I've always wanted to get back to my literary career, to be a full-time novelist, and I've been clear with the board about that from the start," he says. "I'll get it up and running smoothly; I'll stay involved however long it takes, but I want to get back to where my heart is."