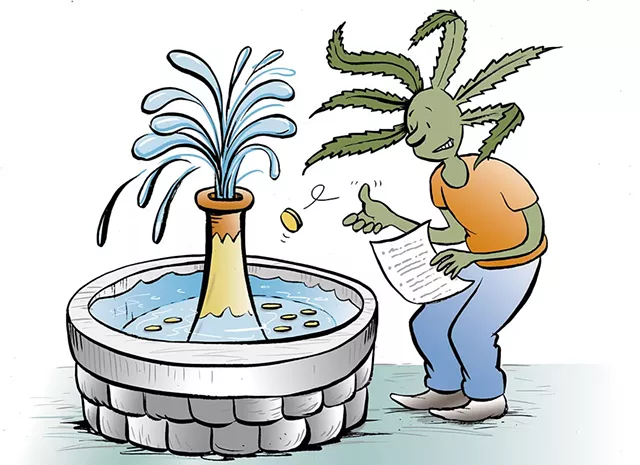 DoorDash for edibles. Farmstands selling bud. Smoking lounges. A state program to promote craft weed. Cannabis advocates will soon try to convince Vermont lawmakers to consider all these ideas, and more, to augment the new recreational market.
The industry is presenting a long wish list for the first legislative session since legal weed sales began in October. Advocates hope that the successful rollout — which netted the state nearly $475,000 in tax revenue from the first month of sales — will encourage policy makers to tinker with the law in ways that bolster the industry.
Aiding their efforts will be newly licensed cannabis entrepreneurs who can put a face to the lobbying effort — and, in one case, cast a vote on proposed legislation.
But with so many other pressing issues on the agenda this year, lawmakers are unlikely to take up many weed wants and may seek to let the market develop before expanding it further.
"We're cautiously optimistic," said Geoffrey Pizzutillo, cofounder and executive director of the Vermont Growers Association, a trade group whose 2023 policy agenda includes nearly 30 requests.
Already, the debate is heating up around a recurring question: How potent should legal weed be?
It's a $12 million to $25 million question, according to the state's Cannabis Control Board. That's how much retailers are missing out on annually due to regulations that limit the amount of THC in products, the CCB concluded in a recent 82-page report.
The board supports lifting the caps, which are 30 percent for cannabis flower and 60 percent for solid concentrates. Of the 19 states where recreational sales are currently legal, only Connecticut and Montana also include limits on potency, the CCB found; Montana's limit only applies to flower.
The potency caps were included at the request of public health advocates, who say ultra-potent cannabis may be linked to mental health problems and substance-use disorder. They worry that allowing legal sales of such products will entice new users to what has historically been a small segment of the illicit market.
The 60 percent limit on solid concentrates, in particular, curtails the availability of products such as dabs, shatter, wax and bubble hash, which are generally produced with a very high THC content. Users heat and inhale such products, which are made by extracting cannabinoids from the plant and packaging them into highly concentrated forms. Concentrates make up between 4 and 8 percent of consumer demand, according to the CCB's most recent estimate based on Vermont survey data and medical program sales.
Solid concentrates can be diluted but tend to be less desirable. Unlike many retail cannabis consumers, concentrate aficionados are "looking to get as high as possible," said Bill Lofy, cofounder and CEO of Kria Botanicals, a cannabis extraction lab in South Burlington that uses concentrated extracts to infuse other products, such as gummies, with a lower resulting potency. Lofy considers the state's 60 percent threshold "really arbitrary."
Lofy and others in the industry contend that the state restrictions are unlikely to deter users of high-potency concentrates and will instead prop up the illicit market. For that reason, the CCB, charged with regulating the legal cannabis market, has emerged as a chief proponent for lifting the caps.
Members of the Vermont Senate and House were at odds last spring over an attempt to remove the THC limits. A resulting compromise called for the CCB to produce a report on the issue, which it delivered earlier this month.
In the report, the board reiterated its earlier recommendation. It further called on lawmakers to earmark a portion of cannabis tax revenue for education and youth prevention programs that specifically detail the potential harms of potent concentrates.
It might seem odd that the state's primary cannabis regulator has come out swinging for lifting a key regulation. But CCB chair James Pepper said the board's advocacy is part of its responsibility to help move the illicit market into the regulated one. Plus, Pepper said, education about concentrates, rather than potency limits, would improve consumer safety.
Senate Judiciary Committee chair Dick Sears (D-Bennington) plans to introduce a bill lifting the caps this session. He anticipates that the issue will be the "most controversial" cannabis-related policy debate this year.
Following the release of the CCB report, four state physician groups urged lawmakers to keep the caps. In a press release, the groups said lifting them would be "premature" just several months into legal sales, at a time when clinical research on the health effects of high-potency cannabis is still coalescing.
A literature review published in September in the Lancet, a leading medical journal, noted that use of higher potency cannabis was associated with an increased risk of psychosis and cannabis-use disorder, though it called for more research.
Lawmakers in Colorado, one of the first states to legalize recreational cannabis, recently debated whether to impose potency caps. Instead, they decided that dispensaries must provide shoppers with a warning. Customers now leave with a four-page pamphlet cautioning that high-potency concentrate consumption may lead to symptoms of psychosis, uncontrollable vomiting, cannabis dependence and other mental health problems.
The CCB cited inconclusive research in making its recommendation. But Mariah Flynn, coalition director for Burlington Partnership for a Healthy Community, a substance-abuse prevention group, said the lack of definitive research is cause for a wait-and-see approach. Historically, when industries that sell vices such as cigarettes or alcohol have been able to shape the narrative around their products, "that has always turned out badly for us," she said.
"So it's really important, now that we have the opportunity with a new industry to shape it from the ground up, that we put those public health safeguards in place," Flynn continued.
Scott Sparks, who runs the Vermont Bud Barn cannabis store in Brattleboro, has been keeping a list of customers who say they'd like to know when high-potency concentrates are available. Practically speaking, they need not wait. A few miles down the road from Sparks' store, in Bernardston, Mass., a cannabis retailer offers numerous sugars and hash rosins with THC levels of nearly 90 percent.
Bud Barn had only one concentrate available for purchase last week, a "dab oil" advertised at 68 percent THC. The product, which Bud Barn purchased from a Vermont vendor, had been submitted to the CCB for review but was not yet approved for legal sale and exceeded the legal potency limit, a CCB spokesperson told Seven Days after the newspaper asked the board about it. The board contacted Sparks, who removed the product from his shop's menu. He said he'd relied on his vendor's word and hadn't intended to circumvent the rules.
Potency limits aren't the only Vermont regulation that has put retailers at a competitive disadvantage. Cannabis vapes are currently taxed at 92 percent, just as e-cigarettes are. The resulting retail price for such products, which are more popular than solid concentrates, is roughly double what competitors across the state line charge.
"It's almost not worth selling, to be honest," Sparks said. Lawmakers will likely consider easing that tax this session, something the CCB supports.
Many of the ideas percolating for new cannabis businesses, such as legalizing delivery services and direct grower-to-consumer sales, are intended to help small-scale entrepreneurs. Some growers want to be able to sell their bud at farmstands without having to incur the expense and regulation needed for a retail license.
Sears said he's open to the concept but cautioned that it could take time.
"It may be something that we take some baby steps on," he said.
The cannabis industry will have a new voice at the Statehouse this year in the form of David Templeman, a Brownington farmer who was elected to the House representing the Orleans-3 district. The Democrat, who ran unopposed, is a licensed outdoor cannabis grower and a partner in an edibles company. Templeman appears to be the first Vermont lawmaker to run a licensed cannabis business.
"My interest is in protecting the cannabis industry as a mom-and-pop, small business enterprise and not an out-of-state, big corporate game," he said last week, a day after being sworn in.
As a first-time lawmaker, Templeman said he may spend much of this session learning the ropes. Lawmakers are subject to a state code of ethics that bars them from acting on issues for which they have an interest "greater than that of another person generally affected by the outcome of the matter." Templeman said he will recuse himself from legislation in which he has a conflict of interest.
He's been assigned to the House committee on Agriculture, Food Resiliency and Forestry, which will give him a chance to share his interest for cannabis with fellow lawmakers.
Most of his new colleagues are still trying to get up to speed on the cannabis business, Templeman noted, "whereas I've got the lingo. I've got the scientific understanding."