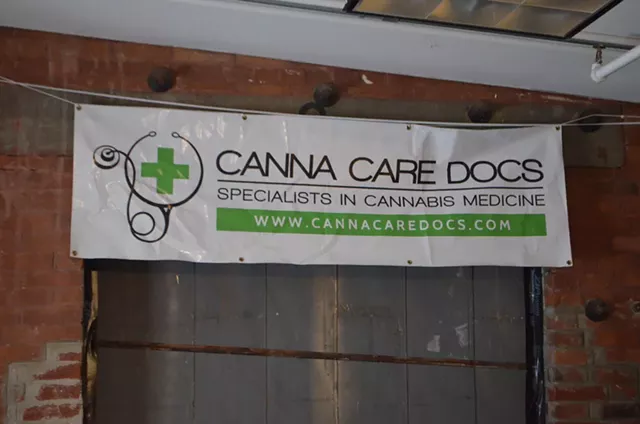 Sasha Goldstein
Canna Care Docs in Burlington
A health care practice intent on growing Vermont's medical marijuana patient registry has stopped accepting new clients. Canna Care Docs, which operates a two-room clinic inside Green State Gardener in Burlington, is assessing its future in Vermont, founder Kevin Kafka said.
When the company first opened in the Queen City in September, it planned to double the number of patients in Vermont's medical marijuana program, Vermont Public Radio reported at the time. But the state requires patients to establish a three-month "relationship" with a doctor in order to prevent just anyone from getting a medical recommendation for the drug.
Canna Care abides by the rule by having first-time patients pay $105, wait 90 days, then pay another $105 for a second visit, when a health care professional generally approves a medical marijuana card for the patient.
According to Kafka, the company has registered a combined 250,000 medical marijuana patients in Washington, D.C., and the nine states where it operates.
But those numbers did not translate to success in Vermont. Lindsey Wells, the state's medical marijuana program administrator, said Canna Care has registered no more than 50 patients since it opened. The state rejected some of its applicants because a physician involved was not licensed to practice medicine in Vermont, according to Wells.
Dylan Raap, Green State Gardener's CEO, believes overzealous regulators derailed the docs.
"We've encountered multiple accounts of people getting their med cards denied under the guise of clerical errors, but in truth they were rejected simply because the prescribing doctor was from Canna Care," he told Seven Days.
The state does appear to be cracking down. In its 2017 annual report, the Marijuana for Symptom Relief Oversight Committee specifically singled out Canna Care. "The committee is concerned with such practices not meeting the intent of the 'bona fide health care professional-patient relationship' as defined in statute," the report reads.