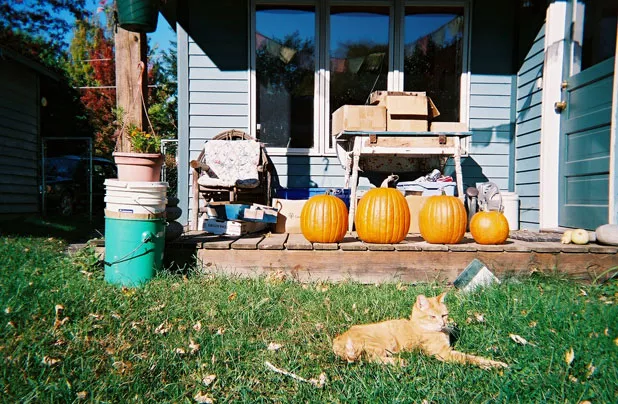 Sarah Judd bought an aged house on Peru Street in 2004. That doesn't make her an "Old Northender" by old-timers' standards. But being relatively new to Burlington's most dynamic neighborhood doesn't prevent the former civil-rights attorney from caring about her neighbors. In fact, her concern has led to an area art initiative that might introduce some of those neighbors to one another: the ONE Woman Photography Project, which opens at the Burlington College Community Gallery this Friday.
Judd's inspiration came last April, when she read a post on the local listserv Front Porch Forum titled "Neighborhood Bigotry." The post's author, a twentysomething Old North End woman, reported seeing a group of boys throwing rocks at a family of Somali refugees. Judd, 42, a Connecticut native who grew up in a multiracial family, wondered if the incident would have occurred if the boys had known more about the immigrants they chose to terrorize.
"People have a tendency to keep with groups that look like them," reflects Judd, a slender woman with brown hair and pale skin. She is sitting in her cluttered office at Burlington College, where windows offer long views of North Street, the area's inner-city-like thoroughfare. "When someone looks familiar and you understand that they're part of the community, there's a smaller probability that things like that will happen."
Judd, director of development at the small, progressive institution, started brainstorming ideas for community projects that would help unify her neighborhood. Two years before, while working in Cambodia with a Vermont-based land-mine-abatement nonprofit, she considered doing a participatory photography project modeled on the 2004 documentary film Born Into Brothels. While that overseas project never materialized, Judd still liked the idea of handing out cameras to average citizens. Last fall, working in tandem with BC's photography professor Peter Curtis, she distributed 200 disposables to an ethnically diverse group of neighborhood women.
The resulting show's 201 images were shot by 170 participants. Some are immigrants representing more than 15 countries; others are multigenerational Vermonters who never left the neighborhood. "This is my valentine to the Old North End," Judd explains. "I love how diverse it is here, and I want other people to see that."
Ask any two local residents to describe their stomping grounds, and you might get widely divergent answers. On the one hand, neighborhood elementary schools reflect the highest poverty rates in the Queen City, and police cruisers are common in the area on Saturday nights. On the other hand, North Street boasts coffee shops, ethnic markets, bright-eyed undergraduates and a verdant neighborhood garden.
The ONE Woman Photography Project mirrors that cultural and aesthetic diversity. Many photos feature happy kids in sunny playgrounds. Others freeze scenes from a neighborhood java joint, or recognizable street corners. If it weren't for the occasional shot of Lake Champlain, a non-local viewer might think the images depicted New York City or Boston.
That said, a few ONE Woman volunteers used their disposable cameras to craft intimate portraits of their personal lives. Jenniflower Laker, for example, photographed her son Kai's battle with diabetes. In one photograph, the 10-year-old examines a spot on his chest where he sticks his insulin needles. Later in the roll, he stares at a half-eaten bowl of cereal on Mom's kitchen table.
On a recent Wednesday morning, Laker, a 39-year-old wearing a nose ring and neon-green eyeliner, spreads her ONE Woman photos on a table at Viva Espresso. This aromatic spot appears in many ONE Woman prints. It's also where Laker used to meet other newbie moms.
Living in the Old North End is great, she explains, because it makes her feel as though she belongs to a tight-knit community. Indeed, Laker was struck by the frequency with which the people she photographed showed up in others' photographs as well. But even friends would be surprised, Laker surmises, to learn how much her son struggles with his disease: "People have assumptions about you when you live here for so long," she says between sips of coffee. "This is his battle. You can't just take a pill and it's fine; it affects our lives."
According to Sarah Judd, Laker's is just one personal story among many that emerge from the photographs. And that was the idea: Judd gave Old North End women creative license to snap anything, provided they didn't jeopardize their safety in the process. In fact, as interest in the project grew, she expanded its spatial boundaries by including women who work but don't live in the neighborhood.
"It became something more than the four corners of the Old North End," Judd reflects. "At the end of the day, the photographs are secondary in my mind to what people were trying to show me and the rest of the world about their lives." Judd has already applied for grant money to start creating a multimedia autobiography project on local refugee women, and she hopes that project will lay the groundwork for a new documentary studies major at Burlington College.
One of the most striking images in the ONE Woman show was snapped in the South End by Maryan Maalin, a 24-year-old Somali Bantu woman who rents on South Champlain Street. Maalin works part-time at the Visiting Nurses Association Family Room, a noisy Old North End community hub serving an ethnically diverse crowd of mothers, caregivers and young children.
In her photograph, Maalin's kids, ages 1 and 4, are lounging in the aesthetically unremarkable King Street Laundry. But with the help of a south-facing window, Maalin's lens silhouettes her kids in pools of ethereal light. The result — a sparkling, compassionate portrait of everyday life in a new country — seems to affirm that fancy gear is not required to produce lasting art.
On a recent afternoon, Maalin sits quietly on a couch at the VNA Family Room wearing a brown head scarf and flowing black-and-white skirt. The sound of kids' feet skitters across the ceiling; a chef bakes bread in a nearby kitchen. On one wall, a colorful quilt that recalls a Keith Haring graphic reads, This is the circle of life through my eyes.
As Maalin recalls, some Somali Bantu women were initially wary of the ONE Woman project because they feared being exploited by people they didn't know. But after Maalin got her pictures back from Judd, some of the women changed their minds, in part because they realized the cameras presented a golden opportunity.
While disposable cameras are, by definition, designed for discard, Maalin and her fellow immigrants consider them a luxury. Such cameras were expensive and hard to find in the Kenyan refugee camp where Maalin grew up. She bought one on arriving in the U.S. two years ago, but the prints didn't develop correctly. Hence, her ONE Woman images are the first visual records she and her husband have of their young family.
Maalin says the photography project has inspired her to buy a digital camera. She hopes it will give her parents, who still live in Africa, a taste of what winter in Vermont is really like: "I tell them it's cold, that you have to wear a lot of jackets," Maalin says with a soft chuckle. "They don't believe me, so I want to take a picture of myself in the snow."