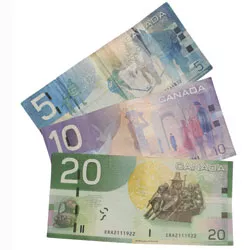 On a recent July afternoon in downtown Burlington, a Québécois family of four is enjoying a leisurely lunch at New Moon on Cherry Street. A few doors away, three teens speak French in the Ben & Jerry's ice cream shop on Church Street. Across the street, a man asks his wife's opinion, en français, about a pair of loafers he's trying on at Dear Lucy.
Why is "Jean," the shoe buyer, spending his money in Burlington when his native Montréal certainly has plenty of shoe shops? Jean smiles and rubs his fingers together, the universal sign language for cold, hard cash.
Anyone who frequents Church Street has noticed that a different kind of loonie-cy has taken hold of Burlington's pedestrian street this summer. The Canadian dollar continues to gain ground against the weaker U.S. dollar, approaching its highest exchange rate in five years. As of August 1, the Canadian dollar was worth $1.05 U.S., compared to March 2009, when it was worth just $0.77 U.S. That's causing Canadians, especially Québécois, to come across the border in search of bargains.
However compelling the anecdotal evidence may be, local tourism and travel experts admit it's difficult to gauge, in real time, how many Canadians are coming to Vermont or, more importantly, how much they're spending. Sales-tax receipts lag by several months, and companies such as MasterCard and Visa don't release statistics on cross-border card swipes — at least not without being paid handsomely for that data.
Similarly, each year the Vermont Department of Tourism and Marketing queries hotels, B&Bs and other lodgings, which routinely gather travelers' driver's license and zip code information. While that data aren't available yet, Jeff Webb, general manager of the Hilton Burlington, reports that Canadian bookings in July were up 21 percent over the same month last year. That's an increase of about 60 rooms.
"My gut feeling is it's been even stronger than that," Webb adds, noting his figures don't include guests who make reservations through certain travel websites and other channels that don't disclose the geographic origins of their customers.
Plus, many Canadian visitors don't stay overnight. As Gen Burnell of the Lake Champlain Regional Chamber of Commerce puts it, "It's not like we have a ticker … at the end of Church Street."
Nevertheless, the chamber has other ways of measuring the increase in Canadian consumption. Two weeks ago, for example, the organization added a Google Translate button to the visitor and tourism section of its website. This feature allows web users to translate the site into 52 different languages, from Afrikaans to Yiddish. Overwhelmingly, the most commonly clicked tongue is French.
Since the Google Translate feature was added, the chamber has already seen "amazing numbers," according to Burnell. In two weeks, the site, which was averaging two page views per visit, was up to seven page views per visit. The average time spent on the site has also tripled, jumping from two minutes to six minutes per visitor. Website traffic originating in Montréal jumped from 276 visits in July 2010 to 577 visits in July 2011.
The chamber has also seen a big jump in Canadian requests for Vermont brochures and travel guides, based on the postal codes of people inquiring.
"Overwhelmingly, the visitors we receive are still urban Québécois — Laval and the island of Montréal," she adds. "I would say a good 60 to 70 percent of the traffic on our website and requests for information come from urban regions."
Such figures are consistent with what the Department of Tourism and Marketing is seeing. Deputy Commissioner Steve Cook reports that Canadians now account for more than 18 percent of Vermont's overall visitors — or about 2.5 million of the state's 13.7 million annual tourists.
Another indirect indicator: Requests for Vermont travel guides from Canadian travel agencies are twice what they were a year ago. That's a good sign, Cook says, especially since the state is spending more this year to promote tourism north of the border than in previous years. Of the $830,000 budgeted for out-of-state marketing, about $150,000 is being spent on print, web and display ads in Canada this summer; that's up 25 percent from last year.
The Church Street Marketplace has been trying to analyze Canadian business during the "shoulder seasons." So it asked 60 downtown businesses to track customer zip codes over a seven-day period in May and again in October. Although the May numbers haven't been fully compiled yet, executive director Ron Redmond says that, contrary to popular belief, most Marketplace visitors are Vermonters.
Redmond lauds efforts to make Burlington more accessible to French-speaking tourists, such as adding bilingual signage and French-speaking greeters. But he cautions that fluctuations in currency rates, gas prices and airfares are the real drivers in the equation, and it would be dangerous for merchants to become overly reliant on Canadian dollars.
"First and foremost, we want to be a destination for people in the region and locally," he says. "Because if you don't, you're not serving yourself or your community."