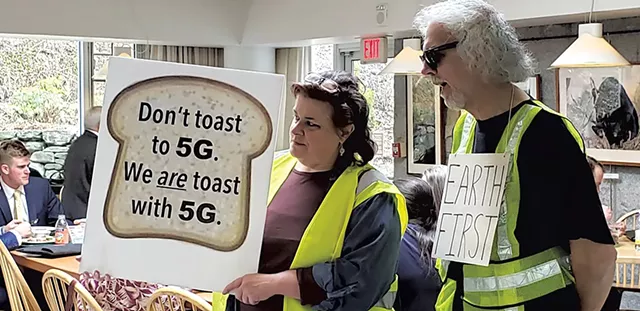 Kevin McCallum
Deb Chandler and Ralph Corbo protesting in the Statehouse cafeteria last spring
Vermonters love their state but not their cellphone service.
The hilly topography, low population density and demands that data-sucking smartphones put on wireless networks have led to slow connection speeds, spotty coverage and dead zones in rural Vermont.
So it might come as a surprise that a growing number of residents are actively working to block better wireless technology. Concerned about possible health impacts of the next generation of cellular service, or 5G, wireless critics are hoping to thwart the expansion plans of powerful wireless carriers.
At times, they've made dubious claims, blaming radio-wave radiation for everything from brain cancer to bee colony collapse.
"We are not trying to scare people, but we are very concerned about some of the really severe health implications of some of these technologies," said Derrik Jordan, a musician from Dummerston involved in a group called EMF Safety for Vermont.
Fear of health impacts due to the increasing use of electronic and wireless devices has persisted for decades, despite assurances from groups such as the World Health Organization that the concerns are unfounded. "To date, no adverse health effects have been established as being caused by mobile phone use," the organization says.
The rollout of fifth-generation technology is nevertheless stoking fears anew.
5G promises to dramatically increase wireless speeds compared to the current best technology, known as 4G. That would allow users to download movies in seconds and could help transform enterprises such as telemedicine, virtual reality and self-driving cars.
To deliver those blazing speeds, however, carriers are tapping into higher frequencies in the radio-wave spectrum. The higher the frequencies, the faster the transfer of data.
5G would use what is known as the millimeter wave region of the electromagnetic spectrum, between 30 GHz to 90 GHz — a much higher frequency than cellphones and wireless routers use. Though capable of carrying enormous amounts of data, waves in this part of the spectrum don't travel as far as lower frequency signals and can be more easily blocked by things such as building walls and even wet leaves.
So, 5G networks would require a larger number of small antennas closer to one another to be installed on street lights and telephone poles. That would be a sea change from relying on a few large antennas that cover wider areas from their perches atop mountains and church steeples.
Verizon, AT&T, Sprint and some smaller providers have begun rolling out 5G in larger cities such as Los Angeles, Phoenix, Houston, New York and Boston.
In Vermont, by contrast, only a limited number of antennas so far support even the slower 4G networks. Nevertheless, the prospect of a vast number of additional wireless antennas operating at higher frequencies worries a small number of environmental and health advocates.
Annette Smith, an industrial wind power opponent and founder of Vermonters for a Clean Environment, said that while 5G may not be here yet, carriers are quietly building the infrastructure needed to make it a reality.
"All the pieces of the puzzle are being put in place," said Smith, who has joined those calling for a halt to 5G.
Officials say the notion that 5G is going to take Vermont by storm fails to take into account that the state is a backwater in the eyes of major carriers and unlikely to soon attract the kind of infrastructure investment needed to make the next gen a reality.
"I don't believe that 5G is coming to Vermont in any meaningful way in the near term or even the long term," said Clay Purvis, director of telecommunications and connectivity for Vermont's Department of Public Service.
The state's cell network has such a long way to go to catch up to basic service levels that worrying about the arrival of 5G seems premature, he said.
"We have large swaths of the state that have no coverage whatsoever," Purvis noted.
So why, then, are people so worried about a technology that's not arriving anytime soon?
Partly because cell carriers and device manufacturers are using the term 5G in advertising whether it applies to their service yet or not, raising people's expectation about upgrades that may be far off, according to Purvis.
"There's this thing swirling around called 5G, and nobody knows what it is, what it does or why we want it," he said. "For consumers, I think, it's very confusing."
Carriers are clearly sending mixed messages. As the Senate Finance Committee considered a bill in April that would make it easier to roll out and fund broadband services in the state, AT&T's lobbyist in Montpelier, Charles Storrow, told the panel that 5G was "not going to happen anytime soon."
AT&T spokesperson Karen Twomey wrote in an email that the company was "laying the groundwork all across the country for our next generation network" but has "not made any public announcements on our 5G plans in Vermont yet."
When applying for permits for new cell towers, however, the company regularly cites the role the antennas will play in a 5G future. In at least a dozen applications before the Public Utility Commission, AT&T Mobility said the new equipment would "densify" its network and "allows AT&T to prepare for implementation of newer technologies — including 5G capabilities."
The projects include proposed new antennas in Burlington, South Burlington, Williston, Winooski, Essex and Shelburne.
The uncertainty about 5G is proving confusing for residents of Fairfax. The Franklin County burg of 4,700 people is considering leasing a 56-acre chunk of town forest to Verizon for a 130-foot cellular communications tower.
The structure is needed to help the company keep up with network demand, town manager Brad Docheff said. Cell service downtown is good but with so many people using their phones, Verizon says it needs more bandwidth.
"The purpose of the tower will not be to bring 5G to rural northwest Vermont," Docheff said. "The way I think of it is, there will be another lane on the highway, so when traffic gets busy, there's more space for everyone to operate."
Even though there are no plans to roll out the new technology "anytime in the near future," the tower would be built in a way that is "5G compatible," Docheff said.
That troubles residents such as Jill Decker, who has lived on Fletcher Road beside the town forest for 19 years. The 67-year-old retired federal worker is a Verizon customer, but her current wireless phone and internet service relies on a tower four miles to the west, atop Georgia Mountain. The new antenna would be a four-minute walk through the woods behind her home.
"It's constantly going through your home and through you," Decker said of the radio waves.
She's heard people in public meetings say the project won't be 5G right away, but that gives her little comfort. She reads stories, mostly on her computer connected to the internet through a Wi-Fi router in her bedroom, about communities pushing back against 5G, and she figures they're probably on to something.
"If people are in an uproar, normal regular people, and want it down, there's got to be a good reason," Decker said.
She acknowledged, however, that she sometimes is influenced by online videos of unknown provenance or scientific validity. One she found particularly compelling was a video on YouTube of a plant covered in aphids purported to be near an airport radar tower. "Every time that tower sent off a wave, all those little bugs in unison would jump up in the air, you know?" Decker said.
That video, however, appears to have been produced in the 1970s by John Ott, a retired banker whose pseudoscientific inquiries focused on the effects of light on plants.
While she can't vouch for the scientific validity of such online info, Decker doesn't think she should have to. The town should err on the side of safety of residents over money from a huge corporation, but the issue is divisive, she said.
"People don't know if it's bad or good or what, and now everyone's taking sides and getting angry," Decker said.
The town and Verizon haven't settled on a price for the lease, but preliminary figures are "substantial enough" that it merits selectboard consideration, Docheff said. The proposed term is 25 years, renewable every five years.
The town would not decide whether any tower could be built on the property. It would just decide whether to lease the land, and Verizon would be responsible for navigating the permitting process required by the Public Utility Commission.
Still, residents' concerns make the board's decision more difficult, Docheff said.
"In small-town Vermont, the rumor mill goes pretty wild, and it certainly adds complications to the job of getting information out there," he said.
People affiliated with EMF Safety for Vermont have played a role in disseminating theories of questionable authority.
One member of the group, Beverly Stone, a Brattleboro resident who ran unsuccessfully for state Senate as an independent in 2018, gave a presentation in April to about three dozen people in Montpelier, suggesting wireless was responsible for the collapse of honeybee colonies because it interferes with their ability to navigate. She cited no specific studies. Experts say pesticide use is the most likely culprit of honeybee decimation.
Another member, Brattleboro resident Iishana Artra, described herself at the same meeting as an "EMF testing professional." She said she has a doctoral degree in psychology and claimed studies link wireless radiation to cancer, diabetes, depression, anxiety, resistance to antibiotics, disorientation, tinnitus and other forms of "neuro-psychiatric suffering." In an email, she deferred questions about science to Jordan.
The all-volunteer group is not the first to be concerned about 5G. Emily Peyton, a perennial gubernatorial candidate who ran on the Liberty Union Party line in 2018, raised similar questions — albeit in a more alarmist fashion — in 2017, running newspaper ads that read, "5G: Deadly for Vermonters."
Jordan said the EMF Safety for Vermont group, which claims about 180 members, came together in January hoping to prevent the broadband bill from being a "Trojan horse" for the telecom industry's 5G rollout, which relies on widespread deployment of fiber-optic cable.
In addition to the public event at the Statehouse in the spring, members of the group testified before multiple committees considering the broadband bill. One woman, Deb Chandler, held a sign that read "Don't Toast to 5G. We Are Toast With 5G" while she protested in the Statehouse cafeteria.
They didn't block portions of the bill that concerned them, including streamlining rules for placing new broadband gear on poles. They were, however, able to convince the Senate Finance Committee to add a requirement that the Vermont Department of Health study the health impacts of wireless radiation. That study is due in January.
Dr. William Irwin, director of the Vermont's Radiological Health Program, said he plans to base his report on a review of publications "of the highest scientific integrity and authority."
There is a "clear body of evidence" that the higher frequencies at which 5G operates, unlike lower frequencies, do not penetrate human skin in normal use.
But determining whether the technology is safe involves issues of power and distance from antennas that deserve more study. Irwin thinks regular folks are right to ask questions, but he hopes they turn to solid science to inform themselves.
"I think it's very important for all of us to have a questioning attitude about whatever we are exposed to, whether it's electromagnetic phenomenon or the food we eat," he said.
Jordan, for his part, has already made up his mind.
"We're trying to say that 3G and 4G are bad enough," he said. "Let's not make it worse."