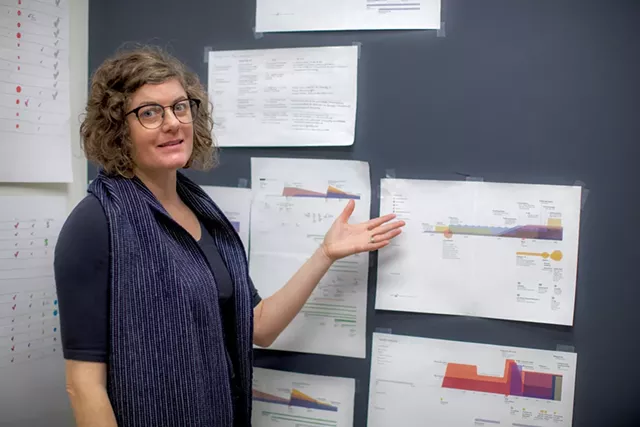 Luke Awtry
Katie McCurdy
Dave Justice was 40 when he realized he was probably dying. He'd been sick for as long as he could remember. Every time he ate, his stomach would be hit with a pain that felt like barbed wire, so incapacitating that he had to lie down and wait for it to pass. He was tested for celiac disease, irritable bowel syndrome, Crohn's disease and more. Nothing could explain his symptoms.
"My entire life, I would say, I've been misdiagnosed with various food intolerances and allergies," Justice said. "I didn't seem to fit in any boxes. So, probably in my twenties, I just gave up." He learned to live with his condition, going long stretches of time without eating just so he could function on a daily basis.
But about five years ago, Justice's symptoms got more intense, and he started bleeding heavily every time he went to the bathroom — so much so that he became anemic and required twice-weekly iron infusions. If the bleeding kept up, the next step would have been blood transfusions. Living in Rochester, N.Y., at the time, he was "ping-ponging around to every doctor in town." Nobody had any answers.
In 2018, Justice heard from a longtime friend, Burlington resident Katie McCurdy. She was a user-experience designer and had a startup called Pictal Health. She wanted to help him create a timeline of his illness and symptoms and visually convey his condition, so he could better communicate with his doctors.
McCurdy, 41, knows what it's like to have a chronic medical issue. Diagnosed at age 13 with a rare autoimmune disorder that caused muscle weakness in her limbs and face, she's been seeking treatment her entire life. While working at an advertising agency in New York City, she made a visual depiction of her own health problems for a specialist, which included a timeline and drawings of her symptoms on the outline of a human body.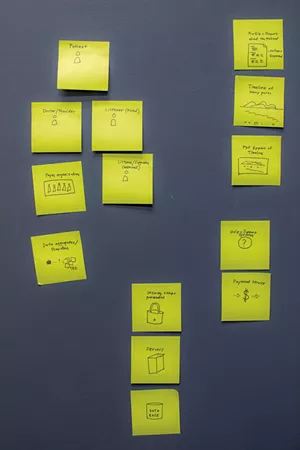 Luke Awtry
McCurdy's planning Post-Its
"I found over time that doctors really appreciated having that information at their fingertips," McCurdy said. Three years ago, when she was 38, she found a treatment plan that helped her control her symptoms. A year later, she founded Pictal Health to help others do the same.
McCurdy and Justice sat down for more than an hour, going through his medical history. They gathered all his records from various doctors and cataloged the treatments he'd already tried. McCurdy drew a visual timeline of his symptoms, using colors to emphasize changes in severity, and listed every specialist he'd already seen and diseases for which he'd already been tested.
"It was the first time in my life that I actually prepared for a doctor's visit," Justice said. He was used to waiting a long time for a short visit with a new doctor, struggling to catch them up on an entire lifetime's worth of medical history, and trying to remember everything while also communicating his questions and needs.
"This process for me was very empowering," Justice said. "It was the first time I felt at more of a peer level with the doctor."
He took his paperwork to the Dartmouth-Hitchcock medical center in 2018. Within a few appointments, he said, he was on track to a diagnosis. The problem wasn't his diet at all. The muscles in his abdomen were failing and misfiring, resulting in painful inflammation. The fix was a simple procedure, and Justice has been healthy since.
"Leaving Dartmouth that day, I felt back in control," he said.
To those who've never experienced chronic illness, it may seem surprising that such a simple idea could greatly improve someone's experience at a doctor's office. But for patients like Leah Schulz of Williston, constantly explaining what's wrong to new doctors can be stressful, even panic inducing.
"You sort of become robotic ... You just are reciting something and trying to keep a doctor's attention. And that can be really challenging and disheartening," Schulz said. "When your life is in their hands, it feels frantic, really. Like, I was trying to show the highlights or the desperation of a specific thing, rather than giving them the entire story of where I was and where I wanted to go."
Schulz, 31, found McCurdy in early 2019 after googling something like "ways to depict health story." She knew she needed a better way to tell her doctors what was going on, but she didn't know exactly what it should look like.
In August 2018, Schulz began to get dizzy, tired and nauseous with no warning. Her pulse was almost constantly racing. She could no longer work or even walk down the street.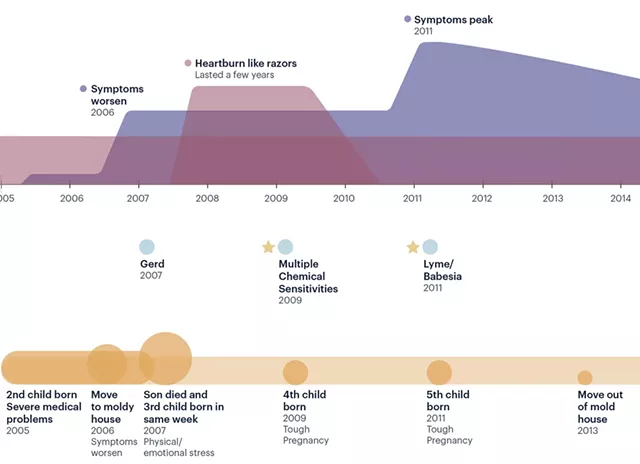 Courtesy Of Katie Mccurdy
Sample timeline
She already had a complicated health history, but these new symptoms weren't consistent with any of her prior diagnoses, and multiple neurologists and a cardiologist had been stumped. Schulz described mapping her experience with McCurdy as an "aha moment."
Though she finally received a diagnosis from the first neurologist she showed her Pictal chart to, Schulz isn't cured. She's still updating her timeline and seeking more effective treatments, and her life is still affected by her symptoms. Putting it all on paper isn't just for her doctors. It allows her to emotionally sort through it all, too.
"It also helped me validate and understand, from a really visual way, what was going on," Schulz said. "And it gave me a way to help me go through, sort of, the grieving process."
Years before she founded Pictal Health, McCurdy had found personal relief from mapping and, eventually, sharing her own health story. She'd seen at least 20 doctors, but few people in her life knew about her nearly lifelong autoimmune disorder. She had means of hiding it, like covering her mouth to disguise the facial muscle weakness that kept her from being able to smile. But in 2011, while living in New York City, she wrote about her story for the first time and posted it online. She still remembers hitting submit. It was picked up by a patient advocacy website, and McCurdy saw that it resonated with people.
"That was the first time I realized that my design mind plus my health problems together was a strength and not a weakness," she said. "So that really was an important moment that really changed the trajectory of my career ... I realized there's so many people like me out there who need help."
Before starting Pictal, McCurdy was a consultant at the University of Vermont Medical Center, where she and Jeremy Beaudry were the first designers on staff. They worked on projects such as redesigning hospital bills to make them less confusing, and a new system for people to find their way around the many floors of the medical center. Beaudry is still there, as the lead designer for hiCOlab, the medical center's new innovation lab. The lab has tested ideas that range from creating posters that encourage medical staff to take time for self-care tasks to testing a text-message chat-bot for adolescents with a chronic illness.
Courtesy Of Katie Mccurdy
Sample symptoms
Beaudry and McCurdy piloted what they call "human-centered design" at the medical center. Beaudry described this as a "creative problem-solving methodology" centered on people and their needs. This means every idea they develop has many prototypes, and they're constantly soliciting feedback from around the facility.
"I think designers do bring an important and complementary set of skills to a health care organization," Beaudry said. The design process is inherently optimistic, he said, because "it's about imagining and making things that didn't exist before."
The hiCOlab team is available to any branch of the medical center to help reframe problems, and Beaudry feels it can play a big role in setting the organization's long-term strategy.
It's hard to know whether better design actually leads to healthier patients. Beaudry said it can take years to measure that kind of data. But he can get individuals' in-the-moment responses and find out whether the lab's work made paying their bill less stressful or made them more confident in navigating the hospital.
Psychiatrist James Rustad, who works for the White River Junction VA Medical Center and teaches at both the UVM Larner College of Medicine and the Dartmouth Geisel School of Medicine, said he's interested in pursuing long-term research on the effects of design work such as McCurdy's. He treated 10 veterans who had worked with McCurdy to map their health problems.
"I think the patients found the process of working with her quite therapeutic," Rustad said. "I thought she was really able to capture the breadth and depth of their life experience."
He said that, even for patients he had treated before, McCurdy's charts and diagrams taught him new facts and helped him understand their entire lives.
McCurdy has worked with almost 50 people, but she considers most of this work research and development toward her ultimate goal: a web app that allows people to build these visual aids on their own, so it can be marketed to many more people. She's working on a business plan now and would like to launch within a year.
"I went through grad school for design, and I was working as a designer. Every meeting, every presentation I had was visual," McCurdy said. "That kind of highlighted to me how inadequate it is to go into your doctor and tell them about your 20 symptoms, and to try and explain when you were feeling good and when you were feeling bad, over your whole life. Words are so inadequate."