We've all been waiting for this year's long-overdue spring, but chef Cortney Quinn has waited more eagerly than most. She's been anticipating the arrival of seasonal produce such as ramps and asparagus so she can pair them with the homemade beet gnocchi she serves at Topnotch Resort & Spa in Stowe.
Diners are sure to find Quinn's elegant plate of Hawaiian sea trout with spinach purée, petite spring vegetables and blood-orange sauce vierge refreshingly light after a winter of heavy food. But that dish means far more to Quinn: It appears on her first menu as Topnotch's executive chef.
Quinn was already an executive chef at Todd English's Kingfish Hall restaurant in Boston's Faneuil Hall Marketplace nearly six years ago, when a headhunter recruited her for a chef de cuisine position at Topnotch, then under chef Mark Timms. The young chef took the demotion to return to her native Vermont and the world of hotels she had enjoyed while working at the Westin Copley Place, also in Boston.
"I love the hotel environment," Quinn says. "There's always something going on, whether it's banquets or restaurants or events."
But when Timms decamped to Washington, D.C., in 2010, Quinn didn't get the executive chef role — which was filled instead by a series of short-lived replacements. When Steve Sicinski — now at Crop Bistro & Brewery and the Rusty Nail — was hired for the post in 2011, he was the final chef to be promoted over Quinn. "It was a sting. It was an ego blow," she admits. "But I got back on that horse, and I supported Steve as well as I could physically do."
Quinn's story had a happy ending when the hospitality group MetWest Terra named her Topnotch's executive chef last month. But it left us wondering, Where are Vermont's high-level female chefs? Despite a foodie culture that has made celebrities of the people responsible for the fare at our favorite restaurants, it's rare to hear a female name among all the Erics and Michaels on the scene. Has the old boys' club made it difficult for women to rise in the best kitchens?
Michelle Ford believes that's not the case, at least not anymore. Ford is dean of food and beverage business management at the New England Culinary Institute. Traditionally, she explains, enrollment in the restaurant-management program has been split equally between men and women, while the culinary program has been male dominated. In the past five years, however, female enrollment in the latter has grown incrementally to almost 50 percent.
Ford says that the young women who come to NECI to learn to be chefs have no illusions about an easy ride. "Female students seem to come in with a higher degree of awareness of what will be expected, and they seem to be more motivated by that than deterred by that," she says. "They know they're going to have to work as hard as, if not harder than, male counterparts in order to land the high-level positions they're seeking."
Matthew Thorsen
Lucky Next Door
Lee Duberman knows all about that hard work. The owner of Ariel's Restaurant in Brookfield is mystified that she doesn't see more female executive chefs, in Vermont or nationally. "All the women who are in the kitchen are strong women by definition. You have to be — both physically and mentally — if you want to keep up," she says.
Duberman's goal was always to work for herself, but after graduating from the Culinary Institute of America, she took a management job at the Hyatt Regency in New Orleans. There she directed a staff of 32, she says, yet the men in upper-level management made no secret of the fact that things were different in the kitchen, where they didn't promote women beyond the more traditionally female pastry or garde-manger positions. "Basically, I was told in no uncertain terms that I would never get a management job in the kitchen," Duberman recalls. "It was so completely blatant and understood."
That isn't Duberman's only horror story. At a New York restaurant, she and the only other female cook were forced to work in a rat-infested basement so diners wouldn't see women in the semi-open kitchen.
Things improved for Duberman when she took a job teaching at NECI. Besides finding professional rewards there, she met Richard Fink, now her husband of 24 years and manager of the four restaurants they've owned together.
Duberman credits Fink's support with making it possible for her to work a brutal schedule while raising two sons. "It was really hard, and I don't think it was any less hard for my husband than it is for me," she says of balancing a restaurant job and family. "The excuse that women can't be in a position where they're working 14 to 16 hours a day is total bullshit. They have to find the right partner and ways to do it."
Even with a supportive man by her side, Duberman says, she has occasionally had issues with the male staff at her own restaurants. "It's kind of subtle, but you've gotta be stupid not to see it," she says. In the large kitchen at her now-closed Montpelier restaurant, Finkerman's Riverside BBQ, she recalls, her male cooks would often disregard her orders once she left the kitchen. "I was just considered the lady who owned the place," she says.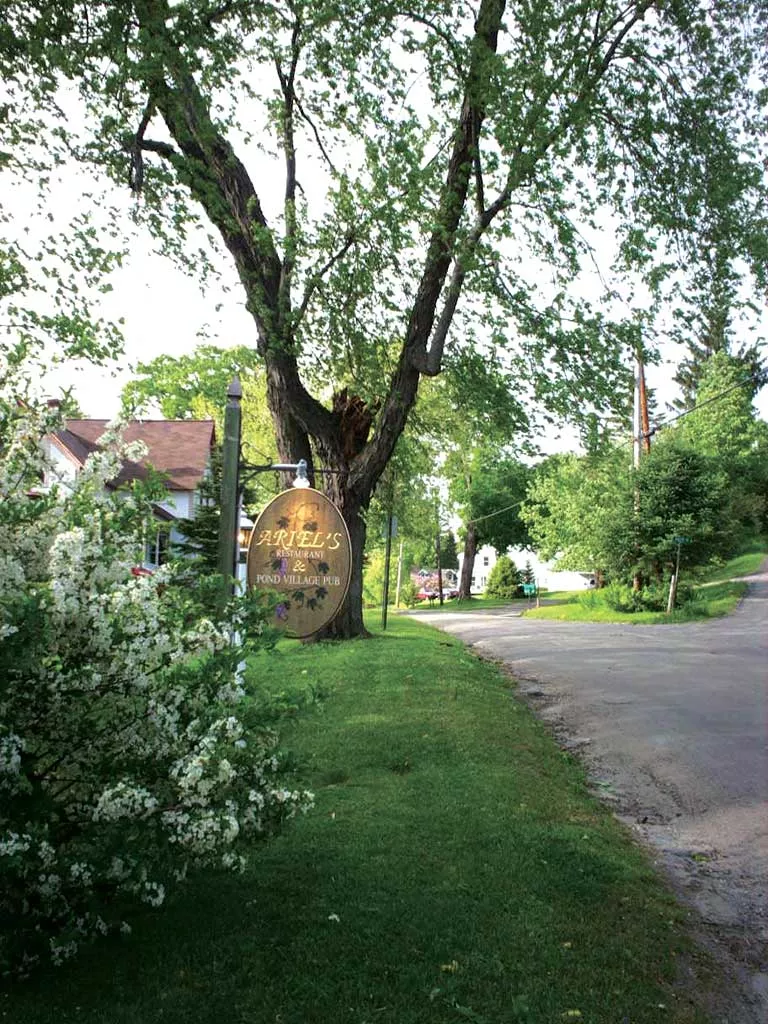 Courtesy Of Ariel's Restaurant
Ariel's Restaurant
Not every female chef shares Duberman's experience. Maura O'Sullivan of Penny Cluse Café and Lucky Next Door says she hasn't encountered discrimination in her Burlington-based kitchen career. "Are boys annoying? Sure, but I'm sure it works both ways," she jokes.
O'Sullivan speculates that small kitchens like those where she has worked, including the Daily Planet and Smokejacks, might be more level playing fields. The kitchens she now runs with Charles Reeves likewise lack a brigade-style hierarchy, leaving cooks too codependent to discriminate.
O'Sullivan says she also suspects it's easier for women to succeed in a small market like Burlington, where culinary skills and a work ethic are much in demand. "As long as you can lift a bag of flour and keep getting food on the table on time, people want to keep you around," she says.
Though O'Sullivan says her career path hasn't differed much from those of her male peers, she agrees that Vermont as a whole has a dearth of high-level female chefs. And she thinks she knows why.
To explain, O'Sullivan notes how physically demanding her own job is: She now manages "bigger-picture stuff" at Penny Cluse and Lucky Next Door, but still works the line whenever and wherever she's needed. Many other chefs, both male and female, crave less exhausting careers as they reach the age where they might be promoted to executive chef. Seeking a more predictable job with benefits, some chefs leave restaurants for jobs at schools and hospitals. Others find flexibility in catering, O'Sullivan adds, which allows a cook to make his or her own schedule.
All the women we spoke to agree that childbearing is a factor that has caused many of their peers to leave the kitchen. Ford says that at NECI, many young women plan for a potential career change in the event that they should have children, get injured on the line or simply want more stability. "They know to prepare for that in advance," she says.
But as more women join the culinary workforce, there are more like Duberman, who stick to their passion while raising a family. Quinn offers a telling anecdote: During a recent call with a sales rep at Chefwear, a national supplier of chef's clothing, she learned of a surprising trend. "The maternity line is blowing up like crazy. Being pregnant isn't stopping us from going on about our careers — or cooking on the hot line, either," she says with pride.
Quinn herself doesn't have time for such an interruption anytime soon. She's busy working with Knee Deep Farm in Jeffersonville to help supply her own "baby," Topnotch's fine-dining restaurant Flannel, which she helped open last summer. Meanwhile, she's finalizing the new, more refined tapas menu at her other restaurant, the Roost; and training her front-of-house staff to sell her new brand of cuisine.
"I'm going to blow it out of the water and super-excel," Quinn says of those challenges, eschewing false modesty. "I've been super conditioned with three years in waiting, and I'm excited to finally get the title from Topnotch as their executive chef."
For many chefs, achieving that post would be the end of the story. Some might go on to open restaurants of their own — an option that doesn't interest Quinn. ("Fifty percent of restaurants fail," she says. "We're up there with marriages these days — are you kidding me?") But Quinn isn't done rising. She says she doesn't plan to stop until she gains the title of corporate chef for a hospitality brand such as the small MetWest Terra group to which Topnotch belongs.
Regardless of whether Vermont begins to see more female executive chefs, there's no question that Quinn is a pioneer. The early-thirtysomething isn't just breaking the glass ceiling. She's flambéing it.
The original print version of this article was headlined "Females on Fire"