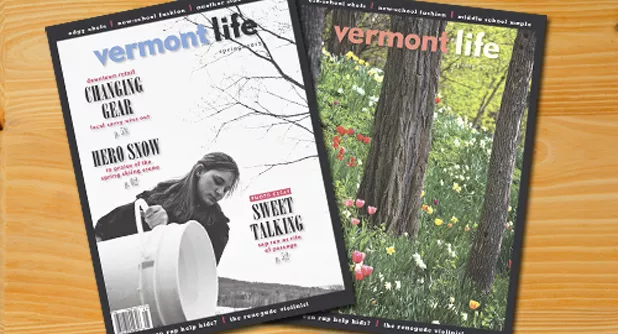 Two years ago, Vermont Life magazine sloughed off its staid, nostalgic look and replaced it with a spare new logo and contemporary design. Vermont Life today appears to be more interested in the lives of Vermont soldiers deployed to Afghanistan than fall foliage and sleigh rides.
It was a dramatic makeover for the venerable, 67-year-old state-owned quarterly.
But while the redesign earned rave reviews from editors and publishers, it hasn't yet produced what Vermont Life needs most: new readers of any stripe. Paid circulation is at its lowest point in the history of the magazine — less than 35,000, down from a high of near 105,000 in the 1980s.
On the business side, the ink is red. Vermont Life has reported deficits for 17 of the last 28 years, according to Vermont's Comprehensive Annual Finance Report. Over the last two years, it's lost $728,266, fueled in part by advertising revenue that dropped 47 percent between 2009 and 2011. In 2011, the magazine lost $382,613. The following year, it came up $345,653 short.
All those annual deficits put Vermont Life in the hole for a cumulative total of $1.3 million: That's how much the publication, which is meant to be self-sustaining, currently owes the state of Vermont.
The magazine is also facing something of an identity crisis. Founded in 1946 as a marketing tool for the state, Vermont Life for years catered to out-of-state vacationers with a fond spot for the Green Mountain State. But those longtime readers are dying off, and younger tourists are increasingly looking online to plan their vacations.
So editor Mary Hegarty Nowlan is trying to lure younger local readers with a regular diet of food, arts and outdoors coverage, in the hope that the old demographic will come along for the ride. In a recent radio ad aired on the Point, she described the magazine as being, "by Vermonters, for Vermonters, about Vermonters," adding, "it doesn't get any more local than this."
Nowlan has even taken the unusual step of designing different cover images for the same issue. Last year's spring issue for subscribers — roughly two-thirds of whom live out of state — featured a picturesque, full-color forest scene and a teaser for a food story about "old-school chefs." The same issue targeted locals on the newsstand with a dramatic black-and-white cover shot of a young Vermonter harvesting maple syrup. The cover teaser was changed to "edgy chefs."
Can Nowlan woo the "edgy" and the "old-school" in one fell swoop? Pleasing both is easier said than done.
Her logic: "I feel like if it's relevant and interesting and captivating for Vermonters, the people who love Vermont — who live in Massachusetts or Connecticut or whatever — will feel like they're in on something."
Others are more skeptical: "It both purports to be a stand-alone magazine and a promotional catalog for the state of Vermont," says Bill Schubart, the chair of the Vermont Journalism Trust, which oversees the nonprofit news site VTDigger.org. "It's a tough row to hoe. You have to be a cheerleader, but you also have to be an objective, informative journalistic enterprise."
More existential still is the question that no one seems to be asking: Should the state be publishing a magazine that sells Vermont to Vermonters — and that's racking up debt to boot?
******
During the two decades he steered Vermont Life, former editor Tom Slayton saw himself as "keeper of the sacred myths of Vermont." Writers still praise his judgment and keen eye.
But Slayton says that if he's "remembered or cursed for anything," it will be for bringing advertising to the magazine in 1991. That's when, after three years of deficits, Vermont Life hired its first advertising director. Yes, readers complained, but the magazine's renewal rate actually went up. More importantly, it added millions of dollars to the bottom line over the decade that followed.
In good years, the magazine has been self-supporting — primarily because of Vermont Life calendar sales, which still account for a third of the magazine's operating revenue. But when Slayton retired in 2007, the publication was facing hard times again. By 2009, "the books looked really bad," recalls John Boutin, the publisher of Vermont Business Magazine and one of six members on Vermont Life's advisory board.
In addition to scenic calendars, Vermont Life also produces a catalog featuring the work of local artisans — but it's become a financial liability in recent years. Last year Vermont Life had to write off $60,000 worth of unsold products.
Dave Hakins was hired in May 2011 to be Vermont Life's new advertising director. Seven months later he took on the role of publisher, a job the legislature had considered eliminating because of the magazine's poor financial performance. Hakins brings an entrepreneurial spirit to the Vermont Life offices in the suite it shares with the Agency of Commerce and Community Development in Montpelier's National Life complex. A former newspaperman who grew up Vermont, Hakins left journalism for a career in corporate promotions. After selling his company and retiring to Vermont, he directed the Vermont Convention Bureau and served as director of business development at the Essex Resort and Spa.
Hakins is promising to balance Vermont Life's budget by the end of fiscal year 2015 — and he's already made some progress. Ad revenues were up 50 percent in his first issue as sales manager, and he's looking for a new ad rep to sell national and international accounts. Vermont Life is starting to host parties to promote advertisers, including a downtown Burlington bash earlier this month at the Ski Rack that drew 300 people.
Hakins also oversaw the hire of a new circulation consultant, the New York-based firm Shain+Oringer. Principal Hal Oringer warns that Vermont Life will have to spend money to make money — first by purchasing lists of potential subscribers from other magazines, which Vermont Life can then target with direct-mail campaigns.
Hakins is working with one college in Vermont — he won't say which one — to send Vermont Life as a thank-you gift to alumni donors. There are plans to beef up the magazine's newsstand presence, especially in stores frequented by tourists. And Hakins says he can trim $115,000 from the annual operating budget simply by paring down the publication's gift catalog — which Nowlan overhauled in 2009 in an attempt to get better results — to a smaller, more profitable selection.
The magazine still isn't making money, but it's losing less — just $47,000 in the first half of this fiscal year.
"It takes me longer to turn this ship around than it would in private enterprise," says Hakins — and that's to be expected, according to Lawrence Miller, secretary of the Agency of Commerce & Community Development, which oversees Vermont Life. The agency can weigh in on business decisions but has no editorial control over the content of the magazine.
Working under the auspices of state government might have kept Vermont Life alive during tough years, Miller says, but it also means there's little flexibility to overhaul the operation.
"Jesus, in the private sector, you actually get to change things when you need to," says Miller.
Miller also points out that the magazine's losses don't seem so large when considered in the context of its role marketing the state. And like Nowlan and Hakins, he contends the new and improved Vermont Life is still fulfilling its mandated role to promote the state's brand, even if the magazine is angling for a new demographic.
How would he respond to Schubart, who makes the point: "Vermonters don't necessarily need the state promoted to them; they live in it"?
"Reaching out to new Vermonters, and people who are in the state, whether they're here in second homes or have chosen to live here — I think the content's just as relevant to them relative to the mission," says Miller.
"The mission as stated in statute is to promote the state," Nowlan adds. Sometimes, she says, that means promoting Vermont to Vermonters.
Miller and other Vermont Life boosters appear to support Hakins' turnaround plan and Nowlan's editorial vision — even if it's almost identical to the comeback strategy espoused in 2009.
"The proof will be in the pudding," travel and tourism commissioner Bruce Hyde told Seven Days in 2009. "Give us a call in six months, and let's go through these point by point and see where we are at. My guess is we'll be at break-even or in the black by the end of this fiscal year."
We didn't call in six months, but four years later, Vermont Life is much worse off financially than it was in 2009. But the magazine's supporters haven't given up hope. Boutin predicts a circulation increase of 10,000 in the next two years; Oringer, who is encouraged by the magazine's 70 percent renewal rate among longtime subscribers, is shooting for 60,000 paying readers.
"The picture looks a lot brighter nowadays," agrees Jack Crowl, who stepped down from the advisory board earlier this month. The former publisher of the Chronicle of Higher Education adds, "I've just been pleased as punch with the way the place has been running."
******
No one disputes that Vermont Life could not have stayed the same — and survived. Fellow publishers note the improvements. "It looks better than it ever has," says Lisa Gosselin, editorial director of Shelburne-based EatingWell magazine.
"I love the old Vermont Life as much as everybody else did, but Vermont was changing underneath its feet," says Schubart. "The magazine needed a new look."
Who is reading it? No one really knows. Vermont Life hasn't engaged in any reader surveys or research since 2007. An in-depth survey is coming in the spring issue; in order to woo advertisers and satisfy subscribers, Vermont Life needs better information about reader demographics.
When Nowlan took the helm, the average Vermont Life reader was 68 years old. These days she says she's getting fewer letters to the editor in telltale Palmer method handwriting — one clue that readership might be skewing younger. In another effort to win younger eyes, the magazine brought on Sky Barsch to run the publication's new media and web operations; Barsch oversees a slick new website, a digital edition of the magazine and active social-media accounts.
Still, circulation has continued to fall off in the wake of the redesign, dropping from 51,140 in fiscal year 2010 to 43,564 two years later. The numbers are still falling. Hakins points to a transition in circulation managers as one reason — the previous manager retired last December, and Shain+Oringer came on board six months later — but the downward trend predates that personnel change. The winter issue on newsstands today went out to just 34,104 paying readers. That's less than half the number than when Slayton left in 2007.
"It's much, much easier to lose customers than it is to gain them," cautions EatingWell's Gosselin. That's true in any business, but especially the magazine world, where she says customer acquisition — that is, drumming up circulation — is "extremely costly and a real science."
The good news, says Gosselin, is that those pesky rumors that the magazine industry is doomed just aren't true: For every Newsweek that tried too hard to "be all things to all people," Gosselin contends there's a story of success for niche publications that know their audiences well.
EatingWell is a perfect example. Gosselin came on board six years ago, when paid circulation for the food and health magazine hovered around 220,000. It's now pushing 750,000 after a growth spurt that doubled circulation in just the last two years. Despite what Gosselin says was a lot of pressure on the publication to be many different things to many different readers, EatingWell stayed true to its mission. "In the long run, that paid off," she says.
And that elusive goal of changing a demographic, or courting younger readers? Gosselin calls it the "kiss of death" for many publications. While she praises Vermont Life's new look, she cautions that it's "not necessarily 'build it and they will come.'"
Nowlan isn't likely to heed the warning. If anything, she's set her sights for Vermont Life even higher — less Texas Highways, she says, rifling through the Lone Star State's official travel magazine, and more Texas Monthly. She's interested in portraying Vermont as it is today — a place that's beautiful, yes, but much more. Vibrant. Hip. Occasionally difficult. Challenging. And yes, edgy.
"What I'm trying to convey is that the best days are now and ahead," Nowlan says. For Vermont Life's sake, she'd best be right about that.
The print version of this article was headlined "Vermont Life Support"