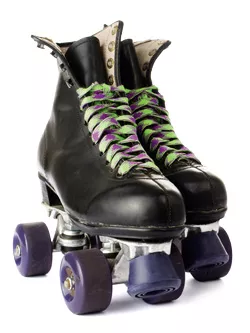 Dig out those roller skates collecting dust in your parents' attic: Skateland is returning.
At least, that's the plan, according to Scott Perren, the Malletts Bay man who hopes to revive the Williston family business that, for decades, provided a place for middle school kids to couples-skate their way awkwardly around a roller rink.
Never mind that roller-skating may seem like a thing of the past. Perren is convinced that good, clean family fun — atop eight spinning wheels — never goes out of style. Now he plans to open Skateland, version 2.0, in mid or late 2013 in Essex.
Perren's parents, Dorothy Perren and Keith Wright, owned the original Skateland from 1974 until it closed in early 2000. Perren, now 43, spent every day of his childhood at the skating rink from age 4, and his parents enlisted him to work there once he was old enough: manning the concession stand, doling out skates and "floor guarding" — though he says he was never much good at that last job: "I let everyone skate too fast."
The place, Perren says, was "something else." Five big mirrored disco balls illuminated the rink. The sound system, which he contends was one of the best in the Northeast, pumped out classic rock. Diehard regulars circled the rink. There were even all-night skate parties: Parents could drop their kids at the rink at nine and fetch them the next morning.
"It was the center of the community for 30 years," Perren says. "There's nothing like that today."
The family dissolved the business in 2000, after Wright's death. For a little while, the building served as a teen center, but it was eventually demolished. Today, an empty lot marks the location where Perren says countless couples met and fell in love — and where, no doubt, a fair share of adolescent hearts were also broken.
For more than a decade after Skateland closed, Perren would run into old friends and acquaintances who remembered it fondly — and who insisted he should bring the business back. "I heard it enough where I started really thinking about it," says Perren.
So he found a business partner — local real estate developer Al Senecal — and began eyeing a piece of land owned by Senecal in Essex.
In mid-November, after nearly a year of touring skating rinks up and down the East Coast, Perren decided to test the waters. Could Skateland really make a comeback? He and his wife, Jennifer Perren, set up a Facebook page for the fledgling business and posted the first, enthusiastic comment: "Coming to ESSEX, VT in mid to late 2013 … SKATELAND!!!"
The response was astounding — 253 comments on the first post alone. Some bemoaned that their old skates had gone the way of garage sales past — but they looked forward to strapping on new ones. "I am going there as soon as possible, and requesting 'Ghostbusters' every five minutes, even if they just played it," wrote one enthusiastic fan. One-time skaters, now parents themselves, promised they'd bring their children. Others reminisced about favorite nights at the rink. The response was overwhelmingly optimistic. "If bell bottoms can come back," wrote one fan, "then quad skates can, too."
In the first six hours, the page earned 966 Facebook fans; within 24 hours, that number grew to more than 2000. Now nearly 4300 enthusiasts have given their stamp of approval. A year and a half into their planning, Perren and Senecal aim to build a brand-new facility off Susie Wilson Road, near Lowe's.
Unfazed by the suggestion that roller-skating is past its prime, Perren says he never gave up on it: He has a pair of "outdoor wheels" he straps on for trips up and down the bike path in Malletts Bay. "I'll get some funny looks along the way, because [people are] not used to seeing roller skates on the bike path," he admits.
And he insists that many rinks are still thriving — though there are none between Montréal and Boston. The rink where Perren's own mother skated in the 1950s, in Mechanicville, N.Y., is still open for business. Perren says he was most impressed, during his travels, by a rink in Schenectady, N.Y., where events range from adult late-night skates to frequent birthday parties and regularly scheduled family fun nights. What he learned from polling successful rink owners is that most have a devoted band of regulars who skate at least three times a week. "It's like Zumba," Perren says. "They just have to keep going back."
Perren plans on a few modern-day upgrades for his Skateland, including an inline hockey league, which he insists will be popular; '80s parties, and country-music skate nights. A parents' café, outfitted with wireless internet and a television, will cater to adults who wish to stick around while their kids skate.
As for the skates themselves, they'll be pretty much the same — Perren admits roller skates haven't experienced many technological leaps forward since the original Skateland closed. Chances are, those with cherished memories of the previous facility will find the new familiar.
Will kids today dig the disco balls and '80s rock that got their forebears rolling? Perren hopes so.
"It's our mission to get these kids off the couch and into some physical activity," he says. Skating at eight to 10 miles per hour can burn as many as 600 calories an hour. And it's better for the joints than running, Perren contends, because "you're gliding, not pounding."
Besides, everyone knows that exercise is more fun under a disco ball.