Pamela Polston
Tim Brookes with drawing for board game Glagolitic Abbey
The board game is Glagolitic Abbey. The players choose an avatar: the Assassin, the Inquisitor, the Spy or the Scholar. Their task is to solve the murder of the abbot and then to find the "legendary treasure reportedly hidden by King Boris I of Bulgaria" in the abbey and escape with it. Oh, and to do all that, players must decipher clues in Glagolitic.
That's a script that flourished in a number of Eastern European countries from roughly 800 to 1400, explains Tim Brookes, inventor of Glagolitic Abbey. He describes the game as a hybrid of historical murder-mystery novel (and film) The Name of the Rose with Clue and other games.
Glagolitic is one of hundreds of alphabets that have nearly perished from the face of the earth. With the help of this board game — and people to play it — Brookes hopes to reverse that trend.
He invites word and game lovers to join him on Wednesday, December 13, at Burlington's Fletcher Free Library, to test and improve on Glagolitic Abbey — in prototype form — and other games. Participants can even try their hands at inventing their own card games.
The aim is to translate such games into at-risk languages and provide them to children around the world. "If you want to revive a language, you have to start with kids, and if you want to engage kids, you need games," Brookes wrote in an announcement for the event.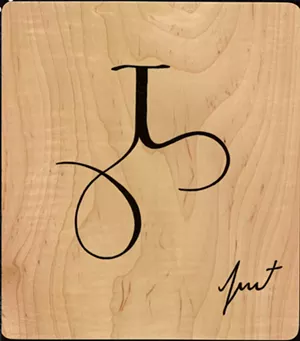 Courtesy of Tim Brookes
Balinese tile with letter and number
Brookes is the founder of the Endangered Alphabets Project, which he admits began as something of a whim. Six years ago, finding himself with insufficient funds to buy Christmas presents for friends and family, he decided "to carve everyone signs to hang outside the front door, in the office, even outside my teenage daughter's bedroom door," he explains on his website. He was equally surprised to find that he enjoyed doing it and that his recipients liked the unusual gifts.
Those first woodcarvings were name signs in English; next, Brookes moved on to Chinese characters. Realizing that scripts look like art to those who can't read them, he searched for other character-based languages to serve as inspiration. When he encountered the website omniglot.com — "the online encyclopedia of writing systems and languages" — Brookes was stunned to find a huge number of tongues he'd never heard of. That's to say nothing of the exotic alphabets.
"Some languages seemed more like elaborate decorations than meaningful symbols; some looked more like thickets of thorn bushes; some seemed utterly alien, as if the hand of man had had nothing to do with their creation at all," he writes.
To say "the rest is history" is putting it mildly. Brookes, a writer and associate professor in the Division of Communication and Creative Media at Champlain College, dived into an endeavor that quickly evolved from hobby to mission. He went from merely documenting to, as he puts it, a "more activist" role. Endangered Alphabets became a nonprofit last year.
During this reporter's visit to his Burlington condo, Brookes sits at a table whose top he carved with a Balinese blessing. Wall-hung pieces around the room display curvaceous, utterly foreign letters in black on natural maple or walnut. Brookes has covered the table with hand-drawn mock-ups of Glagolitic Abbey and a hexagonal honeycomb design for a complex word game akin to Chinese checkers.
His laptop and iPhone offer more visual aids, including a colorful matrix filled with the inscrutable letters of Marma — one of the indigenous languages of Bangladesh. "I have possibly created the first word search in an endangered alphabet," he says, with a look that mixes pride and disbelief.
In half a dozen years, Brookes has carved another hundred signs, had exhibitions at "probably 70 places," given presentations on the project, and established connections — usually via Facebook — with language-rights advocates from Europe to Southeast Asia to the Republic of Congo.
Courtesy Of Tim Brookes
Cherokee tile
Brookes has developed working relationships closer to home as well as internationally. This spring, students in his publishing class at Champlain collaborated with translators and illustrators elsewhere in the world to produce the Children's Picture Dictionary of the Chittagong Hill Tracts, referencing indigenous peoples in a forested region of Bangladesh. Through a serendipitous partnership with a native of the area, Brookes says, the books, featuring indigenous languages, are being distributed to children in the Hill Tracts as a pilot project.
Burlington-based font designer Alec Julien is digitizing Glagolitic Abbey, fine-tuning Brookes' handmade version in Adobe Illustrator. The game board and card files will be sent to a colleague in Bulgaria, who will test them with players there. Once the game is ready, Brookes says, that partner will manage translation and look into manufacturing.
After making a connection with the woman in charge of publishing UNESCO's Atlas of the World's Languages in Danger, Brookes once again enlisted Champlain students, this time to design the website for the International Year of Indigenous Languages — the year 2019, as proclaimed by UNESCO. ("They've had to do a lot of learning about how to work with a client," he notes.)
A relatively new enterprise for Endangered Alphabets, creating games has the potential to take Brookes' language-reviving quest to a more visible level. One international translation company has expressed "strong interest" in sponsoring and publishing decks of playing cards in various languages, Brookes says. A prototype set of those cards — in English — will be available for play at the Fletcher Free event.
"We want people to make up games," Brookes says. "Most, if not all, of the games are transferable to other alphabets."
Brookes notes that, so far, he's obtained intellectual rights only to Glagolitic Abbey. "The games are initially intended to help language-rights advocates," he says. "If we get to the point where people are interested in licensing the rights to these games, that will be great."
Meantime, those carvings still make unique holiday gifts.
UPDATE NOVEMBER 30: The article has been corrected to note that Glagolitic is a script, not a language.