File: Jeb Wallace-brodeur
House Speaker Mitzi Johnson
House Speaker Mitzi Johnson (D-South Hero) didn't seem worried as she made her way through the South Hero farmers market on a sunny afternoon last week. Wearing Tevas and a T-shirt and periodically popping cherry tomatoes into her mouth, she chatted with farmers, greeting them by first name.
Though her nonchalant demeanor didn't suggest it, the top-ranking House Democrat faces a serious electoral challenge from an uncle-nephew duo with backgrounds in the military and Milton town government. Republicans Leland and Michael Morgan are trying to oust Johnson and her seatmate, Rep. Ben Joseph (D-North Hero).
"I realize that I have a target on my back because I am speaker," Johnson said, noting that she will campaign more vigorously this year than she has in the past.
"If you're looking at districts Republicans can pick up, that's definitely at the top of the list," said Jack Moulton, executive director of the Vermont Republican Party. And, he noted, "There's some kind of intangible value to beating the speaker."
Moulton has reason to believe Johnson is vulnerable.
The eight-term incumbent only narrowly won reelection in 2016. She finished second to Joseph, a first-time candidate, and edged out Republican Jason Moquin by 103 votes, 2,157 to 2,054. The race was even tighter in 2014, when she beat Moquin by just 31 votes to claim the second seat.
The district includes the five towns of Grand Isle County and a slice of Milton, in Chittenden County.
Johnson, who is 47 and has lived in South Hero for 25 years, described the district as evenly split between Democrats and Republicans, with "a lot of independent folks and a lot of moderate folks." In 2016, Republican Gov. Phil Scott won 63 percent of the vote in Grand Isle County. Democratic presidential nominee Hillary Clinton won 51 percent.
"It's kind of one of the ones we should be winning," Moulton reasoned. This year, he's optimistic: "We have two candidates that are really working really hard."
Both Morgans hail from the west side of Milton, which is separated from the islands by Lake Champlain. The men are distantly related to House Minority Leader Don Turner (R-Milton), who is running for lieutenant governor. Michael, 57, refers to Turner as "Cousin Don."
The Morgans are knocking on doors three days a week to seek votes, according to Michael. "Our goal is to hit every house," he said. "I think we're gonna get pretty darn close."
They share a platform, emphasizing a need to reduce taxes and regulations. "We've got to curb our insatiable appetite for spending," Michael said, adding, "Vermonters are screaming for relief."
He described the $15-an-hour minimum wage and paid family leave bills — which Johnson shepherded through the House but Scott vetoed — as potentially "crushing" burdens for small businesses. Michael said cleaning up the lake and other waterways is a priority, but he doesn't want to raise taxes or fees to do so, suggesting that he would instead try to find the money by making state government more efficient.
Michael, who served 10 years on the Milton Selectboard, is now town moderator. He retired last year as a colonel from the Vermont Air National Guard, ending a nearly 40-year military career. This election isn't the first time he's partnered with his uncle; they once co-owned construction and trash-hauling businesses.
Leland, 68, also served in the Air Guard. He was elected to the House in 1984 but, according to his nephew, resigned in 1986 to take a teaching job at the Georgia Elementary School because he needed the money. Leland refused to be interviewed, saying he didn't trust a newspaper to accurately portray his candidacy.
On their campaign brochure, the Morgans describe themselves as sportsmen and "staunch supporters of Vermont traditions." In March, they spoke out at a public forum on gun-control legislation hosted by local lawmakers, including their future opponents.
At that forum, Leland described Scott, who helped lead the effort to make Vermont's gun laws less permissive, as "Governor Benedict Arnold" — a reference to the Revolutionary War traitor. Michael was in the crowd on the Statehouse steps in April, watching as Scott signed the bill into law. Though he felt let down, he said he wasn't one of the gun-rights advocates yelling profanities at the governor.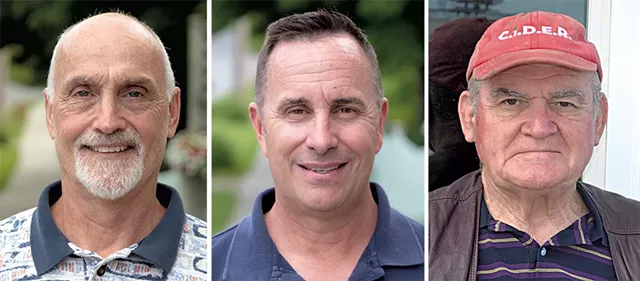 Leland Morgan, Michael Morgan, Rep. Ben Joseph
On the evening of September 12, both candidates — Leland in a blue polo shirt, his nephew in a red one — joined about 20 others at a meeting of the Grand Isle County Republican Committee in a small jury room at the courthouse in North Hero. The local committee "is going all in on this race," according to state party executive director Moulton, but it did not welcome news coverage. When a Seven Days reporter arrived, committee chair Carol Nedde stood up and angrily demanded that the journalist leave.
"Escort her out! Escort her out!" Nedde told a man to her left. After Turner intervened, the chair agreed to let the reporter stay for the first part of the gathering; she later cut the meeting short before a scheduled discussion of the Morgans' campaign.
The next day, Michael told Seven Days that Nedde was "trying to be very protective of our quest" but said he would have handled the situation differently. "We're not secret-society people," he emphasized.
Johnson has identified making the state budget "sustainable, affordable and accountable" as her top goal for the next term, noting that budgets she's helped pass have, in fact, reduced spending growth. Aware of her constituents' concerns about rising property taxes, she's also highlighted her attempt, this past spring, to shift some education costs from the property tax to an income tax.
The legislature has yet to establish a long-term plan to pay for waterway cleanup, but in an ad in the Islander, Johnson pledged to "keep fighting for more funding for clean water."
Johnson, who was chair of the powerful House Appropriations Committee before her peers elected her speaker in 2017, suggested that the new role has made her a better advocate for constituents. When she seeks information from state agencies about a problem in the district, "I get calls back very quickly," she said. And while she is now charged with running the House in addition to representing her district, Johnson noted that "I am the one House member who has a staff member, and I can say, 'Hey my constituent has a concern. Can you look into this?'"
Johnson owns several rental properties and occasionally consults and provides leadership training to out-of-state entities, but she spends most of her time on her job as speaker, which pays $800 weekly during the legislative session and a $12,000 annual stipend.
In past elections, even before she became the highest-ranking House Democrat, Johnson was targeted in ads paid for by the Republican State Leadership Committee, a national political action committee.
This year, "that will happen again, and more," she predicted.
The speaker's lead role in passing a controversial firearms law — which expands background checks, raises the purchasing age to 21, bans bump stocks and restricts high-capacity magazines — could also make her a target for national pro-gun groups.
"We'd like to eliminate her," said Ed Cutler, president of Gun Owners of Vermont. He had no knowledge of the National Rifle Association's plans but speculated that the group would be "absolutely interested" in spending on the race.
Johnson observed that the gun legislation has "energized" activists but said most of the voters she's spoken with have been supportive of the new law.
Anticipating an infusion of outside cash, Johnson, who typically spends between $1,500 and $5,000 on her campaigns, has already raised nearly $8,000, according to her September 1 campaign finance report. She's also knocking on doors, putting ads in the local papers and "doing all the stuff," as she put it. Another advantage to being speaker: She's frequently in the news, which raises her profile.
The Republican focus on ousting Johnson could have the side effect of endangering her lower-profile seatmate, who has been campaigning less.
"They're gonna pour in a lot of money this time," Joseph said, and "I could be a victim." The 76-year-old retired judge is taking a different approach, however, and refusing all donations. "I just think the role of money is corrupting," he said.
The Vermont Democratic Party is prepared to assist both candidates.
"Mitzi and Ben are a high priority for protecting," said party spokesperson Christopher Di Mezzo. "Mitzi is the face of the caucus. We want to make sure that she is secure as she can possibly be." Despite their interest in the Grand Isle district race, officials in both state parties offered no specifics about what resources they plan to deploy there.
One potential advantage for the Democratic incumbents: Island residents tend to like representatives who live in the islands.
"It's definitely a handicap," Turner said of the Morgans' Milton roots. In 2016, Milton voters cast 1,472 of the district's 9,870 votes.
But John LaBarge, a Grand Isle Republican who represented the House district from 1993 through 2002, doesn't think the challenge is insurmountable. The solution for the Morgans, in his view, is straightforward: "They're gonna have to get out and meet people and get known." LaBarge described the Morgans as "quality candidates" who are working harder than Republican hopefuls have in the past. He noted that his excitement about their campaign led him to get involved in the organizing effort.
Carl Cobb, who owns a farm in Grand Isle, was picking up a loaf of bread at the South Hero farmers market before Johnson arrived. Fed up with his home state's taxes, Cobb declared residency in Florida, so he won't be voting in Vermont. Nevertheless, he described Joseph as "a hell of a nice guy" and Johnson as "a bright girl." "They're looking out for people," he said. He said he wasn't familiar with the Morgans.
Beverley Camp, who was also unfamiliar with the Morgans, gave a similar assessment. She and her husband own Hero's Welcome, a general store in North Hero. "I feel they've been doing a great job representing us," she said of the incumbents. "They are really good people, and it's hard to say that about a lot of politicians these days."