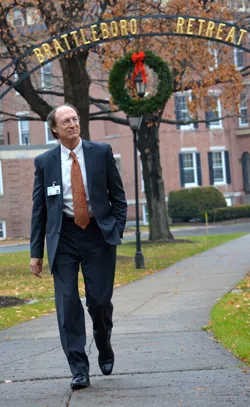 The Brattleboro Retreat likely saved Paige. For most of her 63 years, she told herself she was "only a cross-dresser." Even after her first marriage ended — Paige was born a man — she managed to keep her female persona a secret.
What finally broke her psyche, Paige realized later, was what she calls "The Rule": When she remarried in 2002, Paige's second wife said she was OK with the cross-dressing provided that Paige came and went from their house as a man and never appeared around family or friends as a woman.
Paige, a Vietnam veteran and retired psychotherapist who asked that her last name be withheld, could only maintain that charade for so long. In late April, shortly after her 63rd birthday, she suffered a "nervous breakdown." Though neither suicidal nor a danger to others, "I could not stop crying. It was like I hit a wall of utter despair and sorrow."
Paige, who lives in Rutland, agreed to enter a new unit of the Brattleboro Retreat that specializes in treating lesbian, gay, bisexual and transgender patients with mental illness and/or addiction. Like many patients, Paige has a history of both. In fact, she'd been hospitalized at the Retreat five years earlier as a result of a failed suicide attempt.
Paige recalls being struck by the differences between the two experiences. She spent just six days on the LGBT unit — a typical length of stay, according to staff. Nevertheless, she describes that week as the most transformative of her life.
"I felt respect, acceptance, understanding, compassion. They were utterly nonjudgmental and I felt at home," says Paige, who concluded during her stay that she was transgender and wanted hormone-replacement therapy to begin a physical and emotional transition. "This was the first time in my life that I was openly living among others as myself, without shame or self-consciousness."
Such transformations are what draw certain clinicians to work in Brattleboro's LGBT unit, which is one of the only psych wards of its kind in the country.
"The more we study LGBT health, the more we recognize that disparities do exist in accessing care," says Karl Jeffries, Paige's psychiatrist and a specialist in treating gender-variant youth and adults. "One of the things we focus on is, what services can we provide that other places are not providing?"
Not incidentally, that's also the focus of Robert Simpson, president and CEO of the Brattleboro Retreat, Vermont's largest psychiatric hospital. When Simpson took over in January 2007, part of his plan for improving the Retreat was to develop what he calls "niches in inpatient psychiatry." The 15-bed LGBT unit is just one of several specialized units to open in recent years.
Another is the Uniformed Service Program, which treats police, firefighters and EMS workers dealing with PTSD, addictions, anxiety and depression. The newest is a 12-bed Emerging Adult Program, which opened in October. It serves patients 18 to 26 who are coping with serious psychiatric problems such as schizophrenia, depression and bipolar disorder.
Some addiction and mental-health experts commend the Retreat, a private, not-for-profit institution and one of the oldest psychiatric hospitals in the country, for forging a boutique approach that has helped the hospital's bottom line. But others question whether the Retreat — which the state still relies upon to treat its most acute, "level one" psychiatric patients — is headed in the right direction.
"They're trying to re-brand themselves to survive in a totally new and different market," says Rep. Ann Donahue (R-Northfield), who serves on the legislature's Mental Health Oversight Committee. "And they're doing it in a way that's not good at all."
Beyond Bad Press
The last year was a decidedly bad one for the Brattleboro Retreat. In November 2012, the hospital laid off 31 workers due to projected financial shortfalls. In January, a therapist was sanctioned for having sexual relations with a patient.
Three months later, the Retreat was cited for serious violations of state and federal laws as a result of a patient's overdose death in 2012. As Simpson explained in a letter to employees, the deficiencies cited by the Centers for Medicare & Medicaid Services were "of such a serious nature as to substantially limit our capacity to render adequate care."
In May, the Retreat failed its second CMS review in four months and faced the potential loss of federal funding if deficiencies weren't corrected by August. Among the more disturbing findings was what CMS called a "failure to address ongoing inappropriate use of restraint and seclusion" of patients. Fortunately, the Retreat's correction plan forestalled those cuts.
In September, a 36-year-old patient was found dead in the bathroom of a Retreat-run residence hall. Vermont's medical examiner later determined that the woman had committed suicide — the Retreat's second fatal overdose in two years. Though the patient was no longer an inpatient, she was in an intensive, Retreat-run outpatient program whose staff didn't discover her body for two days.
These and other incidents have not only harmed the hospital's reputation, but have also led some advocates to question its priorities. A.J. Ruben, supervising attorney with the group Disability Rights Vermont, commends the Retreat for providing specialized care that "caters to people's special cultural backgrounds."
At the same time, however, Ruben says there's a sense within the advocacy community that the Retreat is "struggling to play catch-up.
"They're failing to make progress in some really important areas," he says, citing ongoing problems with seclusion and restraint that he maintains have yet to be resolved. "It's not clear where they're going to be in five years."
The Retreat has certainly grown dramatically under Simpson's leadership, from 50 inpatient beds to 120, along with 266 new employees. It's more financially stable, too. When Simpson arrived, the hospital had been operating in the red for 15 years and had no endowment or credit line. It's now been cash-positive for four years, has built a modest, $225,000 endowment and obtained bank loans to finance long-deferred maintenance.
Most of that growth has been deliberate, as part of Simpson's five-year plan to re-brand the Retreat and improve its cash flow. But not all of it. In August 2011, when Tropical Storm Irene forced the closure of the Vermont State Hospital in Waterbury, the Retreat admitted 18 of its displaced patients in one day. Within 12 hours, all were moved into the Retreat's newest ward: the one reserved for LGBT patients.
Although the Retreat's original agreement with the state was to take just 14 state patients with a spectrum of psychiatric issues, high demand after the state hospital shutdown has resulted in as many as 28 state patients undergoing treatment there at any given time. Simpson says patients are only turned away if they have co-occurring medical conditions that are too acute for Retreat staff to manage.
Staff hired specifically to work on the LGBT unit were suddenly caring for some of Vermont's most difficult psychiatric patients — some of whom needed to be force-medicated — while the LGBT ones were dispersed throughout the Retreat. The program that helped Paige was shelved for a year.
"That was not what they had signed up for," Simpson recalls. "But I'll tell you, they all stepped up for that mission and they did a phenomenal job."
"Isolated in the World"
The sign outside Osgood 2, the locked ward that houses the LGBT unit, reads "Elopement risk" — a reminder that patients, even voluntary ones, occasionally try to flee. Beside it hangs a photo of rainbow-colored Adirondack chairs arranged in a semicircle. Eileen Glover, a psychiatric nurse and clinical manager of the program, says the chairs, which are used outside for group therapy in warm weather, have become the unit's iconic symbol.
"When I schedule a meeting," she says, "I'll put the location as 'purple chair.'"
Glover, who's been with the LGBT unit since its inception in 2009, helped design virtually every aspect of it, including its physical layout. As with any hospital ward, there's a nurses' station, but the floor otherwise lacks an institutional or even "dentist's office" feel.
On one side of the floor are locked meeting rooms and offices. On the other are private bedrooms and gender-neutral bathrooms. Beside one window is a reading nook and bookshelf. A wall poster quotes from playwright and gay-rights activist Harvey Fierstein: "Accept no one's definition of your life. Define yourself."
As Glover explains, the unit's physical space was designed to create a quiet and soothing environment, with sound-muffling materials and muted colors. No bars cover the windows, but subtle safety features are incorporated into its design. Door handles are cone-shaped and flexible so patients cannot hang themselves. Video cameras, and monitors, are discretely hidden from view.
Inside one meeting room, members of the staff explain to a reporter why they see their work as so critical. While there are no psychiatric conditions unique to the LGBT population, Jeffries points out that some illnesses and symptoms are exacerbated by social stressors, including family dynamics.
"Very few of us in the population grew up in a culture that was affirming and positive, and we often don't look like our parents, brothers or sisters," he explains. "So, we are isolated in the world."
"Our goal is to make patients feel safe and secure, but also to take away that extra barrier of wondering, 'Can I talk about my wife or husband?' or 'Can I talk about exploring my gender identity in a safe place?'" says Megan Becker, a social worker who worked on Paige's recovery. When patients are struggling with gender-identity issues, she says, just knowing that their clinicians are sensitive and knowledgeable is "one less thing on their plate."
One challenge, Glover notes, is that most medical schools and nursing programs don't provide any training on LGBT issues. "There might be a paragraph in a textbook," she says. As a result, much of what they do is to look at the research, then apply it in a clinical setting.
Only a small number of Brattleboro's LGBT patients have undergone gender-reassignment surgery, but the medical professionals who care for them are trained to deal with pre- and postoperative issues. Likewise, they know how psychotropic medications interact with HIV treatments.
"One of our goals is to be seen as experts in this field," Glover explains. "So we've had other institutions reach out to us and ask us to train their staff." Recently, some of their clinicians were invited to a local high school to help their staff prepare for the arrival of a new transgender student.
Broad or Boutique?
The Brattleboro Retreat may have found a lucrative niche, but no one at Burlington's LGBT advocacy organization, RU12?, was familiar with it. Meanwhile, some critics, like Donahue, think the Retreat should do a better job of serving its entire patient population. She sees its strategy of specialization as a way to burnish its image, make more money and stay relevant in an age when large, stand-alone psychiatric hospitals are being replaced by smaller, community-based programs.
Donahue also suggests that the new model of inpatient care calls for more integration of medical and psychiatric care than the Retreat can currently deliver.
"They're a 100-plus bed hospital and they don't have a psychiatrist on-site 24/7," she notes. "That's just staggering!"
Peter Albert, the Retreat's director of external affairs, confirms that a psychiatrist isn't on-site 24/7 but says one is always on call. He adds that the Retreat also addresses that need by having licensed psychiatric nurses and other practitioners on-site "whose scope of practice allows them to prescribe medicine, do psychiatric evaluations, etc."
Albert agrees with Donahue about the need for better integration of medical and psychiatric services, but says that's why the Retreat has beefed up its medical clinic. Health care reform, he says, is about "getting people the treatment they need when they need it." For that small percentage of patients who need hospitalization, many benefit from being on a unit with others whose cases are similar to their own.
"Would you consider a cardiac specialty program 'boutique,' or a unit that specializes in cancer treatment 'boutique?'" he asks.
Annie Ramniceanu, associate executive director of Spectrum Youth & Family Services in Burlington, sees a real benefit in specialized units. A licensed clinician in mental health and drug and alcohol counseling, she says that specialized units can help normalize patients' situations, so they realize their problems are just like others in their population.
"It helps to have that broader perspective," she adds, "to not see yourself as such a flawed individual, and that there are others struggling with the same thing — and others recovering from the same thing."
Simpson acknowledges that the Retreat's bad press in the last year has taken a toll on staff morale. But the clinicians on the LGBT unit exhibit a camaraderie only partly attributable to their experiences with Tropical Storm Irene. They seem wholly committed to serving patients like Paige, who, statistically, are less likely to access care. And, after briefly losing the LGBT program once, they appear unwilling to let it disappear again.
"We're open to constructive criticism. We want to hear those things," says psychiatrist Cory Nohl, the unit's medical director. At the same time, he adds, "It scares me to think that somehow the work we're doing is going to be undermined, whether it's losing funding or public support ... because everyone here is so passionate about the work we do."