Horns blend with the strings of the kamel n'goni as Afro-funk band Barika rocks out in the Intervale Community Barn. It's Thursday, and from late June to early September, that means Summervale, a community event designed to draw families to Burlington's Intervale Center.
Parents and kids line up for pizza from American Flatbread. Samples of sweet corn from Slow Food Vermont vanish quickly. But not all the usual vendors are present — chefs from downtown restaurant nika aren't grilling outside as they usually do. The reason is obvious: rain drumming on the barn roof. It's not the first time a downpour has caused trouble for the Intervale this year.
The weekly scene at Summervale can seem idyllic, but since 2006 farming in Burlington has often been anything but. In recent years, flooding has plagued the Intervale and other farms on the Winooski River watershed. The resulting losses have been enough to drive some farmers out of the industry altogether.
At a time when urban agriculture is all the rage, Burlington is a city unusually qualified to feed itself. The 100 acres of farmland in the Intervale currently support 13 farms, producing everything from traditional Native American "three sisters" corn, beans and squash to flowers to rabbits. Since farm businesses aren't required to report themselves to the state, there are no hard statistics on how many other farms operate in Burlington. Still, if a dome suddenly dropped over the city, Stephen King-style, those farms would — in season, anyway — give Burlington a fighting chance for agricultural bounty.
But now the same bottomland location that makes the Intervale fertile is making it a gamble. Some farmers are seeking higher ground to farm outside of Burlington, a choice with challenges of its own. Others have just rolled with Mother Nature's punches.
The Intervale Center, founded in 1988, is a nonprofit corporation that uses its farm-incubator program to attract new farmers to the land that was once little more than an unofficial town dump. Executive director Travis Marcotte says hunters still come down in search of quarry, as they did in the years before shooting was outlawed in the Queen City.
The incubator program began taking applicants in 1990; today, the competitive application process requires a strong business plan. Farmers who are selected receive subsidized rental rates on their land; use of expensive equipment, such as tractors; and guidance from both Intervale employees and owners of established "mentor farms," such as Half Pint and Diggers' Mirth Collective.
The Intervale is a keystone of the local food culture that lures people to Burlington, along with its locavore restaurants, booming farmers market and groceries such as City Market. Mary Manghis, that store's produce buyer, says that in her 15 years on the job, she's seen the city's farms grow to become a defining factor of Burlington's identity. "They're an integral part of this community," she says.
That means when farmers suffer, citizens notice. In recent years, Burlingtonians have learned all too well the costs of flooding, starting with the dearth of local crops at the market. In 2006, a soggy May left fields in ruins, costing Diggers' Mirth about $20,000. That "near-record rainy season," as Seven Days reported in December that year, was only the beginning. Five Mays later, in 2011, Lake Champlain experienced historic flooding that backed up into the Winooski River, devastating Adam's Berry Farm and others.
Then came Tropical Storm Irene, two years ago this week. The torrents left Burlington largely unscathed — except for the Intervale. On August 29, 2011, volunteers joined farmers as they raced to salvage their crops from the waters engulfing their fields. The damage would eventually total about $750,000. But since Irene, only two farmers have moved their operations elsewhere — Adam's and Bella Farm. Another, Samara CSA Farm, ceased operations.
Do the record rains reflect ongoing climate change, or just unusually cruel and capricious weather? The Intervale's leadership isn't waiting around to find out. Marcotte says the organization has been gathering information on surviving climate change for the past 25 years. One result is a partnership between the Intervale Conservation Nursery and the U.S. Fish and Wildlife Service to implement a program for monitoring stream-bank restoration projects, which entails planting trees as a stormwater buffer on and around farms across Vermont.
Like the Intervale, Vermont's Agency of Agriculture, Food & Markets has an eye toward how to aid farmers. "When we work with farmers on engineering projects, we work on the guidelines put into place for flood prevention and flood precautions," says marketing and communications director Alison Kosakowski. "The agency takes climate change seriously. It's very much in our discussions."
Sometimes prevention isn't enough, so Marcotte says the Intervale Center is careful to comply with the Federal Emergency Management Agency National Flood Insurance program by modifying sheds and securing infrastructure such as propane tanks. "When Irene hit, there were all these radio stories about propane tanks flying down the Winooski River," Marcotte recalls, "[and] we essentially didn't have anything floating away." Overall, he says, 2011 was no worse a year than 2006 or 2007 for the Intervale.
Marcotte suggests that, for many farms that start at the Intervale, leaving is simply part of a successful business trajectory as it was for Bella. But he is also mindful of ways to help vulnerable farms continue to take advantage of the program. Accordingly, he's participating in early discussions about purchasing additional land under the umbrella of the Intervale. A plot on a property outside the floodplain could provide welcome insurance to farmers, or give them room to grow. "I think the concept of us having the additional piece of land is powerful," says Marcotte, who believes "put[ting] together collaborative farm operations across the state of Vermont … [has] nothing to do with climate change and all to do with diversification of our food system."
Once its leaders implement those plans, could the Intervale itself become a casualty of climate change? Pittsford-based climatologist Alan Betts says he's seen a significant change in the northern hemisphere's atmosphere in the past five years or so. "We're going to have to expect and plan for extremes," he says. "We're not going to go back to the relatively stable climate of the last 1000 years. We're burning fossil fuels; we're pushing the climate back to a state that the Earth hasn't seen in the last 20,000 years."
Vermont state climatologist Lesley-Ann Dupigny-Giroux is less certain the bad weather is permanent. We owe this year's rains to a slowing of the jet stream, she says, but there isn't enough information yet to say if the trend will continue. "With each year, we learn more about the variations and changes in our climate," Dupigny-Giroux says, noting that "variability" is "an inherent part of the weather/climate" of the Northeast.
Betts points out that, even if climate change is a reality, it's not all bad. Vermont farmers can now grow peaches, and his brussels sprouts crops last almost until Christmas. "I joke that, with a good snow cover, I can [grow them] until Valentine's [Day]," Betts says.
But there's more to the possibility of an impending tropical climate than warm weather. If more floods come, could Burlington's farms simply float away, leaving the Intervale a makeshift dump once again?
Don't bet on it. Burlington's agricultural community didn't spring up overnight, and it's unlikely to fade away. Experts such as Marcotte are dedicated to finding solutions and discovering new ways to make their gardens grow. That may mean adding land outside city limits or expanding to patches near the Intervale that the organization doesn't yet own. But don't expect to have to buy your summer tomatoes from California anytime soon.
Whether Burlington's farmers are fighting climate change or nasty weather, they must learn to cope — or make the difficult decision to change careers. We talked to the owners of five farms — two who have left city limits, one who remains in the Intervale and two who are still making that agonizing choice — about plowing their way toward an uncertain future.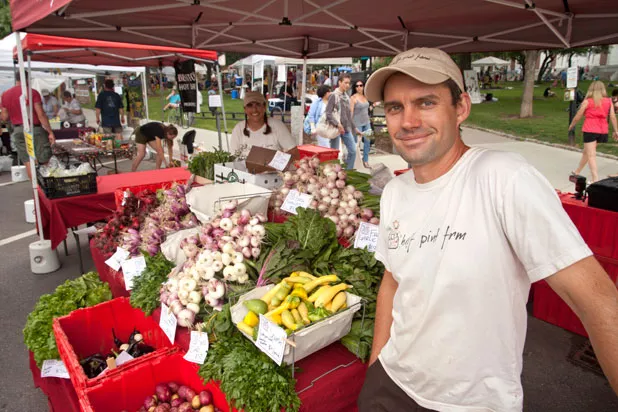 Mara and Spencer Welton at the Burlington Farmers Market. File photo by Matthew Thorsen.
Standing its ground: Half Pint Farm
Half Pint Farm didn't win this year's Daysie for best farmers market vendor for naught. There's nothing quite like the stacks of multicolored heirloom tomatoes, rainbow of peppers and sweet-and-petite microgreens at the farm's table at the Burlington Farmers Market.
At the winter market, Half Pint owners Mara and Spencer Welton sell burritos made with tomatoes, onions and peppers preserved during the summer. That wasn't part of their original business plan but a creative response to difficult conditions.
The Colorado native couple started making the wraps from Mara Welton's grandmother's recipes in 2011. The goal was to recoup money from what she called "the shortest summer on record." That year, despite the major May and August flooding episodes, Half Pint made 80 percent of its projected profit.
Now the Weltons are committed to maintaining their farm as a hub of the Intervale. They're entrenched in the local-food community: Spencer is president of the Burlington Farmers Market, while Mara is chapter president of Slow Food Vermont.
When the high school sweethearts moved to Burlington from Pennsylvania, they had the Intervale in mind, recalls Spencer. The excellent soil of a floodplain was part of the appeal, as were the ample storage and greenhouse spaces.
The Weltons started their farm in 2002 and experienced their first flood four years later. "It was when we saw the effects a flood would have," Spencer Welton remembers. "We were able to recoup and have a really good year in 2006."
Since then, Spencer says, he has been determined to mine the floodplain for its rich soil and learn to work around conditions that could be disastrous for less experienced farmers — or, in his words, to "look at those positive attributes and use it to counter that one big negative aspect."
Location helps. Unlike some other Intervale farms, such as Pitchfork, Open Heart and Diggers' Mirth, Half Pint's two acres are not in the area water reaches first when the hydrometer rises. Spencer Welton says he's learned that, even after a major deluge such as Irene, he can usually get a tractor onto the soil within three days. With a devoted following of customers who understand fluctuations in availability, Welton says Half Pint is likely to meet its financial goals this year.
The farmer has been studying National Weather Service hydrographs of the Winooski River, but he knows there are limits to the powers of prediction. "Farming is not risk free. That's what we're all trying to come to grips with — how do we weigh the risk versus the reward?" Welton says. "If the risk is small and the benefit is small, it's not worth it. But the benefit, when it's good, is it works really well." For him, he says, "The risk is worth it."
Welton says he believes it's still presumptuous to blame the flooding on long-term climate change, pointing out that the dry periods between 2000 and 2010 were actually anomalous. The floods of the last few difficult years aren't necessarily "the new normal," he suggests. Not to mention that, in Vermont, "the weather is always weird."
Welton realizes some may be spooked by the risks of farming in the Winooski watershed, he says, and he's joined the discussion with Intervale director Marcotte about adding land on higher ground. Finding such a patch might indeed be part of the Weltons' five-year plan, the farmer notes. But for now, Half Pint Farm is staying put.
Eric Seitz and Rob Rock. Photo by Matthew Thorsen.
An uncertain future: Pitchfork Farm
If you stop by the bar at Burlington's Farmhouse Tap & Grill when bartender Eric Seitz is on duty, you're more likely to hear him telling tales of manuring fields than of mixing cocktails. The University of Vermont grad started Pitchfork Farm in the Intervale with Rob Rock in 2006, a year after getting his diploma.
Both brought experience to the venture: Rock had worked at other Intervale farms, including Maggie's Tomato Patch and Diggers' Mirth, since 2003. Seitz spent summers during college laboring at Goose Creek Farm in St. George and in the produce department of Healthy Living Market and Café in South Burlington, getting a taste of two sides of supplying fresh food to consumers.
Seitz and Rock chose the Intervale in large part for its farm-incubation program, which enabled them to start their business with an investment of just a few thousand dollars. The property's proximity to the Burlington market was another plus. Now, though, the partners are wondering if they can continue.
In good years, Pitchfork grows more than 30 varieties of veggies, with a focus on greens, roots and tomatoes. Starting with an acre and a half, the farm grew to 20 acres. The restaurants it has supplied read like a who's who of the Burlington dining scene, including the Farmhouse and Bluebird restaurant groups, Leunig's Bistro, nika and American Flatbread. Pitchfork has also sold to Healthy Living, City Market and one of Burlington's largest consumers of local food, Fletcher Allen Health Care.
But this year, the 20 acres are back down to two. Seitz and Rock have let their employees go, and both farmers now rely on second jobs to support themselves and their farm. Seitz, who farmed full time last year, has been back behind the bar at Farmhouse since July 5. Rock has donned a welding mask to work for Conant Metal & Light and Kat Clear, artists whose work can be seen at several of the restaurants Pitchfork Farm supplies.
What happened? Seitz says Pitchfork Farm has had a flooding incident in six of its seven years. In 2006, its "very first year," he "had to canoe out to salvage irrigation equipment that was in boxes floating away."
Isn't a certain amount of rising water normal, and even beneficial, in a floodplain? Yes, Seitz says, in March or April, before most of the crops go in. "It's what makes the floodplain so rich to farm," he notes.
The problem is when the floods arrive after the crops are in place. This year, heavy rain in May came early enough that most farms, including Pitchfork, were able to replant the greater part of their crops. It was a second episode, in which several inches of rain fell on July 4 and 5, that damaged the farm.
Rock estimates that Pitchfork lost $85,000 in revenue this year. For them, 2013 was a bigger disaster than Irene. "This spring, we did probably 500 hours of work that came out as a loss," he adds.
Now Rock faces the strong possibility that he'll have to leave the business he loves. "At this point, both Eric and I, if we were to stay in ag, it's gonna take some really creative thinking," he says. "Just in the near future, I can't see any way to make a full-time living." Rock has enrolled in engineering classes, looking toward a possible second career.
The farmers agree that this is likely their last year at the Intervale. Seitz says he's considering indoor farming, but he wants to remain in Chittenden County, where the cost of warehouse space would likely be prohibitive. So what's next for Pitchfork Farm? "The short answer is: 'I don't know,'" says Seitz.
Adam Hausmann. File photo by Jordan Silverman.
The ones that got away: Adam's Berry Farm and Full Moon Farm
The Intervale's farm-incubation program aims to give businesses the tools they need to mature. But sometimes the best game plan for farmers is leaving the nest — or, to use a more appropriate metaphor, flying the coop in search of higher ground.
When Adam Hausmann began planting berries in the Intervale as Adam's Berry Farm 11 years ago, he joked that he had moved to the big city — from his then-home of Lincoln — to start a farm. But Hausmann says he knew it was the right decision to join the active network of a larger community.
By 2004, Hausmann was questioning the choice, as spring flooding drowned more than an acre of his fall raspberries. He always knew to expect flooding from spring thaws, he says. But, as more dramatic events piled up in 2006 and 2011, Hausmann realized the weather's unpredictability left him unable to plan for disaster.
To work around the possibility of a deluge, he shifted his plantings to drier sections of the farm, replanted on raised beds and tried planting only disease-resistant varieties of his berries. He constructed hoop houses to protect the delicate fruit.
But it wasn't enough. For Hausmann, a lost crop has even more devastating consequences than it does for most other farmers. Many of his perennial bushes take five to eight years to mature, and he can't grow his business when he can't grow his berries.
So he decided to move to higher ground. "The Intervale has been a wonderful place to grow a business and interact with a community. I am proud to be part of this nationwide urban-farming revolution that the IC has been at the forefront of," Hausmann writes in an email. "But, for our own farm's stability, we needed to move forward by eliminating a major natural event that impacts the growing cycle."
The Vermont Land Trust helped Hausmann find a plot of land in East Charlotte, about 25 minutes outside Burlington, so he can stay close to the community he has grown to love. In April, he started moving 3500 mature blueberry bushes and replanting strawberries, raspberries, gooseberries, currants, kiwis and a small stone-fruit orchard on his new land.
Another prominent Intervale farmer who pulled up stakes is David Zuckerman, who started Full Moon Farm there in 1999. In 2008, the state lawmaker and his wife, Rachel Nevitt, moved to Hinesburg. They wanted to add pigs and chickens to their workload, a potentially perilous decision on a floodplain.
Tending their livestock has been tiring work, but there's been no flooding so far, says Zuckerman, and he's fared far better since leaving Burlington. He says the biggest problem the rains brought him this year was "extremely intense" weed pressure.
Both farms are still popular vendors at the Burlington Farmers Market. They may have left city limits, but Hausmann clarifies why they're unlikely to leave the area: "I love working with the Burlington community. The population is food centered and truly notices taste. Can you imagine better customers?"
Amanda Andrews. Photo by Matthew Thorsen.
Pulling up stakes: Tamarack Hollow Farm
The Intervale isn't the only Burlington farmland on a floodplain. Mike Betit and his now-wife, Amanda Andrews, began their "urban farm adventure" by moving from Wheelock to Ethan Allen Parkway in 2010.
That same year, the adventure really began with floods in April and November. Andrews says she wasn't too concerned at first. "The word on the street was, 'It's a floodplain, it floods every 10 years, it's not a big deal,'" she recalls. But, unlike farmers at the Intervale, the couple had more than the Winooski River to worry about. Andrews says she soon learned, "When you're this close to the lake, the water table is high, and there's nowhere for it to drain off to."
Unlike the other farms profiled in this story, Tamarack Hollow has more than produce on its nearly 30 acres of land. The residents of the farm include oxen that work the land as draft animals, as well as pigs, cows, lambs and chickens slaughtered for meat. The wet soil that has plagued the farm since Andrews and Betit moved in has prevented them from getting machines onto the drenched, overgrown main pasture to turn it around for planting.
This year alone, Andrews estimates that Tamarack Hollow has lost $100,000. She and Betit planted normally in the spring, then replanted after the crops were destroyed in May. In July, those crops, including an acre and a half of potatoes; an acre of carrots; and broccoli, cauliflower, kale, summer squash and zucchini, were all drowned.
Many Burlington farms had an excellent year in 2012, when Hurricane Sandy largely bypassed Vermont. Not Tamarack, which has sold at the Union Square Greenmarket in New York City since 2005 and now offers community-supported agriculture (CSA) shares in the big city. Sandy displaced the market, costing the farm an enormous amount of its income.
The heavy rains may skip some years, but Andrews believes climate change has left a clear impression on her land. She says topographical maps of her property show the river running a different course from its current one. She and Betit can no longer wait, she says, for the weather to stabilize.
Now the two are rethinking career goals. Andrews says they both have strong reasons for farming and would find it difficult to stop, but they've had to consider the possibility. "What does seven years' farming experience get you in the real world?" Andrews asks. "You look through the job postings, and what you'd be qualified for is pretty slim."
That leaves them looking for new land to farm. Betit's kids from a previous marriage live in Calais, so the couple has been searching for property in the Barre-Montpelier region.
Andrews is aware that leaving would entail a trade-off. "The calculus for farming in Vermont has always been, you can be in a river valley and you have a good growing season; or you're on the uplands and you struggle every year, and your soil isn't as great and your growing season isn't long," she laments. "It's always a losing proposition."
For now, she and Betit are committed to making farming work, come hell or high water. Just not in Burlington.
The original print version of this article was headlined "Growing Pains."
Summervale. Photo by Oliver Parini.