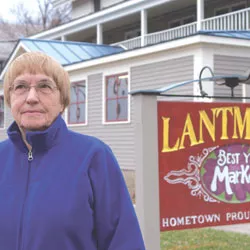 Matthew Thorsen
Jean Isham
Not since Walmart won Williston 15 years ago has Chittenden County seen a development battle as ferocious as the one brewing in Hinesburg over a proposed Hannaford supermarket.
The Maine-based chain wants to build a store in the heart of Hinesburg village, which has largely avoided the chain-store sprawl evident in several suburban communities around Burlington. Hannaford has 173 stores in New England and New York, five of which are in Burlington, Williston, Essex Junction and South Burlington.
Opponents argue that the character of the traditional Vermont village will be destroyed by a 36,000-square-foot store and the truck and car traffic it will generate. "We're right on the edge of seeing real damage to the Vermont brand," says Paul Bruhn, director of the Preservation Trust of Vermont. "Our brand is the best and most important economic advantage we have."
The other side answers with accusations of elitism. Pro-Hannaford locals argue the proposed downtown supermarket will benefit lower-income shoppers with convenience, lower prices and wider selection. Competition and choice are integral to a healthy economy and to socioeconomic diversity, they say.
The $5 million development would also bring some obvious benefits to the town in the form of 94 jobs — 31 full time, 63 part time — and around $56,000 a year in property-tax revenues.
The store's proposed location, toward the rear of an existing mini-mall on Commerce Street, is not problem-free. It had been identified as a possible site for a village green, notes architect Rolf Kielman, who chairs an advisory group on the future of Hinesburg. The site may also have some wetlands, according to Jean Isham, chair of the Hinesburg Planning Commission.
Adding to the town's anti-chain-store anxiety is the imminent development of an 11,500-square-foot Kinney Drugs directly across from the mini-mall where Hannaford would be built. A long permitting process forced the drug store to make some major design modifications, but construction is expected to start next month.
Villagers are also nervous about the future of an adjacent 15-acre parcel that used to house the Saputo Cheese factory. That 87,000-square-foot facility has been vacant for the past two years. Redstone, a Burlington-based development company, purchased the property in September with the aim of attracting food-related tenants that would be compatible with the 89 agricultural enterprises around town.
In other ways, too, Hinesburg is still more a rural town than a suburban bedroom community.
Bruhn notes that travelers on Route 116 enter a village with a well-defined beginning and end, with open land at both its northern and southern edges. It's that characteristic that makes Vermont settlements like Hinesburg increasingly unique and appealing, Bruhn observes — and increasingly endangered.
The site Hannaford wants to build on is zoned commercial, but Bruhn worries about "the impact that store would have on the village center." Hinesburg is already well served by a community grocery store, Bruhn says — Lantman's, a nearly 90-year-old local institution.
Hinesburg's population has grown 6 percent in the last decade, from 4340 to 4629. But that's "no reason to have another store," Bruhn says, acknowledging that the Preservation Trust would oppose a Hannaford in Hinesburg no matter where it was situated or what it looked like.
Lantman's enjoys considerable loyalty among Hinesburg residents. It's "more than a grocery store," says Kielman. "It's like a large general store." The roughly 12,000-square-foot store was bustling with shoppers last Saturday, many of whom paused to chat with each other and with clerks.
Current owner Brian Busier, who took over from the Lantman family 22 years ago, is much admired as a civic leader. While Busier declined to be interviewed, Kielman points out that the grocer has employed "about half the youth in this town."
Lantman's offers a personal touch that a chain like Hannaford could never duplicate, adds Jay Gradziel, who was selling muffins and coffee at the farmers market inside the town hall last Saturday. "At Lantman's everybody is so nice. It's all so, 'Hi! Good morning!'" Gradziel says.
Kielman fears that Hannaford would try to drive Lantman's out of business. But Isham and Jonathan Trefry, who chairs the select board, both describe Busier as a resourceful businessman who would likely find a way to keep Lantman's going. Trefry reports, for example, that Busier may expand the store if he gets a permit to operate a state liquor outlet.
Lantman's could also take the strategic approach of the Shelburne Supermarket, which thrives despite the nearby presence of chain stores by catering to a high-end clientele, Trefry adds. With Hinesburg's relative affluence — median adjusted gross family income was $73,826 in 2007, among the highest in Chittenden County — going upscale could be a tempting option.
As it is, Lantman's is not always the cheapest option. "I know a lot of people who don't go there because the products tend to cost more," Trefry says. Grace Link, who was selling tickets inside Lantman's for a quilt raffle, adds that while she does like to buy locally, "I see competition as a healthy thing." Lantman's will survive the arrival of Hannaford, Link adds, because of the strong allegiances the locally owned store has cultivated over the decades.
Hannaford will be seen as a popular alternative to Lantman's because the existing store "doesn't carry everything," predicts Lee Findholt, who was at the farmers market selling yarn made from the alpacas, llamas and angora goats she raises at Wicked Good Farm in Hinesburg. Findholt, who also expresses fear for Lantman's future, acknowledges shopping occasionally at Hannaford on Shelburne Road and says it will be more convenient to have a Hannaford right in Hinesburg.
Hannaford spokesman Matt Paul says the Hinesburg store would be energy efficient and serve as "a model of environmental sustainability."
He adds, "We always try to be respectful of the town we're in. We're not going to ruin the look of Hinesburg." The company hopes to win all needed state and local approvals by April for a fall 2012 grand opening.
That may be overly optimistic, Bruhn warns, not only because of the wetlands issue. He says the Preservation Trust is prepared to help opponents of Hannaford with legal resources and fundraising. Hannaford recently dropped plans to build a store of comparable dimensions in the historic district of Kingston, N.Y., because locals organized against it. Seven years into the process, the grocery store chain still hadn't secured the necessary construction permits.