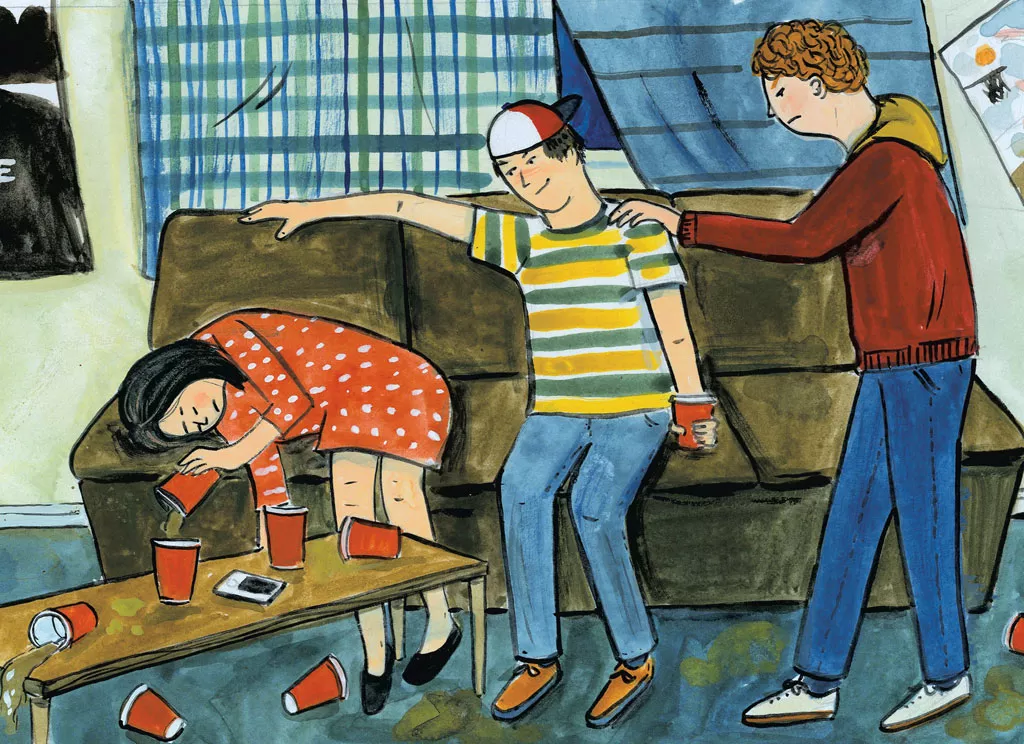 A steady stream of male athletes files into the third-floor meeting room of the Dion Family Student Center at Saint Michael's College. They greet each other with the usual bro hellos of college teammates. But the fist bumps, shoulder slaps and man hugs can't hide the fact that none of these guys looks psyched to be here.
Technically, they don't have to be. The hourlong evening presentation — titled "How to Help a Sexual Assault Survivor: What Men Can Do" — isn't mandatory for the 200 athletes who compete on St. Mike's 11 men's varsity teams. But director of Student Life Outreach and assistant dean of students Catherine Welch admits that their coaches "strongly encouraged" them to attend. As the men fill the seats, their body language — ball caps pulled low, legs outstretched, arms crossed — suggests they're not sure what's in store.
These guys may have good reason to be wary. Even before Rolling Stone published "A Rape on Campus" — the November 19 report on an alleged gang rape at the University of Virginia whose veracity has since been challenged — colleges and universities have been under intense pressure from the feds to do a better job of investigating and preventing campus sexual assaults. The 2013 Campus Sexual Violence Elimination (SaVE) Act requires all higher-ed institutions to provide ongoing awareness and prevention training to students and staff. Many schools are only now starting to focus their attention on those campus centers of hypermasculinity where rape culture is said to thrive — notably, fraternities and male sports programs.
But that's not why Dave Landers, St. Mike's faculty rep to the National Collegiate Athletic Association, asked his players to attend this presentation. (None of these athletes, he emphasizes, has been accused of sexual misconduct.) Landers, who's also a professor of psychology and gender studies, explains that he was troubled last fall by the steady barrage of news reports about NFL players accused of abusing their wives, girlfriends and kids.
Landers was equally disturbed by the narrative underlying many of those stories. As he puts it, they were "painting all male athletes with the same broad brush" — suggesting, in short, that if you're a man who plays competitive sports, then you're likely to punch your pregnant girlfriend or beat your kids with a stick.
"I've worked with male athletes at St. Mike's for 32 years, and I know that's not true," Landers tells the guys in the room. "I know most rapists are men. I also know that most men are not rapists."
For advice, Landers called his friend Keith Smith, the men's outreach coordinator at the University of Vermont. Smith has spent eight years counseling primarily male students, including ones who were going through sexual-misconduct hearings. He promotes an antiviolence message that he says he struggles to get heard by the young male students who need it most. As Smith puts it, "We live in a culture that does not educate its young men about appropriate and inappropriate behavior, and then we're surprised when these horrible things happen."
Contacted by Landers, Smith jumped at the opportunity to work with a large group of men at St. Mike's — and he had just the program to do it.
The eight men standing at the front of the room in matching blue polo shirts make it clear from the get-go that they're not here to shame or blame anyone. They're college students who belong to UVM's chapter of One in Four, a national nonprofit aimed at reducing sexual violence.
One in Four, which has chapters on 14 other college campuses, gets its name from a Department of Justice study of college women that found one in every four has survived a rape or attempted rape at some point in her life. Founded in 1993 by Oklahoma State University professor John Foubert, the organization produces training materials for men and women that have been statistically shown to reduce the incidence of rape and "sexually coercive acts" by as much as 40 percent. In the fall of 2013, Foubert visited UVM and spent 15 hours training 10 male presenters.
UVM's One in Four group begins with a brief overview of the program, which includes legal definitions of rape and consent. Next, they dim the lights for the program's most difficult, and viscerally effective, component: a 15-minute law-enforcement training video in which a male police officer recounts, in graphic detail, the experience of being raped at gunpoint by two assailants. The officer walks viewers through both the rape and its aftermath, including the medical exam at the hospital and the reaction days later from fellow officers, some of whom questioned whether he was truly raped.
As the lights come up, it feels as though all the oxygen has been sucked out of the room. Finally, Taylor Ducharme, a UVM senior studying mechanical engineering, breaks the silence.
"We've all seen this countless times," he says, referring to his fellow presenters, "and it doesn't get any easier."
Standing beside Ducharme is Michael Hill, a 2007 St. Mike's graduate and former rugby player who's now earning a master's in social work at UVM. Hill walks the audience through the parallels between the male cop's experiences and those of a typical female rape victim. They include the sudden loss of control; the natural instinct to freeze up and play for time when threatened; the humiliation of repeatedly having to tell the story to strangers; the creeping fear of having contracted a sexually transmitted infection; the pain and shame of the rape exam; and the final insult of having one's actions second-guessed by trusted friends and colleagues.
"'Why didn't you fight back? Why didn't you run away or kick them in the balls? Are you sure this was rape and not something you wanted?'" Hill asks rhetorically. "These are the type of questions female rape victims get all the time."
In the next part of their presentation, the One in Four reps return to somewhat easier terrain: offering the men advice on how to react if a friend tells them she's been raped. That advice includes suggesting she seek medical help for STI testing and evidence gathering — but also respecting her decision if she declines.
Nick Raso, a UVM sophomore studying secondary education, offers some of the best advice of the night: Talk less, listen more and resist your natural urge to go after the rapist.
"This is the worst thing you can do for your friend," he elaborates on the last point. "Think about it: Whose needs are you looking out for in this moment — yours or hers? She's just dealt with a violent man. The last thing she needs right now is to try to calm down another violent man, a man she trusted enough to come to with her story."
The last section of the presentation focuses on understanding consent and how to intervene in situations where drugs and alcohol intersect with sexually predatory behavior. The audience hears suggestions for preventing someone from taking advantage of a woman too intoxicated to consent or resist, including calling her friends and refusing to leave her alone. The athletes also get schooled on the impact of men's misogynistic language. That includes casual misuse of the word "rape" to describe any unpleasant experience, such failing a hard test or losing a big game.
"When we use 'rape' in this manner, we suck away its essence, we belittle it, we take away the significance of that horrific, terrible, life-changing experience," Hill says. "And then when the word is used for what it really means, no one really listens."
At the end of the night, the One in Four group asks if anyone has questions. No one does. The St. Mike's students look almost shell-shocked by their experience.
Outside, a group of students (none of whom wishes to be identified) offer their assessment of the program.
"Heavy," says one, as his friends all nod in agreement. "Informative, though."
"You don't know how you'll respond until you're in that position," another says. "I hope I'd respond the right way."
"Honestly, I hope I'm not in that situation," says a third student.
"But statistics say you probably will," the first friend adds.
UVM's One in Four presentation still seems like a work in progress. Notably, the legal definition of rape it presents — "sexual intercourse with someone who does not or cannot agree to it" — is much narrower than the corresponding definition under Vermont law. (Foubert, who scripted the program, explains in a later interview that each chapter can apply the definition appropriate to its own state.)
The delivery also needs polishing. At times, the UVM presenters seem to be reading from a script, as though they're as uncomfortable talking about the material as their audience is hearing it. Their strongest moments come when they speak from the heart, using their own words.
"We fully understand that what we're asking you to do is hard," Raso tells the audience at one point. "It's really hard to be that guy who calls out his friends for their language. You're gonna get shit for it, and it's gonna suck. Doing what's right isn't easy. But this is how progress is made."
For his part, UVM's Smith commends the One in Four volunteers because, he says, he knows firsthand just how hard it is to get other men to pay attention to these issues. A few years ago, he sponsored an event called "Sex, Hooking Up and Consent," where students were invited to talk about hookup culture, drugs and sexual assault. Nearly all of the attendees were women. As Smith puts it, "That tells you everything you need to know."
Foubert, who created the national One in Four program, admits he faces similar resistance when he tries to get it adopted on other campuses. Why? College administrators don't want to acknowledge that rape is a problem on their campus, he says. Foubert used to approach high schools about the program, too, but eventually he gave up: "I got tired of hearing people say no."
While the resistance to programs such as One in Four may be strong, advocates maintain that we can't solve the problem of campus rape without them. "If you want to address these issues, then you have to go to the source, and the source is men," Smith says. "If you don't address them directly, how do you think anything is ever going to change?"