David Shaw
Tammie LaClair
Tammie LaClair should be in prison. In September, she was arrested and charged with her fourth DUI. Because she was unwilling to post the $2,500 bail, the 47-year-old South Newfane resident was ushered to one of Vermont's scarce inmate beds.
But rather than live in prison, at the cost of $180 taxpayers' dollars a day, LaClair spends time with family, visits a therapist and is trying to rebuild a life that she says is strained by addiction. After only a week behind bars, and with her felony case pending, LaClair went home. But she is not exactly free.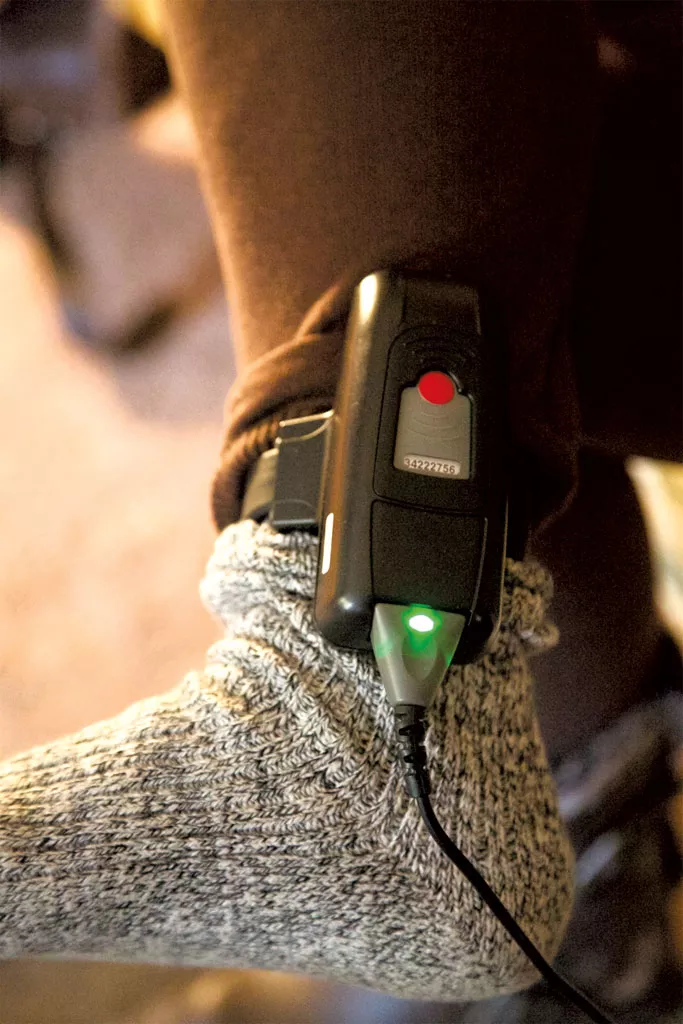 David Shaw
GPS monitor
Around LaClair's ankle is a GPS-equipped monitor that transmits her exact location to law enforcement. She is the first participant in a technology-based pilot program for pretrial detainees that could potentially alleviate Vermont's overcrowded and increasingly expensive prison system.
LaClair is under orders to stay inside Windham County's borders — and inside her home from 7 p.m. to 7 a.m. Should she stray from her court-approved locations, or get close to a forbidden one, the monitor vibrates and transmits a warning to law-enforcement officials, who can reach her anywhere in the county within 30 minutes.
While awaiting trial, LaClair spends her days with her daughter and grandkids, and cares for an ailing mother. "This gives me the opportunity to grow and not lose the relationships with my family, and to be part of the community and get the help I need," she said. "They really don't care about you in jail."
With $200,000 from the legislature, Windham County Sheriff Keith Clark is planning to place a dozen defendants, who would ordinarily sit in jail while awaiting trial, on an electronic-monitoring program.
A dozen doesn't sound like many. But Clark estimates that, if successful, in one year his program could save the state $1 million in Windham County alone. If it's replicated in Vermont's other 13 counties, and the state successfully cuts its prison population by even a few hundred inmates, the potential savings is in the tens of millions of dollars.
"There's little question that there are people in prison who wouldn't be there if we had a better option," said Superior Court Judge David Suntag, who currently presides in Windham County and agreed to put LaClair on electronic monitoring. "Any time we have another option, something else on the menu, that's always a good thing."
The monitor, essentially a sturdy piece of reinforced rubber about the width of a candy bar, contains a beeper-size device. A Massachusetts company leases the equipment and its services to Clark, and tracks information from the gadget. The data is also sent to Windham County's dispatch center, where a computer tracks the defendants' real-time location.
The monitors, which send an alert if they are tampered with, pick up their location from GPS satellites and transmit that information to computers using cell towers. Clark said that for homes where cell phone reception is spotty, his officers can place a small beacon to ensure a steady transmission.
The sheriff's department can program the computer to recognize "inclusion and exclusion zones." If a participant has been ordered to avoid contact with a particular person, officials can enter that person's home and workplace into the computer and be alerted if a participant gets close to the off-limits area.
In the five weeks LaClair has been in the program, her monitor triggered one unexplained false alarm, but a sheriff's deputy quickly responded and found that LaClair had not left her home.
What type of defendant gets into Clark's program?
The more pertinent question, according to the sheriff, is who wouldn't qualify. For example, he said someone once asked him: "'You wouldn't take somebody accused of a homicide, would you?'"
In fact, he just might.
In evaluating candidates, Clark said he is less concerned about the type of charges than he is about criminal history and the likelihood that a candidate will flee or reoffend. Clark offered the example of an 81-year-old West Townshend woman who in 2006 was convicted of killing her elderly husband.
"She could have been a home-confinement person," Clark said. "She wasn't going anywhere. She wasn't a flight risk. Her family and supports were here. Believe it or not, a fairly low risk, all things considered."
Generally, the prosecution, defense attorney, sheriff's department and the judge all have to agree before a defendant is accepted. Everyone acknowledges the possibility that he or she could flee or commit a new crime while on electronic monitoring.
"Risk is always a factor," Suntag said. "We assess risk all the time, in everything we do."
But the program's supporters say that the potential rewards outweigh those risks.
With 1,600 prison beds and 2,100 inmates, Vermont is motivated to reduce its inmate population. It costs more than $50,000 a year to keep someone behind bars in Vermont; sending prisoners out of state — to Corrections Corporation of America-run prisons in Kentucky and Arizona — is cheaper per diem, but Vermont has spent more than $30 million in the past two years on inmate overflow. That's reflected in the annual budget for the Vermont Department of Corrections: $160 million, up from $132 million just three years ago.
While in recent years both Democrats and Republicans have talked about the need to cut the prison population and enhance addiction-treatment programs, the inmate population has remained steady, and DOC Commissioner Andy Pallito says he doesn't expect that to change any time soon.
Clark says he can run his program for just $7,000 a person. Currently there are 340 pretrial inmates inside Vermont correctional facilities, and their prison stays aren't short. Even the simplest misdemeanor cases usually take at least a few months to resolve; felonies can often take a year.
Electronic monitoring isn't a new idea. For more than a decade, the DOC has used it to keep tabs on inmates who have served time and been released on furlough. Probation officers currently use it to oversee about 300 people.
Why hasn't the state ever tried it on people awaiting trail?
Spotty cellphone coverage has made the system unreliable — even the DOC acknowledges as much — and it's an open secret that probation-parole officers sometimes take days to review data from participants' DOC bracelets.
Moreover, pretrial detainees, who face possible prison time and are often unfamiliar to the DOC, are generally considered less trustworthy than furloughed inmates, with whom the DOC has had years to develop relationships.
Clark volunteered his deputies — whose primary duties are to transport prisoners, serve legal papers and occasionally conduct traffic enforcement — to expand their skill sets and monitor the defendants around the clock.
"No one was willing to take the risk I was willing to take," Clark said. "These people, if they were to commit new offenses on the device, there would be risk to me. I put my department's reputation on the line."
Clark pitched his idea in the closing weeks of the legislative session. He said it would take a year to get the pilot program running. But lawmakers didn't want to wait. Desperate to cut the inmate population, they found $200,000 for a two-year program and instructed Clark to begin immediately.
"I think it has great potential to see if we can lower the incarceration rate," Senate Judiciary Committee chairman Dick Sears (D-Bennington) said. "If they're wearing the bracelet and not committing new crimes, the public is safe."
About $50,000 of the project's funding is for an outside group to study the program and see if it can deliver cost-savings after the two-year experiment. But Sears says he would consider expanding it after only a year. Currently, Clark said he can monitor about a dozen defendants without adding staff. But to expand, he would need to hire more deputies, and no one has figured out where that funding might come from.
LaClair said she understands the state's financial incentives. But to her, the pilot program is providing something more valuable: a chance to live a better life.
She said her husband committed suicide 15 years ago. During a previous prison stint, she lost custody of the eldest of her three children, with whom she still has a strained relationship. Through it all, LaClair said, her struggle with addiction has led her to new crimes. Previous encounters with the judicial system — she has been convicted of 15 nonviolent misdemeanors and one felony, and spent more than a year in prison, according to court records — haven't helped.
"My whole life, I've always felt like I had a knife in my heart and my soul. Nobody believes in me," LaClair said. "This program has changed all of that. It boosted me."
While staying at a friend's home awaiting trial, LaClair enjoys the benefits of living outside the prison walls: consistent therapist visits, substance-abuse meetings, regular visits from her daughter and young grandchildren, and walks in the woods.
In prison, she said, she met scores of inmates who might benefit from the electronic-monitoring system.
"There's many girls in jail because they're addicts and there isn't a program for them, and they're in and out and in and out, and it's a lifestyle," LaClair said. "They could be saved with this program, because they don't have to sit in jail for a year for their case to come up. We can get them help instead."
Contact: mark@sevendaysvt.com, 865-1020, ext. 23, or @Davis7D