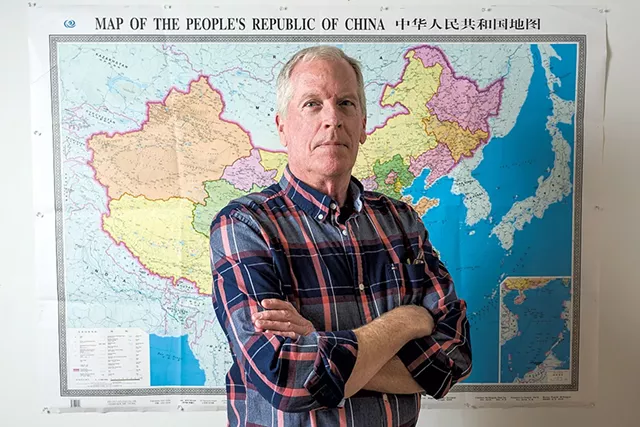 Oliver Parini
Richard Taylor
Burlington's public school superintendent is traveling in China this week in hopes that the nation of 1.4 billion can help fill empty desks at Burlington High School.
Two other Burlington school administrators and four Franklin Northwest Supervisory Union school officials also made the 6,600-mile journey to explore importing tuition-paying high school students as steadily declining enrollment in Vermont squeezes public school budgets.
Many Chinese parents who want their children to attend a university in the U.S. consider a year at an American high school to be good preparation, and with extra space at Vermont schools, the arrangement can be a win-win, said Richard Taylor, vice president of Spiral International. The Burlington-based for-profit company sponsored the weeklong trip to China and paid the $3,000 tab for each educator, according to Taylor.
"There is a strong interest from Chinese families to have their children experience American education and culture," said Taylor, a retired school superintendent who finished his education career in Grand Isle County.
China is the largest exporter of students to the U.S., accounting for almost a third of the roughly 1 million international students enrolled in American colleges. According to the Institute of International Education, their numbers increased by 6.5 percent in the 2016-17 school year — even as President Donald Trump's election sparked concerns that foreign students would go elsewhere because of his anti-immigration rhetoric. Educators say it's too soon to gauge Trump's long-term impact, but Taylor said the demand in China for Spiral's services remains strong.
Numerous nonprofit organizations, such as AFS Intercultural Programs, operate high school exchanges. They charge fees for participating students but don't typically pay tuition to high schools or provide stipends to host families.
Spiral has a different, more competitive model: Each Chinese student pays the company about $40,000 to spend a year at a U.S. school. In turn, Spiral pays tuition — about $15,000 per student at Vermont public schools — and $800 monthly to host families.
Spiral's founder, Emily Hong Yue Guo, grew up in China and is the former director of the study abroad program at Goddard College. Her 5-year-old company, which employs half a dozen people, has brought thousands of students from China to Vermont for two-week summer exchanges at Essex High School and other schools. Spiral has partnered with Saint Michael's College on a six-week intensive college-prep English program, and with UVM on a three-week STEM course.
The company also organizes teacher trainings and school cultural trips to China. Guo spends about half her time in that country.
Placing Chinese students in Vermont public schools for a year is a trickier proposition. Since 2010, Spiral has brought in around 25 long-term study abroad students, including two currently at Stowe High School.
The trip currently under way is laying the groundwork to bring more students to the Green Mountain State. Spiral is also working to place Chinese high school students in other states, including Connecticut and Florida.
"Finding the students is the easy part," Taylor said.
Burlington superintendent Yaw Obeng, BHS principal Tracy Racicot and central office administrator Bonnie Johnson-Aten all declined to comment about their trip before they left on Saturday.
According to Taylor, the Burlington school administrators have talked about bringing six to eight Chinese students to the city's high school. In China, the Americans were scheduled to meet with teachers and principals in the city of Guangzhou and visit Xiang Jiang Secondary School, which has a partnership with Spiral.
Many Chinese schools have 60 students in a class to accommodate the burgeoning population.
Vermont has the opposite problem. K-12 enrollment fell from 103,000 to 77,000 between 1997 and 2017. BHS enrollment dropped from 1,203 to 980 during that time, according to the Vermont Agency of Education, triggering worries about reductions in course offerings and teaching staff.
Stowe High School has not experienced the longterm drop that many Vermont schools have, but there's room for Chinese teens such as 14-year-old Weizhuo "Leo" Kong. The ninth grader from Guangzhou started studying English in second grade and long planned to study abroad for a year in high school.
"I think American education is, like, kind of one of the best in the world, so I just pick here," Kong said in a telephone interview.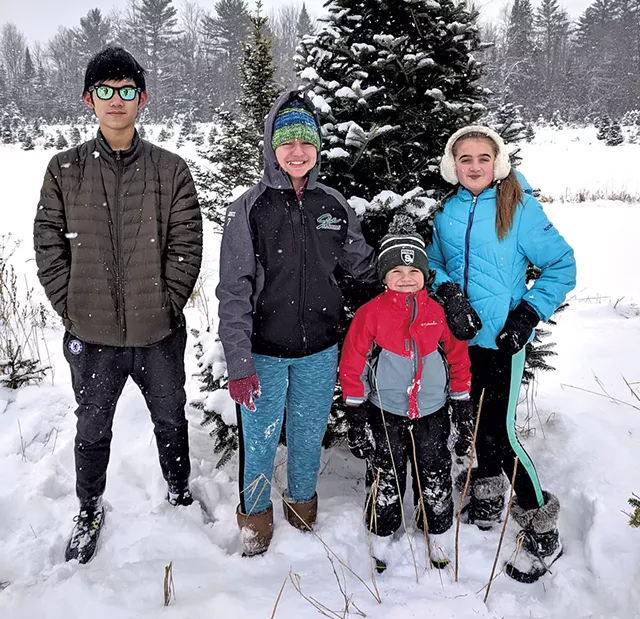 Courtesy Of Melanie Lemnah
Left to right: Weizhuo "Leo" Kong with the children in his host family, Abbie Fountain, Stewart Lemnah and Madison Fountain
He felt well prepared for the schoolwork at Stowe and appreciates the different, more creative approach to learning.
"Chinese education is a lot of tasks, and you need to memorize a lot," said Kong, whose parents are physicians. Here in Vermont, he said, teachers "lead you to a way to how to do some stuff, and that is stuff you need to discover on your own."
Kong is unsure what career he'll pursue but definitely wants to attend college in the U.S. For now, he's enjoying Vermont and lives with another Chinese student in Stowe with host parents Melanie and Derrick Lemnah and their three children, two of whom are studying Chinese.
"We don't do it for the money," Melanie said. "We do it because our kids take Chinese, and we thought it was a really great opportunity to learn more and for our kids to interact with kids from other countries."
Burlington High also offers Chinese language courses; 41 students are enrolled this year.
This is the Lemnahs' third year hosting, and they plan to do it again next year. They also want to visit China and reconnect with the students they have accommodated. "We've had a hard time at the end of each year saying goodbye," Melanie said.
The Lemnahs agreed to be hosts after getting to know Stowe High School Chinese teacher Mairead Harris, who also works part time as a student services coordinator for Spiral. Harris interviews potential host families, helps conduct background checks, and tries to ensure that students are thriving academically and socially at school. The Spiral students at Stowe are required to play a team sport, which has helped them make friends in a community focused on athletics.
"They needed a little bit of a push to do that," Harris said. "They weren't going to just sign up without me telling them to."
Stowe High School would like to grow its program a bit, perhaps to five Chinese students a year, she said. But it's been difficult to find hosts. "You only have so many families that are willing and able to have a teenager come live with them for nine months," Harris said.
Other schools have run into that problem and additional challenges. Montpelier High School had a partnership with Spiral for two school years and, at one point, hosted five Chinese students at the same time. They wound up socializing together, which impeded their English language learning, according to Anne Watson, a Montpelier High School teacher who helps oversee international exchanges. She is also the mayor of Montpelier.
Another issue: Some of the students were not proficient enough in English to do grade-level work, which made it difficult to engage them academically, Watson said. At the time, both Montpelier High School and Spiral were fairly new at coordinating a tuition-paying high school program for foreign students, she said, and there were lots of unexpected questions about who was responsible for what, including orientating host families, language assessment and contractual stipulations around tuition reimbursement if a student had to go home.
Montpelier High School ended its partnership with Spiral in 2016.
Watson said her school prefers to work with nonprofit exchange organizations but continues to host tuition-paying students, including one from Colombia last semester and two from China now. The goal is to bring students from a range of countries in a "model UN" approach, Watson said, with multiple nationalities represented.
The visiting students teach Montpelier kids that the world is larger than little Vermont, Watson said.
"Especially in a state that tends to lack diversity," she noted, "bringing the world to us is a great way for our local students to experience different cultures, different backgrounds, people with different ways of doing things."
Correction, March 30, 2018: Stowe High School has not experienced a longterm drop in enrollment. A previous version of this story contained an error.